Finding the right Father's day Gift for dad can be a daunting task.  How many ties does the guy need? (and he doesn't really even like wearing them that much).  Why not make a gift for dad this year?  We often think more of women when considering handmade gifts, but dads appreciate the DIY spirit and have just as much appreciation of the work and love put into a gift as any woman... maybe even more so.
We've put together a list of cool DIY Father's Day gifts that dad will love.  Modern life and "guy style " were kept in mind, so these gifts will actually get used or displayed in dad's man cave with pride.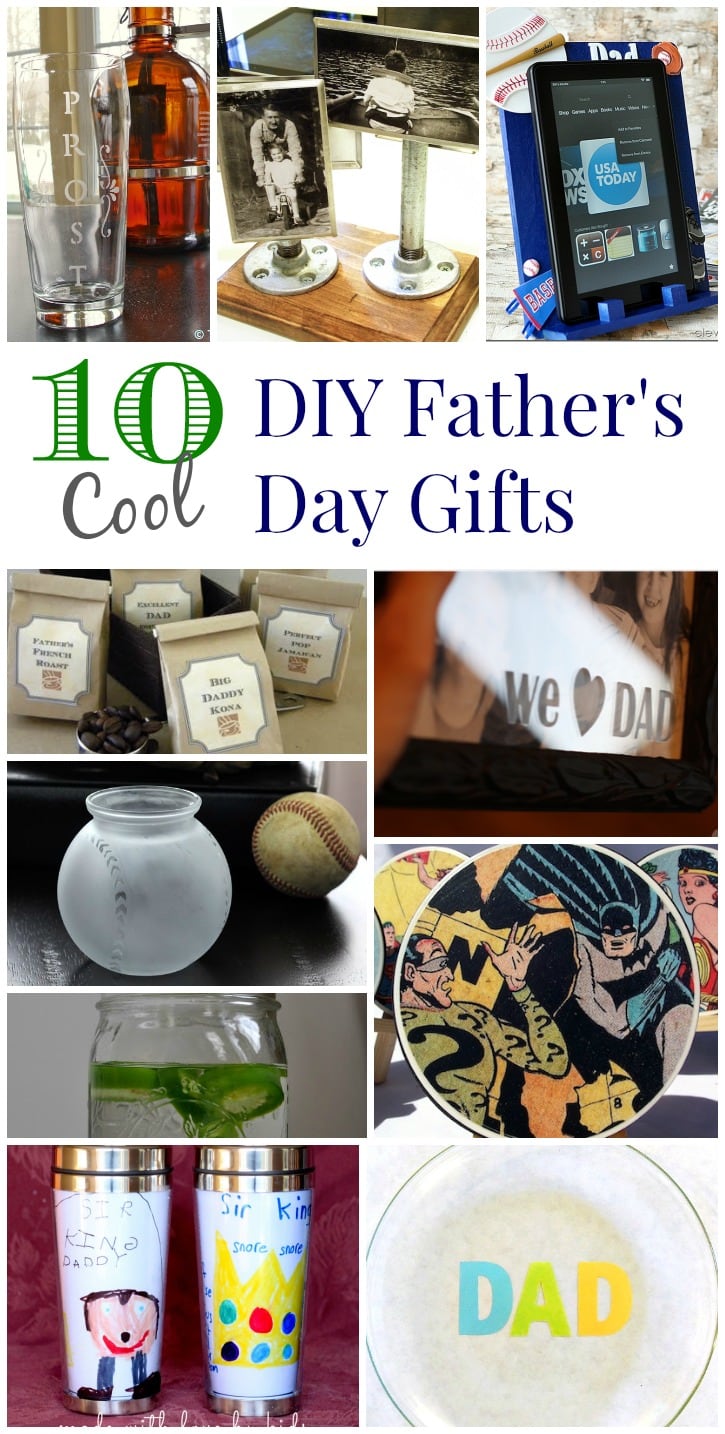 Besides the fun gifts below, I also have a DIY beard oil recipe on my other blog complete with printable labels, so if dad is sporting a beard, check that out too!
10 Cool DIY Father's Day Gifts
Etched Glass Fathers Day Frame from Sugar Bee Crafts - This frame elevates a common picture frame to something special.  There is no doubt it was made special for dad.
Father's Day Industrial Photo Displays from Modge Podge Rocks - The hip industrial look of these will make dad proud to display his pictures in style.
DIY eReader Holder from Cleverly Inspired - Not only is this personalized just for dad, but it will come in handy as well.
Fathers Day Coffee Sampler Pack from Carolyn's Homework - Dad can start Father's Day off right with some great java.  The custom packaging will let him know how special he is.
Etched Glass Baseball Vase from Madigan Made - What baseball fan dad wouldn't think this is awesome.  Sure he may end out using it as a catch all or leave it empty, since his testosterone may prohibit floral display, but he will be a happy camper just the same.
Personalized Insulated Mugs from Simply Kelly Designs - Art from his kids will make any lousy day at work a little more bearable.
DIY Etched Beer Glasses from Pet Scribbles - Sipping a brew from one of these custom etched beer glasses will make any cold one taste even better.
Jalapeno Infused Vodka from Just for Us Blog - This will put some more hair on dad's chest...lol
Painted Glass Plate for Dad from Crafting in the Rain - Of course you gift this one to dad with his favorite cookies on top.
DIY Comic Book Coasters from Modge Podge Rocks - Warm your comic fan dad's heart this Father's Day with handmade coasters.. it may well be the only way to get him to use one.