This project is brought to you with help from Spectracide. All opinions are my own.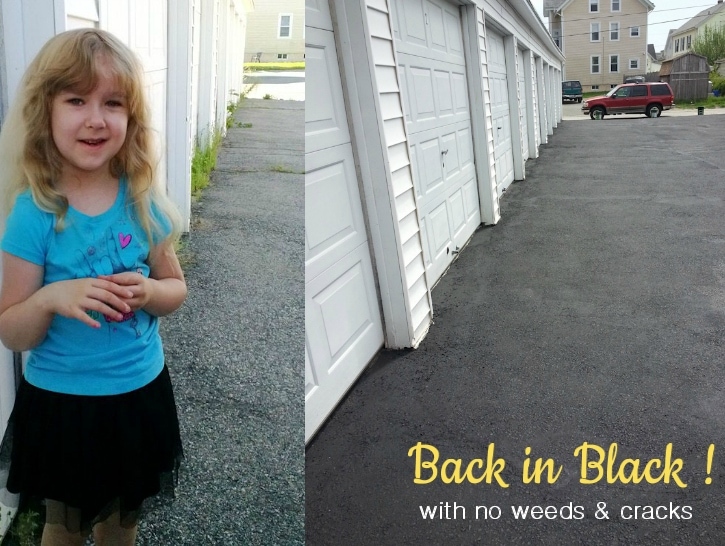 I am finally ready to reveal the results of our DIY asphalt driveway makeover. We learned a bit along the way, and the results while not perfect are a huge improvement. The picture of my daughter above was taken about this time last year. As you can see the blacktop driveway was faded and cracked, and weeds were making themselves right at home.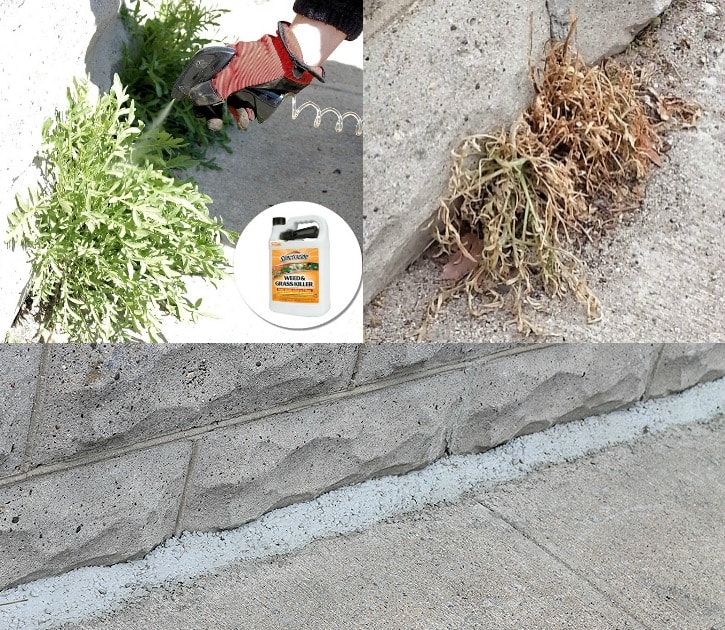 The "weedy" cracks were first treated with a good blast of Spectracide Weed & Grass Killer. A few days later the weeds were dead, making them easier to remove and ensuring they didn't resprout while we were trying to get work done. The cracks were cleaned out and filled in with concrete or asphalt depending on location.
What was done since last update…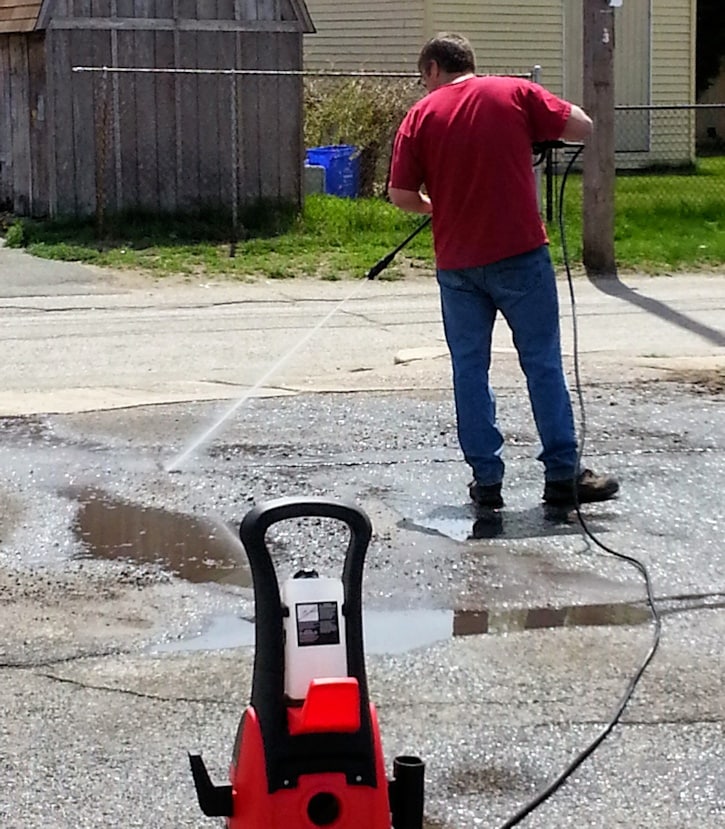 I ended up buying a pressure washer. The small but sufficient unit we picked up, was only $20 more than a rental of one, and it made the driveway cleaning much easier.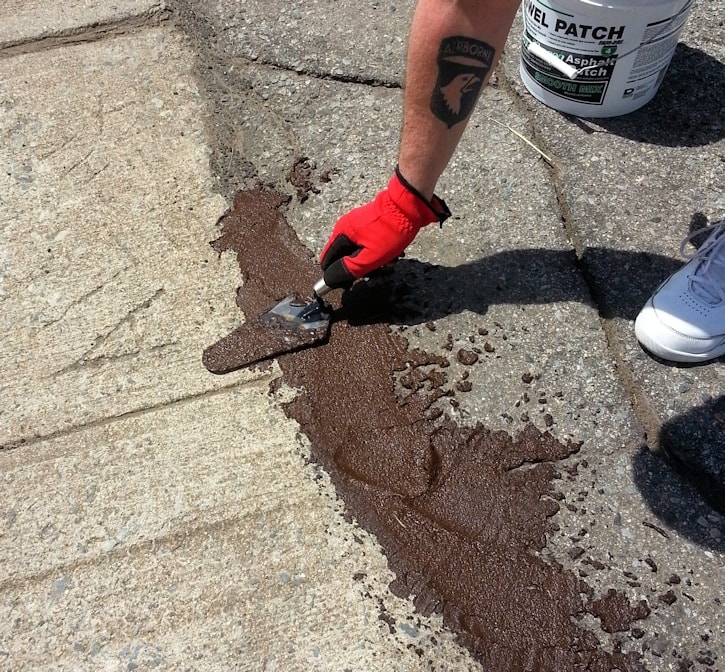 While Dave had patched a good deal of the larger cracks earlier, there were still more to do, and smaller ones too, of course. Oil spots were scrubbed as well as possible, then coated with a product to help the blacktop sealer adhere. I topped off the whiskey barrel planters with moisture retaining soil and packed them full of French marigolds, before the final clean up for the sealer application.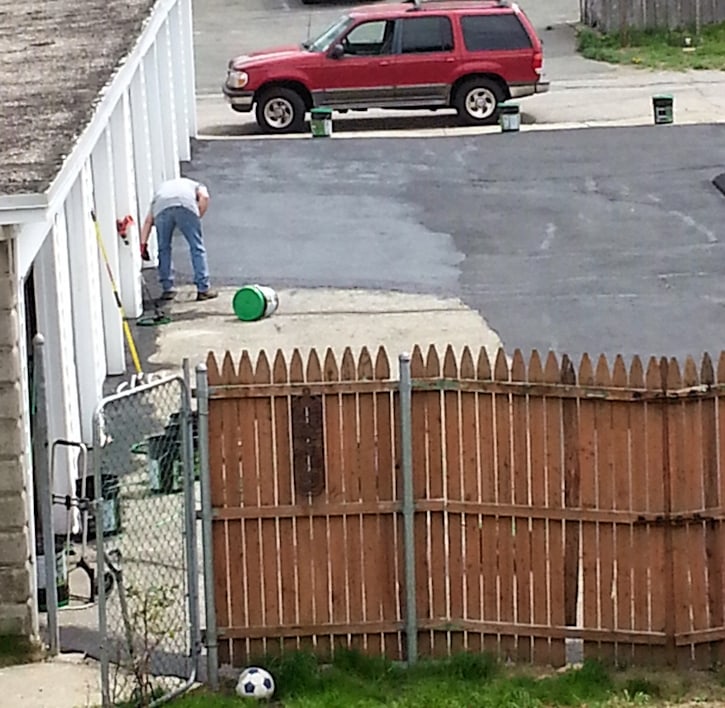 Then I made scarce, and let Dave have all the "fun" of applying the blacktop sealer. I took the shot above while peeking on the progress from the second story window.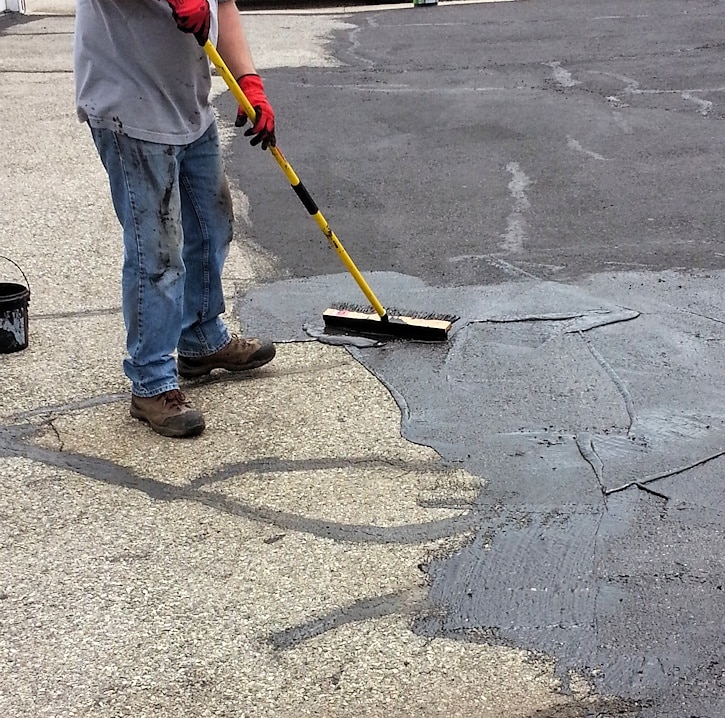 The driveway really sucked up the sealer since it hadn't been done in so long. I had to run out halfway through application and get more pails.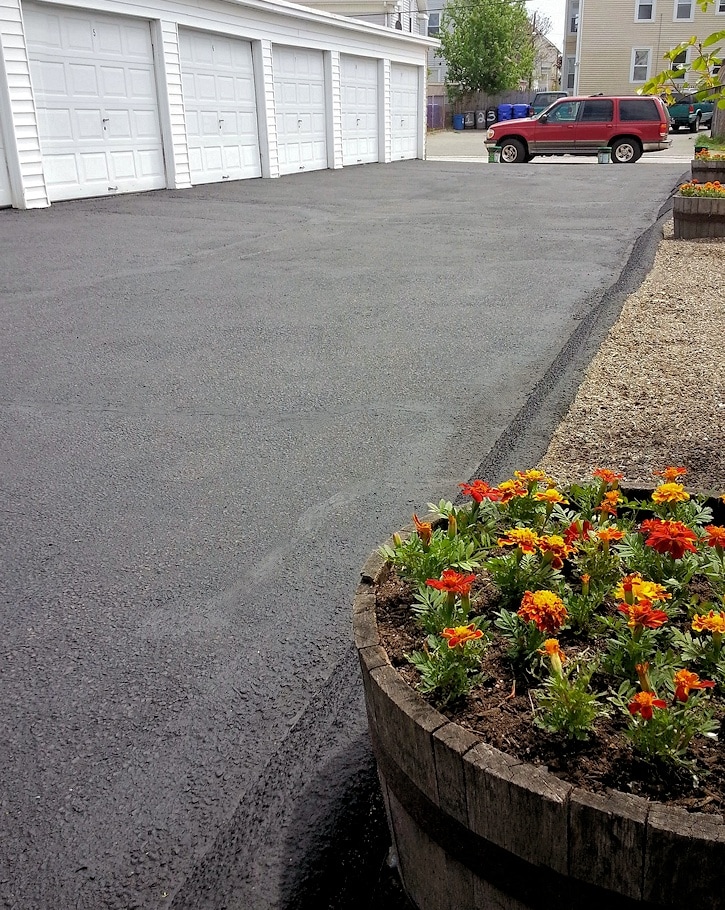 We shouldn't have any more trouble with weeds in the driveway itself, since the cracks are all filled now, but I will have to retreat the gravel beds surrounding the whiskey barrel planters with Spectractide Weed & Grass Killer on occasion. We will also be using the product to help with sprucing up the front side walk and to prep the area my daughter's new swing set is going prior to putting down landscape fabric and mulch.
I would say that this is a project most DIYers could handle. Making sure the area is well cleaned and prepped is the most essential part of the project. If your driveway is in as rough a shape as mine was, budget for more sealer. You will probably need it.
Spectracide makes a wide array of horticultural and insect killers. Whether your problem is crabgrass or ants getting into your home they have a solution. Learn more about Spectracide products and how they can help you with your spring projects on the Spectracide website and Facebook Page. While on the Facebook page make sure to grab a $2 Coupon off Spectracide Weed & Grass Killer at Walmart, and downloadable $5 rebate when you spend $20 on Spectracide products. They can be found in the tabs on the page. There's also daily lawn care tips & tricks, monthly sweepstakes and product giveaways there too.
What projects are you working on this season, that Spectracide would be helpful on?
Whether you've started your spring yard work or still need inspiration, get to the Spectracide Facebook page for more tips and savings!
This is a sponsored conversation written by me on behalf of Spectracide. The opinions and text are all mine.