While I have plenty of my own bacon recipes, who can ever get enough bacon, especially when it is warm and perfectly crisp. I've rounded up some awesome bacon recipes that put this beloved pork fat front and center.  It  is not just a subtle accent in these recipes, it is the main attraction! These recipes were chosen based on scrumptious images, and quality of recipe, with a bonus for being unusual.
It doesn't get any more sweet, salty and crunchy than this bacon brittle from Chow.  I am dying to try this one.
Chocolate + Bacon equals heaven!  This shot from Taste of Home is the prettiest pic I have seen yet of chocolate covered pork fat.  Now that is one hell of a combo 😀
There is a school of thought that believes anything is better wrapped in bacon, I tend to agree.  When it is wrapped around a jalapeno popper, just try and hold me back, from that cheesy spicy bacony goodness! (source: Sweet Life Bake)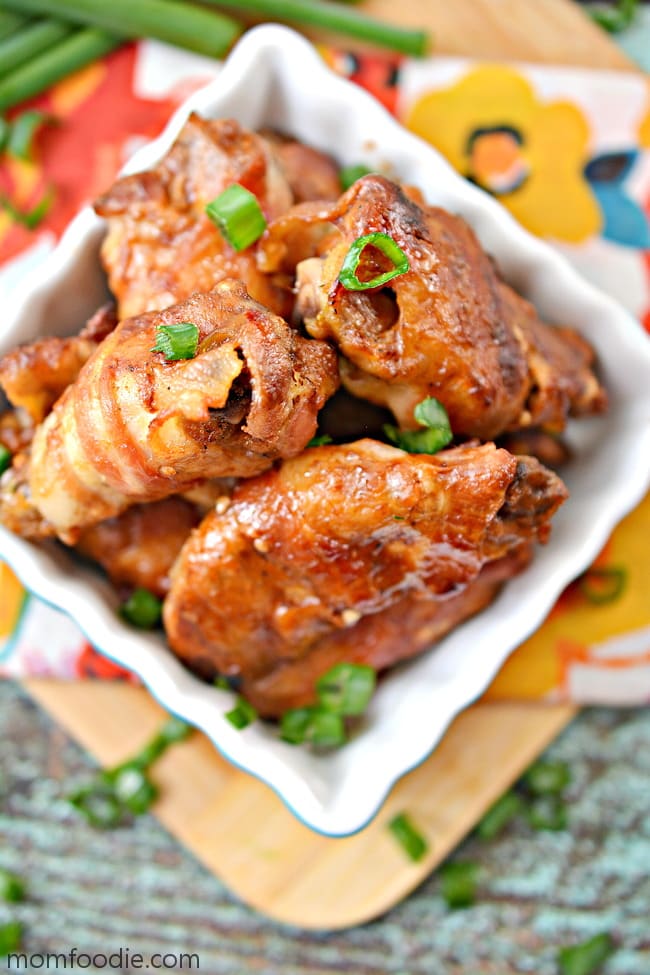 Try my Bacon Wrapped Chicken Wings. They are basted with a Keto BBQ sauce, but if you aren't on that diet, just use regular barbecue.
These cool looking appetizer pops, from That's So Michelle are a great flavor combo, salty crisp bacon, goat cheese and sweet grapes… Yumilicious! These would look great on your next party buffet, wouldn't they.
If you just have to have a salad… at least put it in these easy to make bacon cups, from Not Martha.
I've seen bacon jam and skillet paste on the web on many occasions, but have yet to try it.  This picture of the Bacon Jam recipe published on Dinner with Julie, may just get me on the bandwagon.  I could totally smear that on most anything 😀
I stuck to awesome bacon recipes with lovely pictures for this collection.  I am also working on a down & dirty collection.  The pictures won't be quite as pretty, but I promise they will be dripping with even more delectable pork fat!