Thank you BJ's Wholesale Club for sponsoring this post.
As summer comes to an end and we head into fall, things get mighty busy around here. My work schedule picks up, my daughter transitions into a new school again which is tough on autistic kids, and of course the typical necessary fall household tasks ramp up. As a single mom, anything that helps me juggle those tasks more effectively is vastly appreciated. Right now I'm appreciating all the great quality and assortment I discovered with my new BJ's Wholesale Club membership.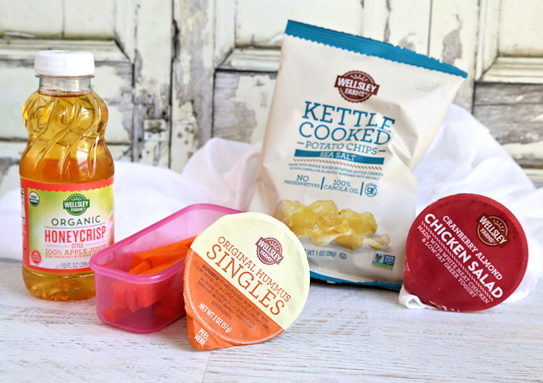 Yes, BJ's Wholesale Club is for Small Families too!
I never really thought to get a BJ's Wholesale Club membership with just my daughter and I in the household. It seemed like a place for those who have larger families or entertain frequently. I quickly discovered how wrong I was. BJ's is a one-stop shopping destination for everything we need. It offers everyday low prices and unbeatable quality on its exclusive Wellsley Farms and Berkley Jensen brands and national leading brands, and allows members to spend less time shopping and more time with friends and family! I found the selection at the club exciting and very useful for us, particularly the convenient single serving vending packs.
Packing a Great Lunch has Never Been Easier
The single serve options are perfect for assembling quick nutritious school lunches or snacks. BJ's exclusive brand, Wellsley Farms, makes it even more affordable to buy these convenient single serve products, while not sacrificing quality. Wellsley Farms offers a large selection of premium quality natural and organic products, sourced from the best growers, bakers, ranchers and fishermen from around the world, but without the name brand prices.
The hummus is so smooth and creamy and this apple juice is organic! My daughter and I enjoy them both.
Hands-down my little girl's favorite out of my finds is the big box of single serve Wellsley Farms Kettle Cooked Potato Chips. I don't blame her. They are super crunchy and absolutely delicious. The Wellsley Farms Cranberry Pecan Chicken Salad cups were not her cup of tea, but they are perfect for a quick small meal for myself. Each cup is just 130 calories, the chicken salad is low in carbohydrates and smartly dressed with Greek yogurt for less fat and more protein. I secretly hope she doesn't change her mind and start eating them up.
Ready for Messes
My daughter is the ultimate mess maker. She wants to do things herself, despite her fine motor control struggles. The only way she gets better is by doing it, so I just brace myself for the spills, drips, crumb storms and ubiquitous smudges.
The giant paper towel pack and laundry detergent I snagged at BJ's will ensure I don't run out during the coming busy months. Running out of things really throws a monkey wrench in the works around here! I also love the money savings I get by buying non-perishable items like this in bulk.
The Shopping Experience
I found shopping at BJ's Wholesale Club to be enjoyable and much less of a hassle than most stores. Unlike many stores that are narrowing aisles and making it difficult to maneuver your cart, the club has nice wide well stocked aisles. Not only can you get the basics to keep your household running, but they have great deals on clothing, electronics and even furniture. There is a leather office chair I tried on my last visit, that I plan on picking up on my next visit… so comfy. I was also impressed by the well priced selection of quality wine at the location I visited and found the club's clipless coupons added to the ease and convenience of shopping there. Many are for the name brand products they carry, but some are also for their store brand items… making them outstanding deals.
I was pretty impressed overall and will certainly be shopping at BJ's Wholesale Club regularly after this visit. The shopping experience and quality of products are fantastic.
Save Even More… Bonus!
It is estimated families can save up to $500 a year by shopping at BJ's, and save 25% off grocery store prices every day.
Want to try BJ's Wholesale Club out for yourself?  Use my Refer-a-Friend link and get a $25 gift card to use there!
I was selected for this opportunity as a member of CLEVER and the content and opinions expressed here are all my own.