As a New Englander, I've always been intrigued by how the holidays are celebrated in less traditional "Norman Rockwellish" settings. Hawaii in particular fascinates me, since it is part of the United States, with all our traditions, but also carries the traditions of the native peoples, as well as strong influences from nearby cultures, such as that of Japan.
I must admit most of my view of Christmas in Hawaii is probably strongly skewed by old Elvis movies and the Mele Kalikimaka Christmas song.
Mele Kalikimaka is the thing to say
On a bright Hawaiian Christmas Day
That's the island greeting that we send to you
From the land where palm trees sway
Here we know that Christmas will be green and bright
The sun to shine by day and all the stars at night
Mele Kalikimaka is Hawaii's way
To say "Merry Christmas to you."
Other than these seriously out dated visions, I as a foodie, I am familiar with lots of interesting Polynesian and sushi dishes featured in the area. I am sure many of these get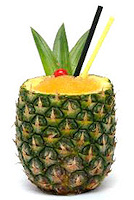 an extra festive spin during the yuletide season.
One of these Christmases, I am going book with SummitPacificInc.com and go visit the islands myself. There is nothing like experiencing holiday sushi washed down with a few Pineapple Bombs, gathering round the light wrapped palm tree & singing the song for oneself after all.