These Christmas Rice Krispies® Treats don't just look like cute little gingerbread boys, they're also seasoned with ginger and other spices. The recipe creation and post were sponsored by Kellogg's® Rice Krispies®.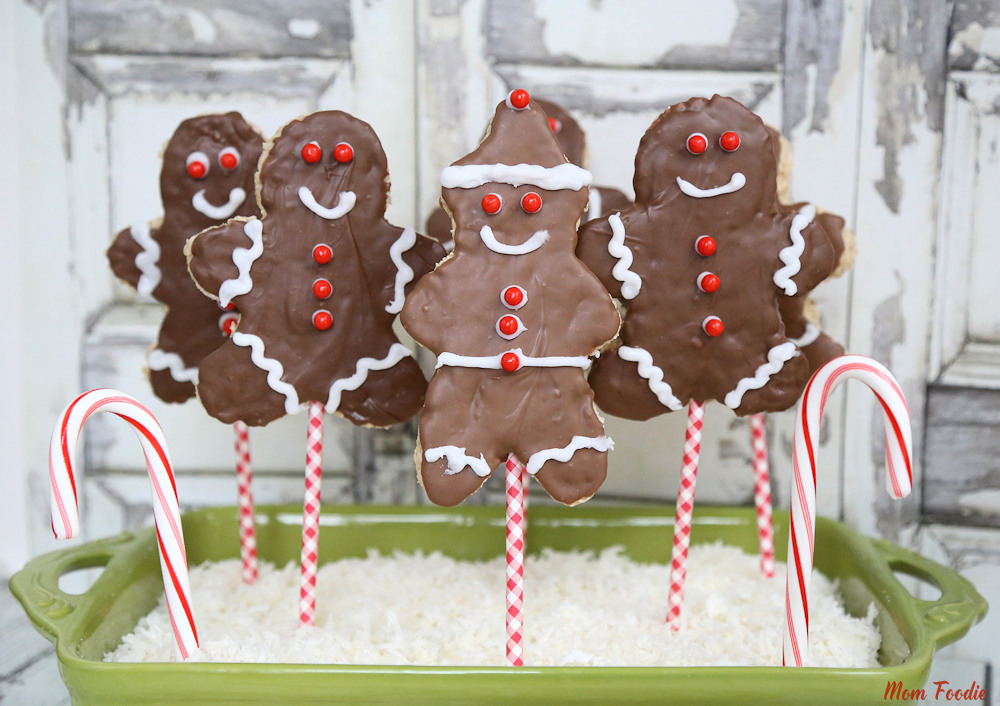 The wee fellows have actually been made into pops, with the insertion of festive decorative paper straws.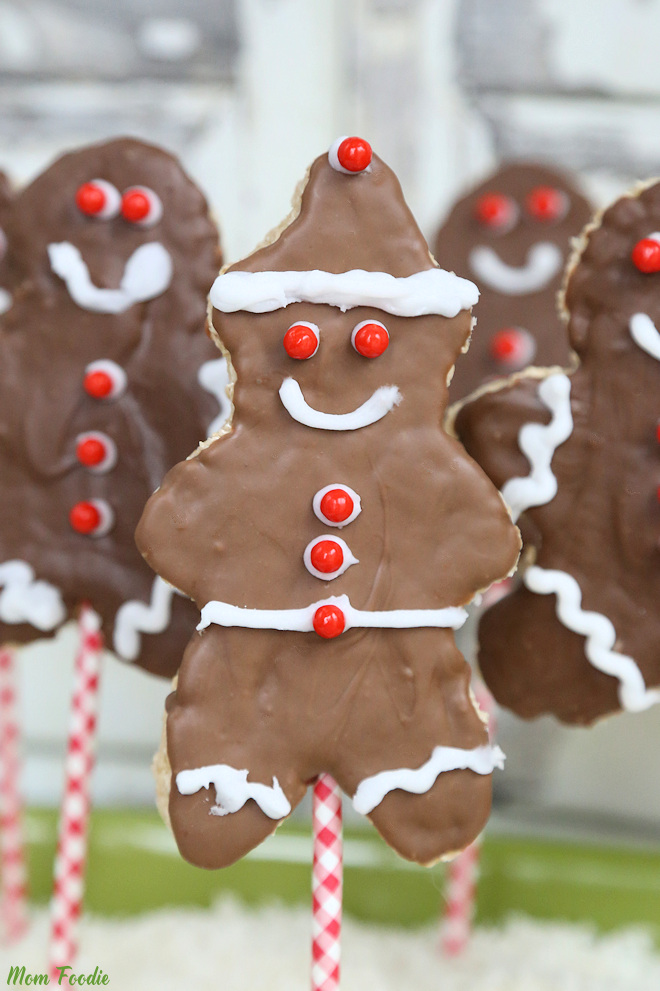 The front of Gingerbread Boy Christmas Kellogg's® Rice Krispies® treats are coated in ginger seasoned chocolate. Simple white icing and tiny red candies decorate and add features to the gingerbread boys.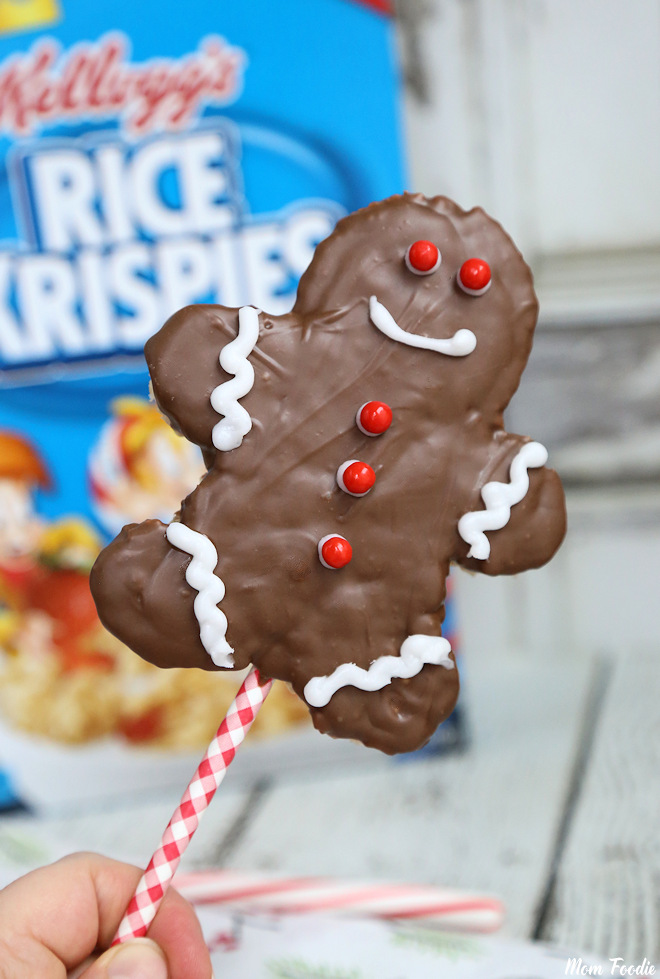 No need to be fussy in the decoration of these little fellows. As I've mentioned here on many occasions, my own pastry decorating skills are rather lacking. That is why I love creating easy projects that will come out cute for pretty much anyone.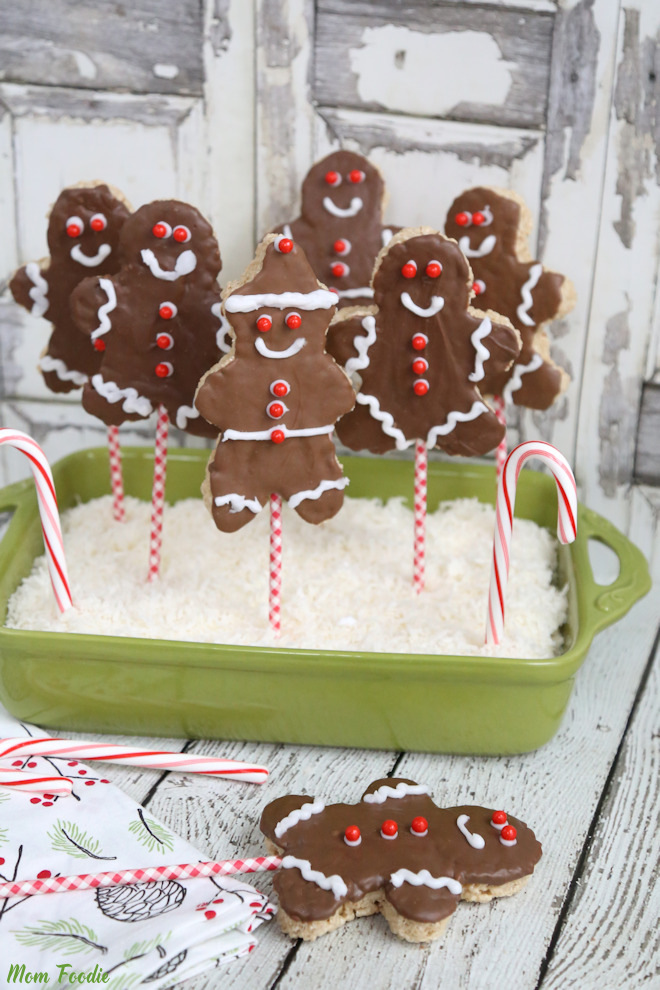 I made a quick display for serving the Gingerbread Rice Krispies® Treats by cutting a piece of packing foam to fit in a baking dish, then popping holes in it with a chopstick to hold the straw pop sticks. Shredded coconut scattered on top and the addition of a few candy canes completed my impromptu holiday display.
Tip: If you decide to display upright, tilt the gingerbread treats backward just a bit. The chocolate firms that side up and holds the straws in place better.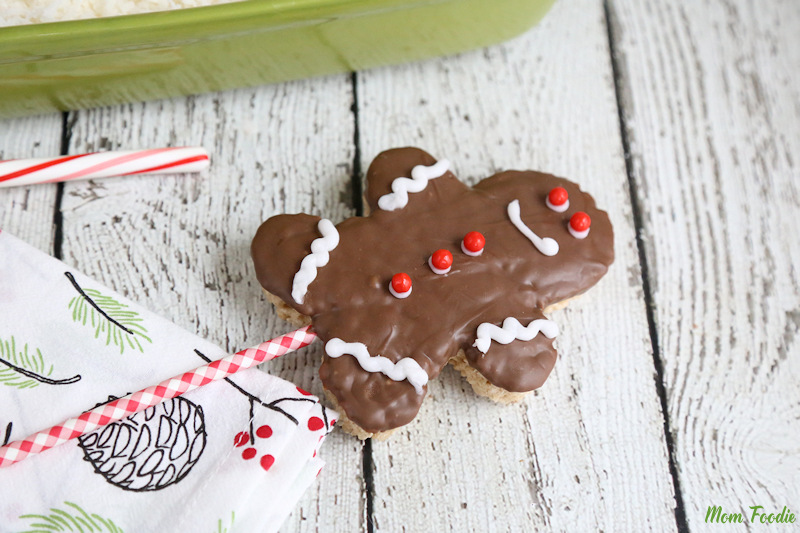 These Kellogg's® Rice Krispies® Christmas Treats would be great as small gifts or to sell at holiday bazaars and bake sales.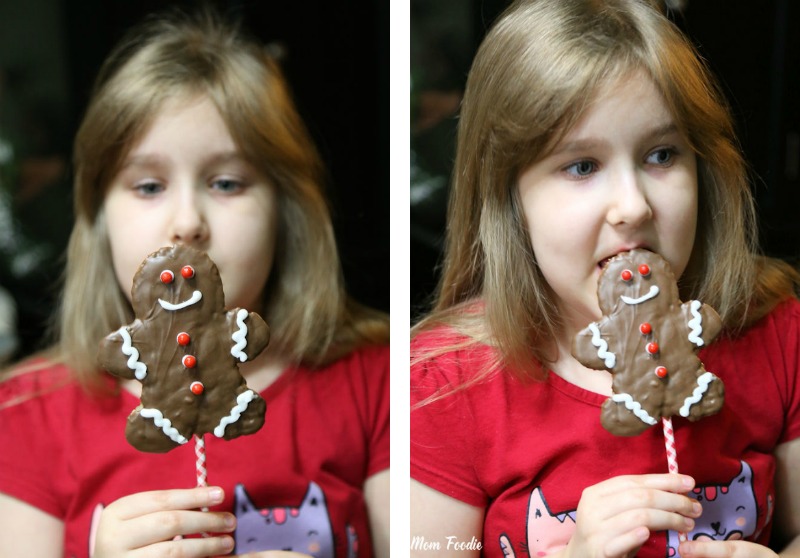 ... or as my daughter demonstrates, just to enjoy!
Christmas Rice Krispies® Treats : Making the Gingerbread Pops
There are a few extra steps to make these Kellogg's® Rice Krispies® Treat Pops, but they are still quite easy.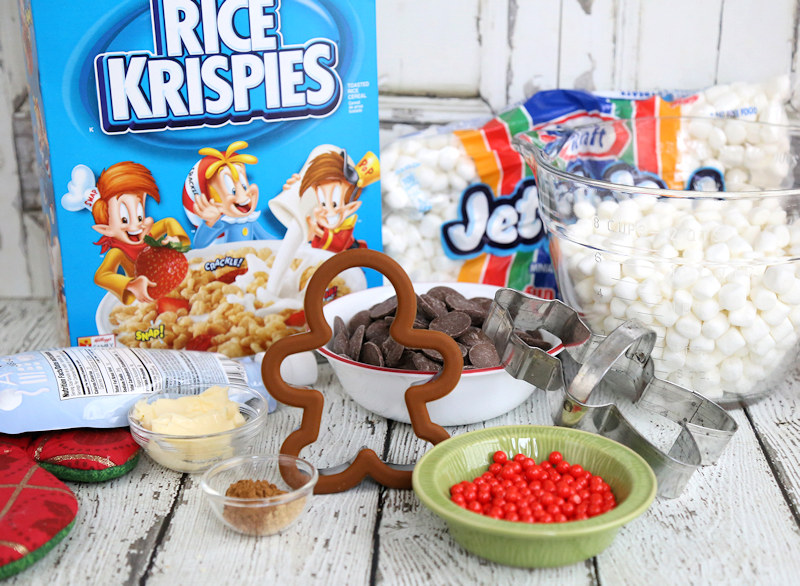 Ginger, pumpkin pie spice, chocolate candy melts, a tube of premade icing (unless you want to make some from scratch) and small candies are needed in addition to the standard Kellogg's® Rice Krispies® cereal, butter and marshmallows.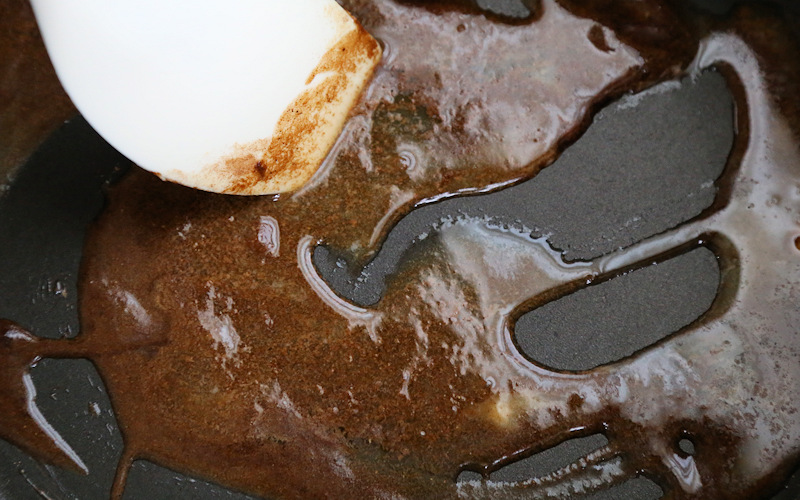 Spices are added right into the butter while melting.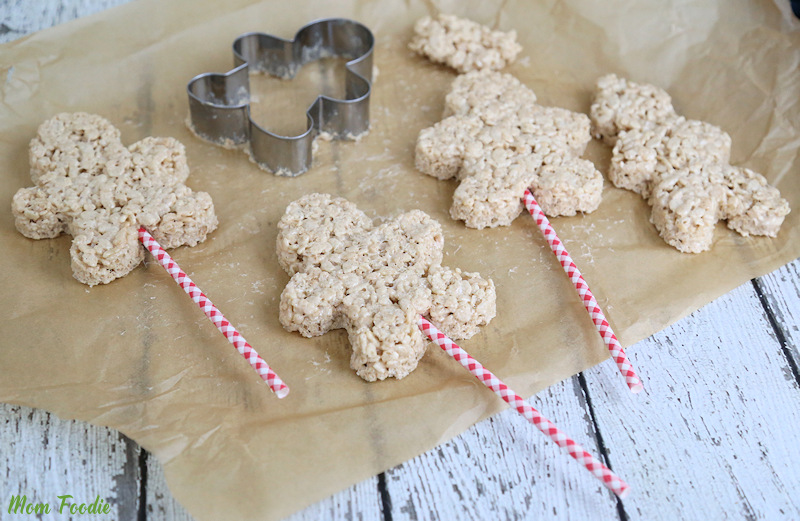 The shapes are cut out with a large cookie cutter and paper straws are inserted.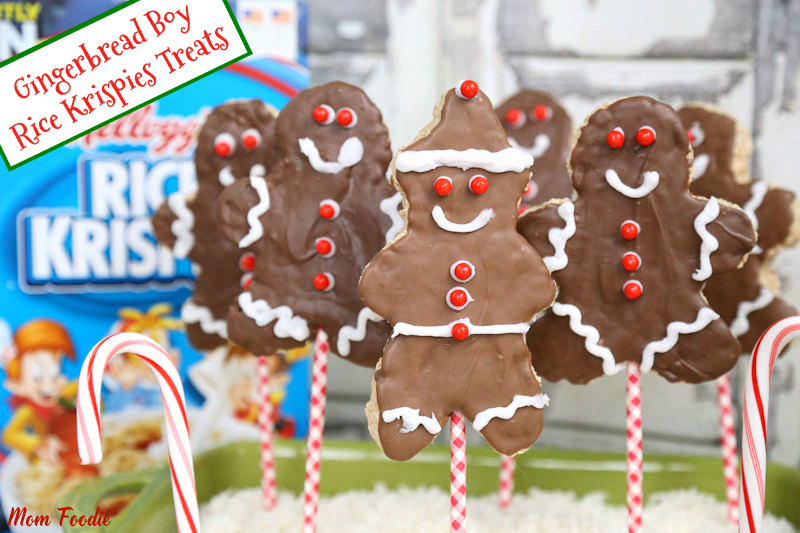 The gingerbread treats are then coated in chocolate and decorated.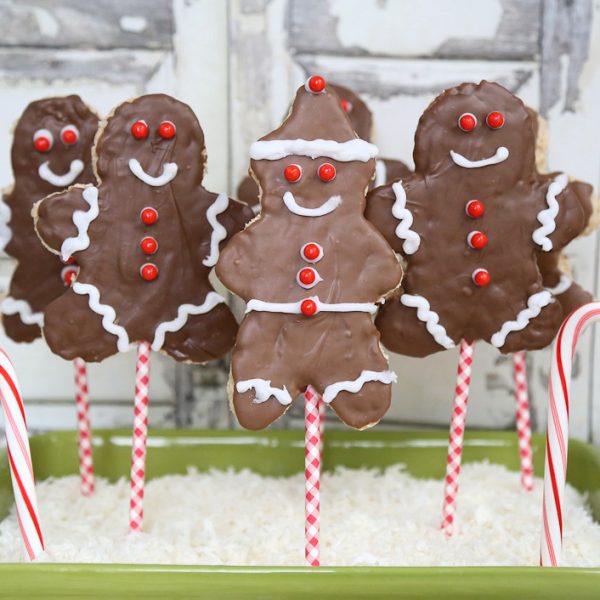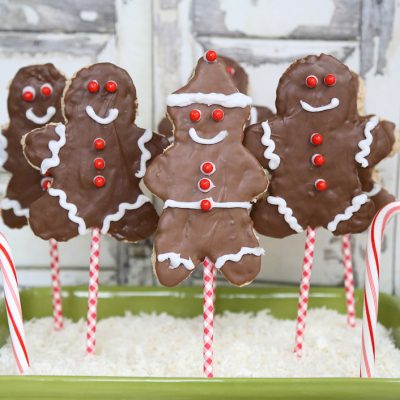 Ingredients
3

tbs

butter

2

tsp

ground ginger

1 for the chocolate

1

tsp

pumpkin pie spice

5 ½

cups

of Jet-Puffed Mini Marshmallows

6

cups

of Kellogg's® Rice Krispies® cereal

2

cups

of chocolate candy melts

decorative paper straws

or pop sticks
Instructions
Line a large baking dish with parchment paper.

Melt the butter in a large non-stick pan over medium heat, along with one tsp of the ginger and the pumpkin pie spice. Once melted, add the mini marshmallows. Stir frequently. Once the marshmallows start melting reduce heat to low-medium. Stir until smooth.

Add the Kellogg's® Rice Krispies® cereal and mix until the cereal is fully coated. Then scoop into the parchment lined baking dish and smooth out the top.

Press gingerbread boy cookie cutters into the slightly set Kelllogg's® Rice Krispies® Treats. Remove excess around the cutter and set aside. Gently press down along edges to release the gingerbread boy Rice Krispies® Treat. Once you have cut out all you can, stuff the extra pieces into cutters and press to form more gingerbread boys.

Insert the paper straws into the Kelllogg's® Rice Krispies® Treats.

Melt the candy melts in microwave on high (with 1 tsp of ginger), using 20-30 second intervals with stirring. When nearly melted remove and stir until last bits are dissolved. Dip or spoon onto the fronts of the Rice Krispies® Treats and smooth out. Set aside to cool.

Once cooled, decorate the Kelllogg's® Rice Krispies® Christmas Treats with icing and small candies.
For more holiday treat making ideas, be sure to follow Kellogg's® Rice Krispies® on Facebook, Pinterest & Twitter and join in the holiday spirit by sharing a picture of your favorite Rice Krispies® treat – be sure to tag #Treats4Toys and Kellogg's® Rice Krispies® will donate a gift for Toys for Tots to help give a little joy to a child in need.