This is a sponsored post written by me on behalf of The Home Depot.
Earlier this week, I showed you the garden urns I had in mind for my container flower garden project. I plan to feature the urn planter in a newly added section of my flower gardens, which is mostly shady. This of course had a big effect both planter choice and the plants that would go in it.  I am using the Thriller, Filler, Spiller technique on this container garden, to make sure it provides a nice impact.  Before heading out to shop, I printed off the $5 off $50 coupon the Home Depot Garden Club had recently sent me.  They send coupons pretty regularly especially during the gardening season, and if you are just joining they will send you one right away to get started.

After debating between the different planter options at Home Depot, I chose one that had a cement-look finish to it, but was made of  a light and sturdy cast material (real cement is terribly heavy to drag around).  I like that the decorative band is positioned low, so most of it will still be visible even after the spiller plants (hang over side and down) become well established.  The cement finish will match with existing garden features as well as the short Gothic style decorative garden fence I plan to add, to avoid this from happening.
Apparently, my German Shepherd finds freshly dug garden beds as attractive a spot to plop herself down in, as my established flower gardens.  I found her sprawled out in my raised vegetable bed a couple days ago, looking all comfy cozy :/  I must say she seems to have lost some of her appeal for the flower gardens since I put down mulch.  Well, enough of the dog related garden issues, back to the project at hand.
I chose this spiffy 21 and a half inch garden urn for the shade container garden.  I went with the MiracleGro Moisture Control potting mix suggested by Home Depot for container gardening.  I opted to get the  big 64 qt bag rather than one of the smaller ones, since it was only $4 more than the 32 qt bag and I have other planters hanging around that need to be filled as well.  I often forget to water enough in the dog days of summer, so this potting mix may make the difference between plants surviving or not.
Even though it is still a little early in the planting season here in Southern New England, the plant selection was pretty good, and much more should be pouring in over the next couple weeks.  I was having a little trouble finding a shade friendly plant to spill over the edge of my planter, then I remembered the big selection of houseplants Home Depot has in the enclosed area of the garden department.  I've often used an interesting houseplant as an annual in my garden.  They are great options for shade and part sun containers, since many popular ones don't need a ton of sun.  I chose some nice green ivy, which is actually an outdoor perennial in my zone.  The variegated ivy  which had taken over a good portion of one of my gardens started out as a small houseplant just like this one.
If you are planting for full sun there are plenty of options for spiller plants.  They had some nice variegated vinca in stock.  I may be going back to get some for other planters.
Here are the plants I selected that day. Columbine, Dead Nettle, Ivy, Begonia and Rununculus (this last one is not for the container, it needs lots of sun, but was just too pretty to pass up).
This columbine while called red, is more of a deep pink in my eyes.  The yellow centers pop nicely, and while tall enough to handle the "Thriller" position, it is not so much so to be likely to topple after a good rain. (perennial)
Despite having the unattractive name "Spotted Dead Nettle", this is quite a lovely plant.  The leaves have a silvery iridescent sheen to them, which will really pop in this shady corner.  It will function as a filler plant at first, but may end out acting as a spiller as it becomes more established.  It will get purple flowers too. (perennial)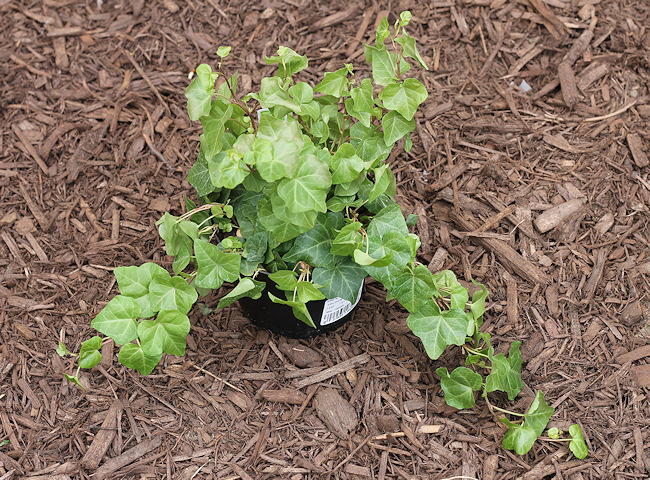 As I've already mentioned this ivy I purchased in the Home Depot houseplant section will be going into the outdoor shade container garden.  Don't overlook some of the fun combinations you can put together, especially with vivid annual flowering plants that are often prolific bloomers, contrasting with the interesting leaves of some houseplants. (perennial)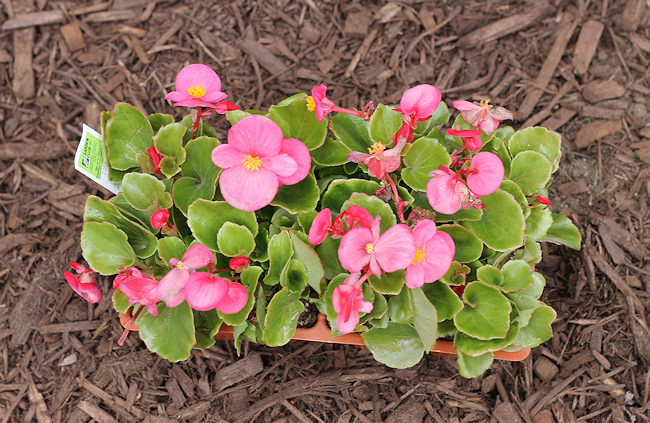 I don't know why I've always turned away from begonias, but I have.  This time the pink seemed just what I needed with the silvery leaves of the dead nettle and the deep pinkish red of the columbine.    They will be a filler plant. (annual)
… and this is the rebel of the bunch.  While it would look beautiful in with the others, it is just not in it's nature to hang out with them, and wouldn't last long in a moist shady environment.   This ranunculus will be going in a different container or garden nearby which gets full sun.  I mention this, not just because I couldn't help but show you this lovely flower, but to remind you to check the information provided on the tags of the plants at Home Depot.  There is little point to buying pretty flowers that are inappropriate for the spot you want them in.  If you are unsure of a particular plant ask a Home Depot associate, or if you are a tech geek or just shy, look it up on your smartphone.  After all, you can always add another project to your list for a more appropriate spot in your yard, if you just can't go without the plant.
For those of you thinking about starting a gardening project, but want more information, before heading to the store, check out the Garden Club Community Forum (Ask an Expert).

I'll be assembling the planter tomorrow, weather permitting.  Perhaps, I'll pop by Home Depot again this afternoon.  I think I might want another pack of annual flowers for the container & I bet they got in some new selections with the weekend coming up…
It's home improvement time, and The Home Depot has everything you need to #DigIn for Spring. No matter what projects you want to tackle, they have great values on all you need. They're ready to help you with renovation ideas and expert advice, too.
Get over $300 in email exclusive savings each year, sneak peeks on new products, monthly lawn & garden ideas for your region and access to The Home Depot's gardening experts. Click here to join the world's largest garden community today! Or go to http://gardenclub.homedepot.com/ to see some of the many benefits of membership.
This is a sponsored post written by me on behalf of The Home Depot.