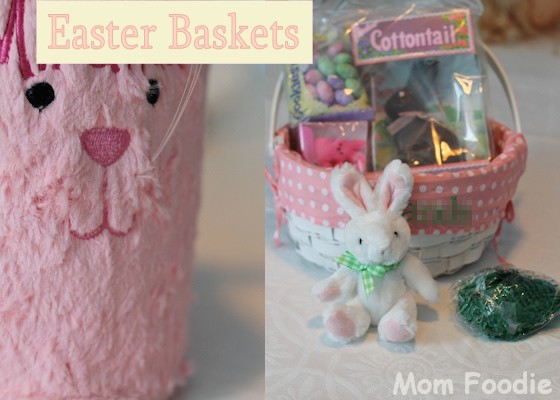 I just got in two adorable personalized Easter Baskets for my daughter.  They are from Personal Creations (part of the ProFlowers/Red Envelope family of online stores).  Both are well made, and very cute.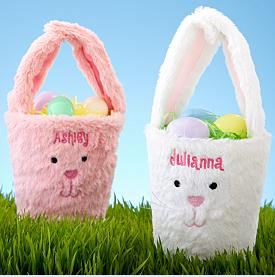 The Bunny Basket was on sale for just $5.98. This little guy is so sweet, s/he even has whiskers 🙂  Rather than fill it with candy, I plan to let my daughter carry it around, like a purse.  She is only four, so it will work for her in that capacity.  Maybe she can use it to gather eggs… hmmm…. now I'm thinking Easter Egg Hunt in the backyard.
I will have time to set up an easter Egg hunt, because I won't be running around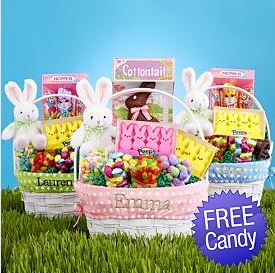 gathering contents for an Easter basket, since I got the All-in-One Easter Basket, from Personalized Creations.  It is personalized, comes with a little stuffed bunny (nice quality) and typical Easter Basket Candy is included for free.  In my pic at the top, you can see how the items in this basket are packaged.  I will not be doing the assembly until Easter eve or morning.  I expect it to take all of about a minute.
The embroidery on both baskets was very nicely done, and shipping was very prompt, especially considering that these are personalized items.  I think the pricing on these was quite fair for the quality and unique personalization.  Check around for coupon codes before ordering,  they usually have a free shipping or percentage off discount running, sometimes your choice of several promotions.
Media sample provided.  All opinions and experiences presented here are my own.