This blog post was sponsored by Godiva but the opinions are all my own.
Godiva 9 pc. and 15pc. chocolates available at Target.
The holidays are in full swing, and while we all have that list of core family members and close friends readily in mind, but many others touch our lives regularly throughout the year and deserve to be recognized for their efforts. I was asked to pick five people who deserve to indulge in the luxury Godiva brings this holiday season. So many people are of course worthy, but a certain category of people in my life immediately came to mind. Those who help my autistic daughter.
Festive packaging to make the gift of Godiva even more luxurious.
My "Godiva Worthy" Gift List
My little girl (M) is autistic, and apraxia causes her to both be non-verbal and have motor development issues. While she gets around just fine and is an otherwise healthy child, communication with her is very challenging. She also has a boatload of other sensory related quirks to consider when interacting with her. Luckily, both the staff at her school and her ABA therapy team are there to help her build skills. In the end, I came up with a list of six, rather than five people who I thought a little indulgence was much deserved. People don't go into these fields for great money; they do it to help and make a difference in the lives of physically and mentally challenged children. Who more could be more deserving?
 First, her special education teacher. She has worked diligently with my daughter to help her adjust to the new classroom she is in, and gain more independence within the classroom.
The teacher assistant in the classroom often assists my daughter during the day. She has also been the one who has had to take the brunt of M's "bad days".
The school speech therapist has been spending extra time with M, to help coordinate a communication plan. She has also been helping M on field trips and with some of her daily living skills
M's ABA clinician has made extra efforts to ensure the program she does at home coordinates and augments what is being worked on in the school.
While my daughter's therapy coordinator is relatively new, she has been a great resource for finding creative ways to keep M engaged during her therapy sessions.
Finally, M's direct ABA worker. She is the one in our home doing the actual sessions with my little girl five days a week. It is a job that takes a lot of patience and is a lot to take in at the start. She has developed a good relationship with my daughter, and they have been making some terrific progress on the program goals.
Yes, You Can Afford to Gift Godiva
I have become an avid Cartwheel user in recent months.
Of course, as a single mom, I can't afford to spend a fortune on holiday gifts, but decadent Godiva Gold Box chocolates are not only available right at Target, but through the Cartwheel app, I was able to save an extra 20% off. The deal runs through December 19th, and as you can see below, it doesn't take much at all to dress these up for gifting. The packaging itself is quite lovely.
These are the boxes included in the Cartwheel 20% Off Godiva Gold Box deal:
9 PC Assorted Chocolates Gift Box
9 PC Assorted Chocolate Caramels Gift Box
15 PC Assorted Dessert Chocolates (exclusive to Target)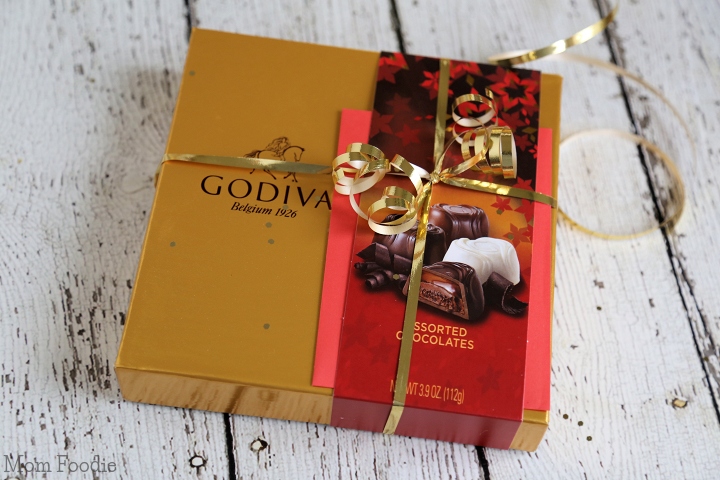 My easy flat package solution.  Shiny curling ribbon and card tucked into packaging.
Wrapping Godiva Gold Boxes
While the simple packaging is great for ensuring easy transport, it is not hard at all to dress a gold box of Godiva up into an exquisitely festive gift. I found everything I needed while picking up the chocolates at Target. I grabbed cards and fancy glitter in the little dollar section when you first walk in the store. I found clear cellophane wrap in the stationary department. The curling ribbon and shatterproof ornaments to festoon the gifts, as well as the foldable paper star light for her teacher, were discovered right in the holiday section of the store.
The great thing is anyone can wrap a fun package like this in just a few minutes. It doesn't take any special craftiness.
Who in your life deserves the gift of Godiva?