This is a sponsored post written by me on behalf of Alcon. All opinions are 100% mine.
Maybe it is because I had my daughter later in life than most, but I often forget how old I am. No, not in an "I can't remember the number kind of way." I just feel more like someone ten years younger, rather than the mom of an eight-year-old, who is easily old enough to be her grandmother. Actually, I am a step-grandmother, courtesy of my late husband. Call me an old fart, in denial if you wish, but I have no interest in being perceived in the "pre-senior" group. I don't want to be mistaken for my little girl's grandma. So, I color my hair, avoid the sun, use good moisturizers and …. hide my readers unless I desperately absolutely just can't avoid using them.
I'm not a fan of the granny glasses, but what is a girl to do? My arms are not getting any longer and presbyopia is tightening it's grasp with each passing year, and I am not alone, nearly 116 million in the US have presbyopia.
Presbyopia is an eye condition that often begins in your early to mid-40s, and involves the gradual loss of the eye's ability to actively focus on close objects. The first signs of presbyopia are eyestrain, difficulty seeing in dim light and problems focusing on small objects and/or fine print found on items such as smart phones, computers, books and menus.
Alcon, the global leader in eye care and a division of Novartis teamed with Jacksonville University and aging expert, Dr. Heather Hausenblas did a study recently concerning people's perceptions and attitudes of aging among the U.S. Gen X population (the 38-54 age group). Part of that study covered the effect wearing reading glasses has on perceived age. The results were not pretty. 1 in 4 adults think reading glasses make you look AT LEAST 10 years older. Now you understand why mine rarely see the light of day; hiding out on a pocket of my handbag.
It seems sort of funny to me, that so many people will dump cash into expensive things like facelifts and teeth whitening to look younger, yet over look simply dumping the readers. There is an option. Alcon® Multifocal contact lenses correct presbyopia without the aging look of granny glasses. They are available in both daily disposable and monthly wear options. The lenses allow for a range of prescription strengths and are an excellent option to correct the vision of people with presbyopia. To learn more and receive a free trial, please visit LoseYourReaders.com.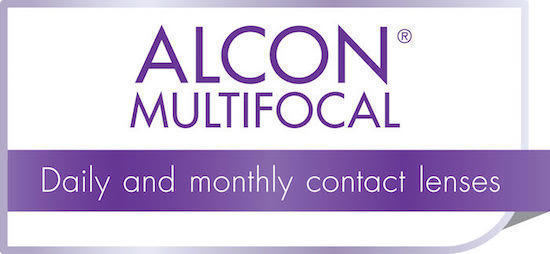 *High oxygen transmissible lenses. Dk/t=138 @ -3.00D. †Eye †Eye exam may be required. Professional fees may apply. At participating offices.
Important Information for AIR OPTIX® AQUA Multifocal (lotrafilcon B) contact lenses: For daily wear or extended wear up to 6 nights for near/far-sightedness and/or presbyopia.
Risk of serious eye problems (i.e., corneal ulcer) is greater for extended wear. In rare cases, loss of vision may result. Side effects like discomfort, mild burning or stinging may occur.
Ask your eye care professional for complete wear, care, and safety information.