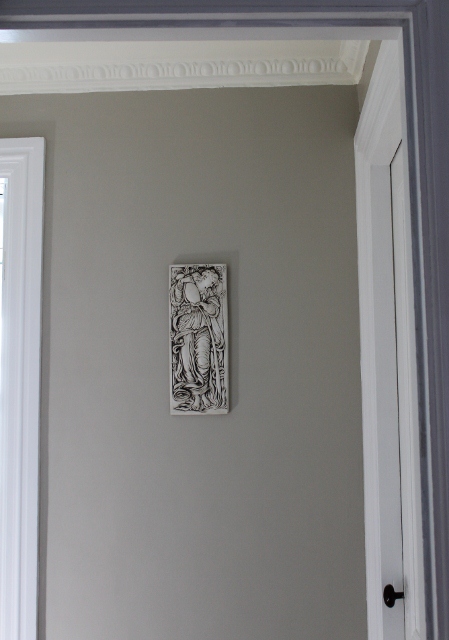 My posts have been a bit sparse over the past week,  because I took on another renovation project.  Which included replacing a corroded tin ceiling.
My upstairs hallway was really bothering me, since I have recently redone my bedroom and my daughter's playroom (which as of today, is serving as her bedroom, since the room she has been in is next on the renovation parade).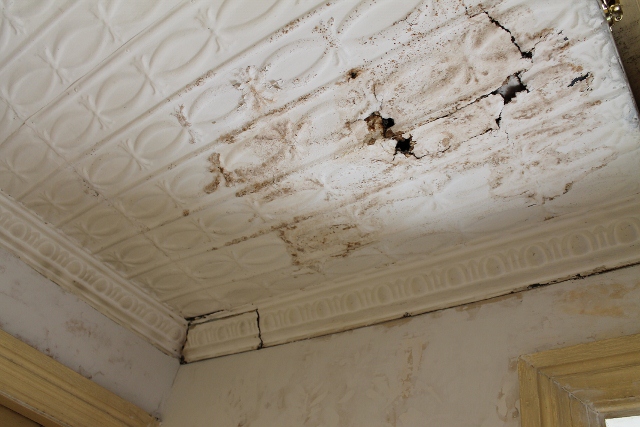 While the hallway is a small space, it had a big problem.  When I had pulled down the drop ceiling and revealed an ornate tin ceiling, it was all good until I ran into a big patch of corroded ceiling.  Yuck!  I started to take off the tin crown molding, to put up a new ceiling, only to realize, that if I took it down, it would never make it back up.  I had no budget, nor inclination to purchase expensive molding to replace it with, and the thought of a plain old ceiling did not appeal to me at all.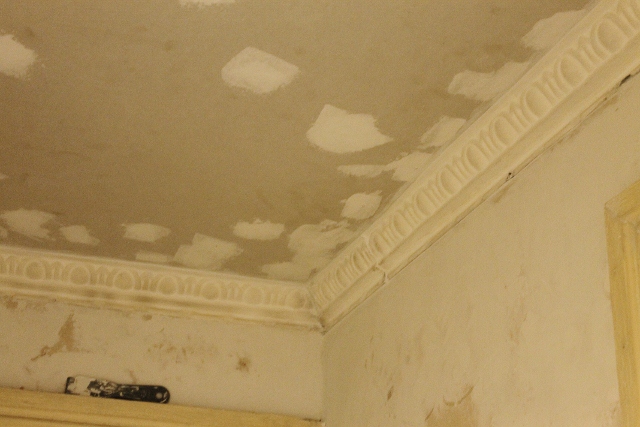 My solution was to re-secure the small piece of molding I had partially removed, and cover the damaged ceiling with ¼" drywall, rather than the slightly thicker width I had originally planned to use. This would allow the egg & dart portion of the molding design to still show.  Since the ¼" drywall is considerably weaker, I made sure to remove all the corroded tin and broken plaster and used plenty of screws to keep it secure.  I cut the pieces as flush as possible, so that I would have less to fill in around the edges.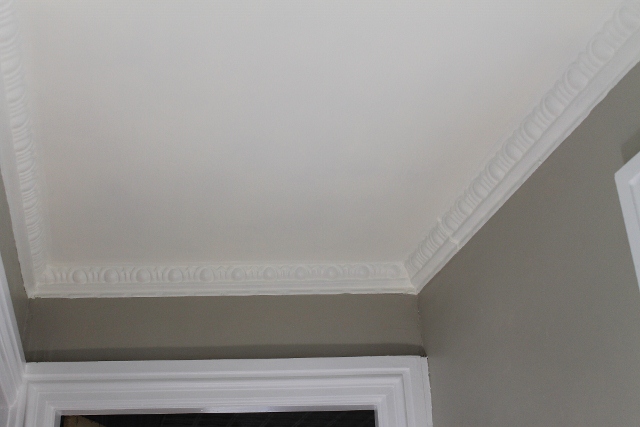 After enduring nasty plaster down my bra, lots of plaster dust in my hair, and Egads! ... two broken nails .... all signs of the ghastly old ceiling are gone.
Note:  I have had a few people contact me over the past year asking what the wall color is.  It is Behr "Castle Path" (730c-3).  The color reads as more gray when not in direct sun, like in this upstairs hall.  I have it running down my staircase and on the walls of the small downstairs landing, where more sunlight hits it.   It warms up and looks more tan down there.  The chameleon quality of this paint is perfect for this area of my house, since I have warm spice tones on the the 1st floor & mostly cooler colors upstairs (except for my daughter's watermelon pink bedroom, which was done after this post).