I first saw Head Chefs utensils on the web about 6 months ago and thought they were adorable, but didn't really need any cooking utensils at the time, so I didn't order any.  They did leave an impression on me though, so I was very pleased to be offered the chance to review a few of the Head Chefs kid friendly kitchen utensils, and even the opportunity to do a reader giveaway.
Say Hello, to My Little Friends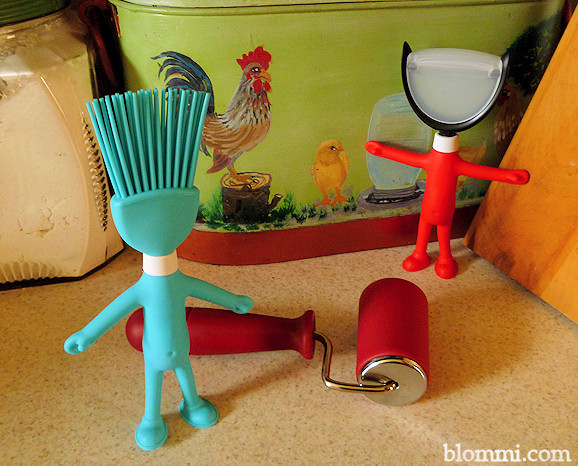 The pastry brush was a must have for me.  His name is "Spike" (I'm sure you can see why).  Like the rest of the character he is made of dishwasher safe silicone, and has bendy arms and legs with suction cup feet.  I broke my peeler a while back, so have simply been using a paring knife for those jobs, but since the opportunity presented itself, "El Diablo" also came to live with me.  To try out some of the companies other offerings, I picked out a small silicone pastry roller as well.   I thought it would come in handy when working on small pastries for the holidays, which will be here before we know it.
While I adore the vintage anthropomorphic kitchen items I have, these contemporary pieces are so much more user friendly.  My first concern was whether they would feel comfortable in the hand, since they look to be built for cuteness rather than ergonomics.  No need to worry, the feel and flexibility of the silicone made for a comfortable grip.  The cute little dudes, as well as, their rolling pin counterpart all performed their intended duties quite effectively.  Funky style and usability, a great combination.
UPDATE
These cute little kitchen utensils have withstood the test of time. They are all still in use in my kitchen 10 years later!
Where To Buy Head Chefs Utensils Now?
They are now on sold Amazon under the name Centervs.
 Disclosure: Product sample was provided for the purpose of review.  All opinions presented here are my own.