This is a sponsored post written by me on behalf of Tender & True Pet Nutrition. All opinions are 100% mine.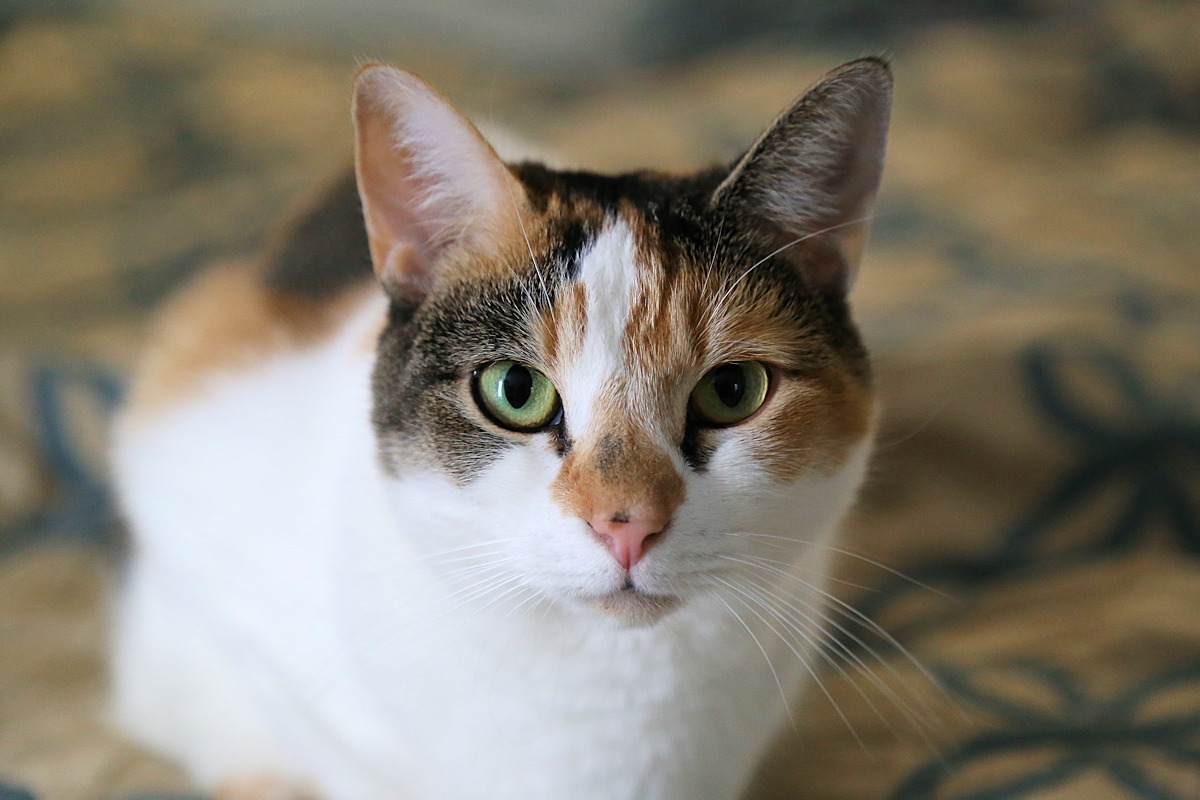 As any vet will tell you, indoor cats live far longer lives than their outdoor brethren. They are certainly far less prone to injury. Yet some people still feel they are being unfair to a cat by keeping it indoors all the time.  Today, I will share with you the basics of how to keep indoor cats happy, like our two beloved feline family members, Kiki and Frisky.
How to Keep Indoor Cats Happy
Many of the things that will keep your indoor cat happy are also great for their health and longevity. As a kitty mom, more happy years sounds great to me!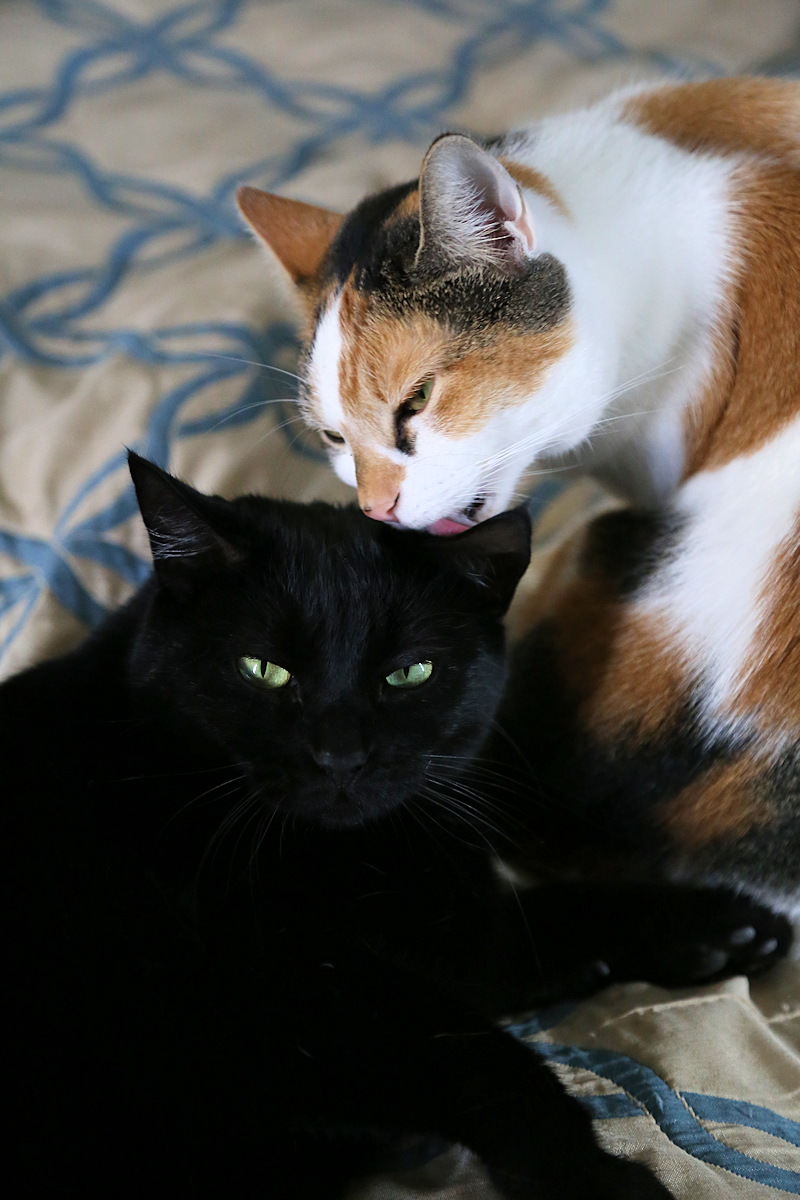 Feline Companionship:
Though they adore their people, most cats do best with a friend of their own kind as well. The companionship of another feline typically improves the grooming and activity levels of each cat. It of course also keeps them from becoming lonely when you are away. Sometimes, adding another cat to the household is not always possible and some adult cats who have grown up without other cats may view another feline as an intruder (I can't imagine Grumpy cat wanting a chum).
If you are starting with a younger cat, like we did and have the room, I encourage you to get another. Two cats aren't much more fuss than one and I think it leads to less mischief, as they play with each other when bored, rather than getting destructive.
Cat Toys:
Toys help keep an indoor cat's mind active and reflexes sharp. Catnip mice, balls, crinkle tunnels and laser pointers are fun choices cats enjoy. Even a dry piece of macaroni or piece of yarn becomes an item of fascination for a cat. Your cat's toy preferences will be particular to your cat. Our super active calico will play with nearly anything but items that make crinkly noises and things she can bat and chase are her favorites. Kiki, our more laid back black kitty, plays with those items less, but loves the laser pointer.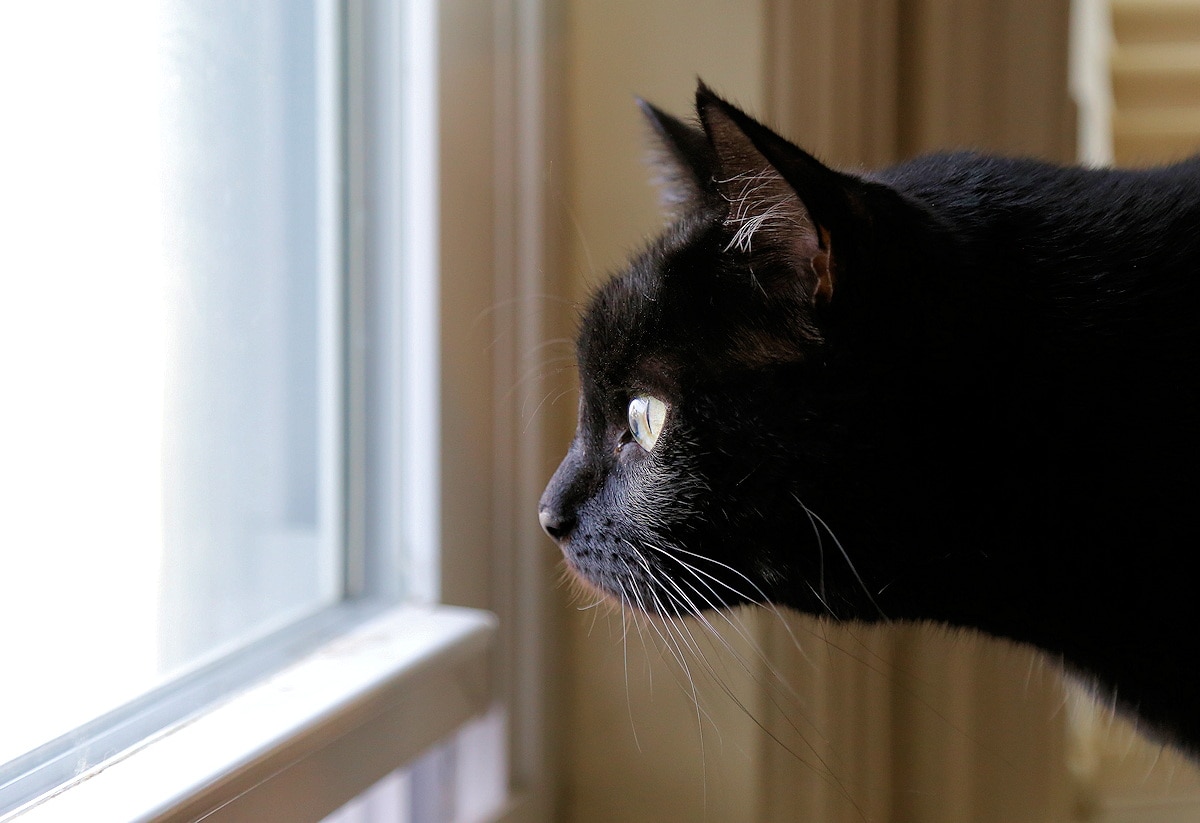 Variety of Views:
Cats love a wide variety of spots to investigate and this is a great way to help keep indoor cats happy. Felines enjoy being able to peer down from high perches, but also love hiding out in little nooks. Access to windows will provide interesting viewing of people and animals that are outside and allow your cat to sun themselves. Our cats have full run of our two-floor home, but I recently added a cat door, so they have access to the basement as well. Yes, they are spoiled by their human mama.
Nutritious Food:
A nutritious well-balanced diet and plenty of fresh water are essential to your cat's health. Obviously, a healthy cat will be happier. Water drinking can be encouraged with an inexpensive pet water fountain, frequent water bowl refills or even leaving a dripping faucet for your cats. Making a wise food selection for your cat is be more stressful than ever with all the packaging claiming healthfulness, but it doesn't need to be difficult.  As you will see below, quality cat food you can trust is available.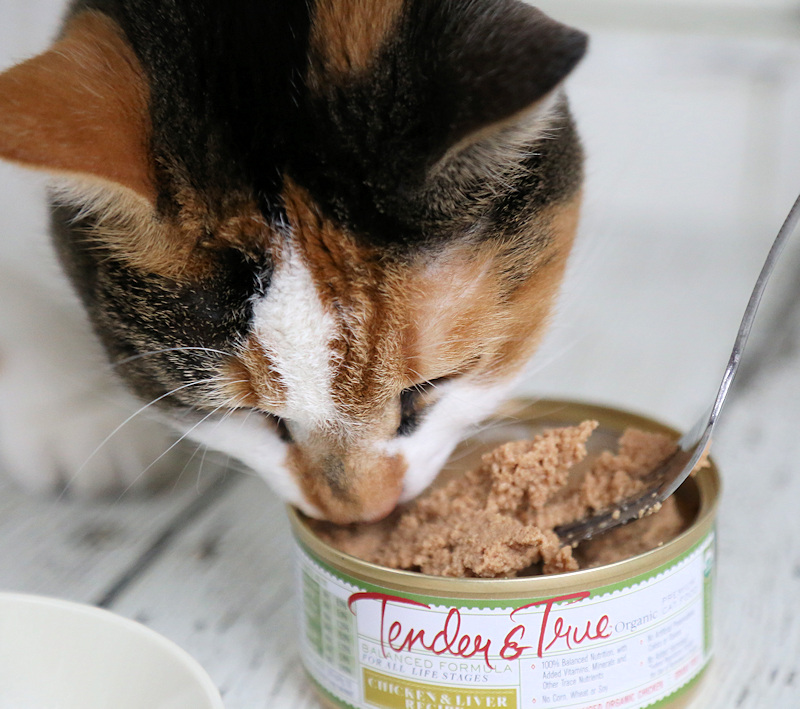 She didn't want to wait until I got it in her bowl.
Tender & True Pet Superfood
Kiki and Frisky have been eating Tender & True chicken & liver dry cat food for nearly six months now. They enjoy eating it and I feel good knowing they are eating humanely raised** high-quality USDA certified* cat food. Tender & True pet foods are nutritionally balanced for all life stages and all varieties contain no antibiotics, artificial preservatives, or fillers, such as corn or soy. Varieties containing seafood are sustainably sourced***.  The nutritional needs of cats and dogs are filled by top quality ingredients, formulated in ideal ratios for them. Human superfoods are not randomly tossed into pet food here, this pet superfood is all about pets, not fads.
All varieties of Tender & True pet food are available in both a cat or dog version, with both dry and canned options.
Organic Chicken & Liver
Organic Turkey & Liver
Ocean Whitefish & Potato (sustainable)
Chicken & Brown Rice (antibiotic-free)
Turkey & Brown Rice (antibiotic-free)
*USDA organic – means it's certified to be 95% organic. First USDA certified dry pet food and one of only a few pet foods on the market with a full line of USDA certified products. **Humanely raised – GAP certified (global animal partnership) – poultry is certified humanely raised; Only full line of GAP Certified organic pet food on the market ***certified sustainable seafood – all the fish comes from MSC certified fisheries