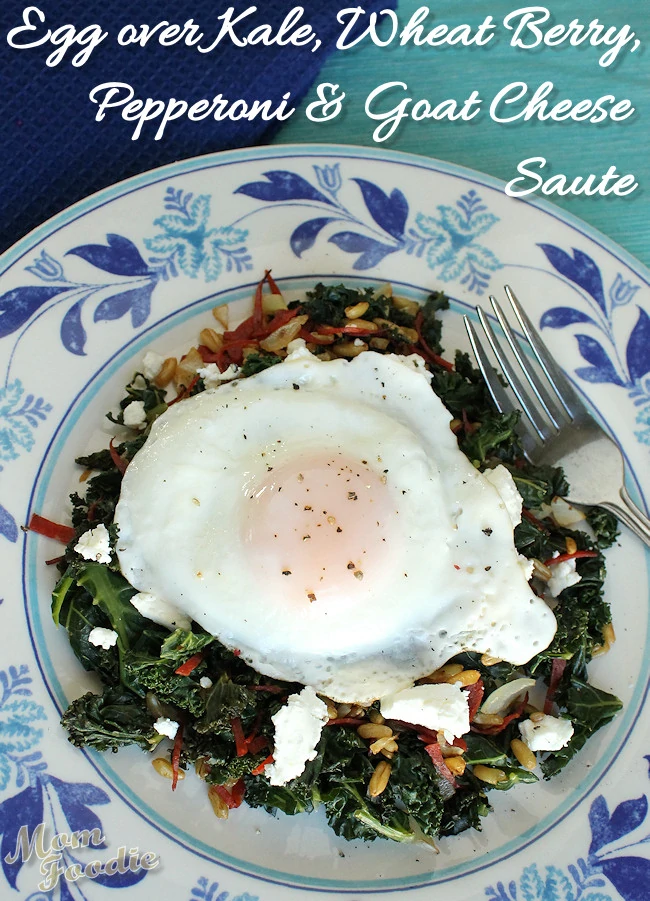 While kale might be in vogue right now, I grew up on it so it is standard fare for me. My half Portuguese mother grew it in our garden, and due to it's cold hardiness it was on hand throughout most of the winter.  While she used it in soups most of the time, it did end out in the occasional saute or braise.
Currently, I'm working on ridding myself of the cookies and other pastries that settled around my waistline over the holidays.  While I still ended the year lighter than I started it, sloth and sweets took over around the beginning of October.  My focus now is eating mostly nutrient dense mini meals.  This Kale Saute topped with Egg and Goat Cheese was brunch for me today.  Wheat berries were added for a complex carb energy boost, and low fat turkey pepperoni added more protein and flavor (lean bacon, ham or prosciutto would be other good choices).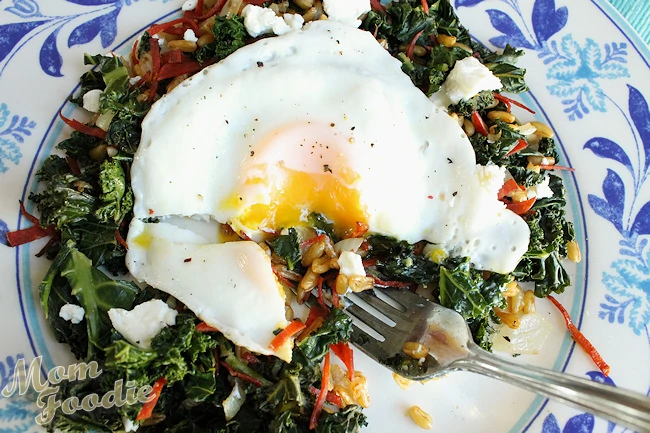 The ingredient measures in the recipe below are per serving.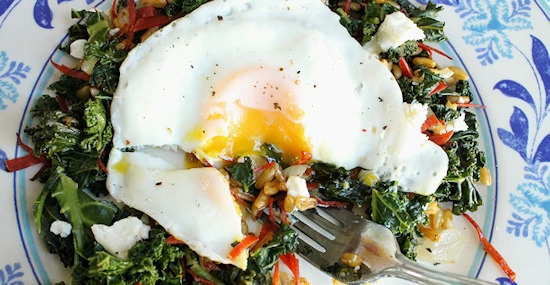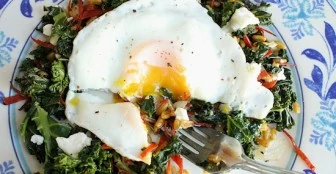 Ingredients
8

slices

of low fat pepperoni

¼

cup

diced sweet onion

¼

cup

cooked wheat berries

1

cup

lightly steamed kale

snugly packed

1

large egg

1

oz.

goat cheese
Instructions
Place non-stick pan over med heat.

Julienne the pepperoni. Add the pepperoni and onions to pan. Stir regularly.

Once the onions are starting to soften add the wheat berries.

After the peperoni is crisp and onions are starting to brown at edges, add the kale, and saute for a few more minutes.

Plate the kale saute, then shut off burner, coat pan with non-stick cooking spray, and gently drop in egg. Cover and cook to preferred doneness.

Spread crumbles of the soft goat cheese over the kale, then top with cooked egg.
Nutrition
Calories:
292
kcal
|
Carbohydrates:
23
g
|
Protein:
21
g
|
Fat:
15
g
|
Fiber:
5
g