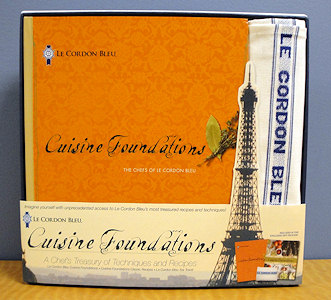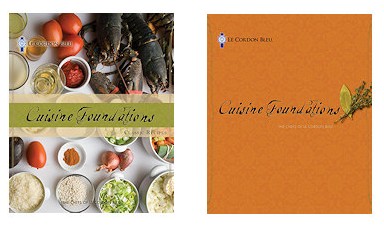 I am an avid cook, and a big fan of shows like Top Chef, so I was very pleased to have the opportunity to review two books from the reknowned chefs of Le Cordon Bleu cooking school.  The books Le Cordon Bleu Cuisine Foundations and Le Cordon Bleu Cuisine Foundations: Classic Recipes are visual delights, in addition to providing information essential to classic French cooking.
Le Cordon Bleu Cuisine Foundations  focuses on cooking and prep techniques, equipment, mother sauces (essential basic sauces), terminology and discussion of ingredients.  While some recipes are included, this is more about gaining the skills necessary to execute French cuisine well. 
Le Cordon Bleu Cuisine Foundations: Classic Recipes is an excellent companion to the above book.  It presents classic French recipes in a straight forward way.  Measurements are given by weight in both U.S. and Metric.  Since this is meant to be an educational book correct French terms are scattered throughout the book, but if you are unsure of any term, many are either defined on the page, or can be referenced in Le Cordon Bleu Cuisine Foundations.
I enjoyed the way these books were written, and the food photos in both books are fantastic. While I have taught myself many of the sauces and techniques from various sources throught the years, I love the comprehesiveness of this books, and did learn a few new things already.  I'm sure I will learn more from them over the coming years.  These are perfect for anyone who has had an interest in going to cooking school, but for whatever reason has been unable to.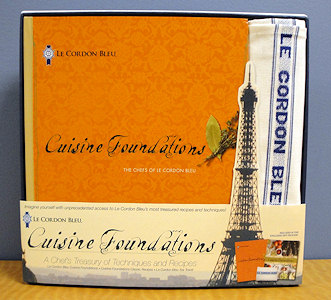 The books can currently be purchased in the set shown above, complete with an authentic  100% polished cotton chef's tea towel (just like the ones used at Le Cordon Bleu Paris).  The set is currently available at Amazon.
Disclosure: While I was sent review copies, all opinions presented here are entirely my own.  No compensation was given.