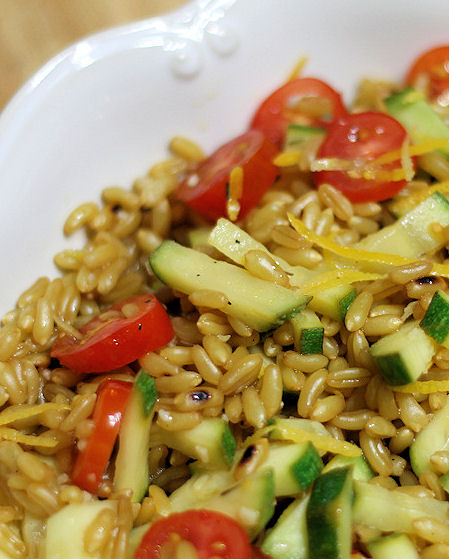 This wheat berry salad recipe with zucchini, tomato and lemon is the result of me getting back on track with my own healthy eating regime, after the recent culinary upheaval of switching Lil' Foodie to a gluten and casein free diet.
Cookies, cakes, breads and pizzas, all gluten-free… and about 4 pounds on me.
She will be on the diet at least through the end of the summer to see if it helps with her autism symptoms.  Lucky for me my favorite way to eat wheat is as whole berries or cracked into wheat bulgur, both of which my daughter has no interest in.
Another factor in the creation of the wheat berry salad recipe, was the tomatoes I picked earlier that day.  I haven't had a great season so far with my garden.  I am pretty sure I put a tad bit too much composted cow manure into my soil mix, and it has been counterproductive.  Team that with a drought and a forgetful gardener, you get poor results.  The tomato crop just started coming in though. These grape tomatoes are my first harvest, and went directly into this wheat salad, along with some zucchini from the market, since mine refuses to generate any squash.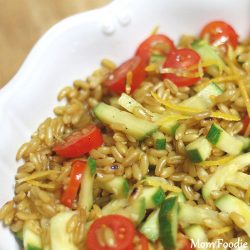 Wheat berry salad with zucchini, tomato and lemon
Ingredients
2

cups

cooked Kamut or other wheat berry

the yield from 1 cup dry

clove

garlic

crushed/minced

2

tbs

extra virgin olive oil

a couple sprigs of fresh lemon thyme

regular thyme is fine, substitute 1/2 tsp if using the dry herb

1

small zucchini

1/2

cup

chopped tomatoes

zest of one lemon

2

tbs.

lemon juice

1 1/2

tbs

extra virgin olive oil

Kosher salt

*1/4 cup crumbed blue cheese

optional
Instructions
Slice the zucchini into batons (chunkier than match-sticks).

Put 1/2 tbs of olive oil in pan, with garlic, thyme and the zucchini. Lightly saute.

Take pan off burner and add the wheat,add the lemon zest and toss together.

Add lemon juice,remaining oil, salt and tomato and gently stir to evenly mix.

If you choose to add the cheese, sprinkle it on the top to serve.
Recipe Notes
*4 appetizer/salad servings, 2 entree servings