Twas' the day before Thanksgiving and all around, people were bustling to ready  their homes for the holidays and guests and guests that abound. 
Admittedly poetry is not my strong suit, but that is what is happening right now.  The mad holiday rush has officially kicked off.  Cooking, shopping, decorating, and of course guests.  In all the frantic preparations and desire to impress one's guests, it is important not to forget the little things, which are often in the end the most essential of all.
Much is made of creating the perfect meal, and festooning the home to look it's glorious best, but heed my warning, don't forget the bathrooms.  Not only do you want them tidy, but it is also a good idea to sort of make them set up for "DIY" mishap remedies.  A brush and plunger in easy to identify decorative canisters on the side of the toilet, will avoid Uncle Harry (No I don't actually have an Uncle Harry) having to yell for a plunger.  Everyone else can remain blissfully unaware of his "incident".
Egads!   The nightmare of all holiday hosts.  Having your guests greeted with this when they go to use your bathroom.  That is bad, but if there are no back up rolls it is a downright catastrophe!  The Thanksgiving without TP is not something you want to be remembered for.  Burnt turkey, clumpy gravy, lousy pie, and all be overlooked, perhaps even laughed about later.  No TP is not a laughing matter.
No worries.  Target® and Quilted Northern® have you covered.
Target® currently has a deal on Quilted Northern® where you get a $5 gift card with purchase of 3 packages.  The 12-pack of double rolls, which is my preferred way to buy, is included in the sale.  They fit easily in a bathroom cabinet, yet don't run out quickly.

In addition to the sale price and gift card, you can save another 5% with the Cartwheel app, and of course there are the usual Redcard savings too.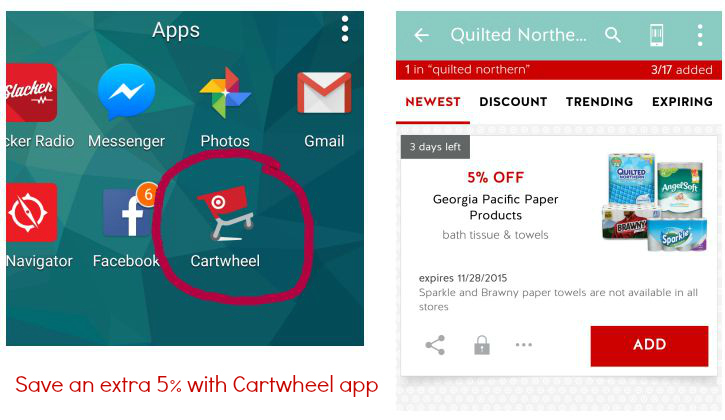 So there is no excuse for not making your holiday guests bathroom visits forgettable this year.  Stock up with this quality toilet tissue at an affordable price.  Sale runs November 23-27th.
The makers of Quilted Northern® use our 100 years of experience to craft a toilet paper that works so well you can forget your bathroom experience. Because the best bathroom trips are the ones you don't remember.
This is a sponsored conversation written by me on behalf of Georgia Pacific. The opinions and text are all mine.