I am sure most of my readers are familiar with the original Mrs. Dash Salt-Free Seasoning, but even as a regular user myself, I didn't realize how many different Salt-Free Seasonings and Marinades Mrs. Dash actually makes. There seems to be one for just about any taste you have. Mrs. Dash Salt-Free Seasoning is not just for those who need to be on a low sodium diet, as you will see very soon, most Americans could really use it.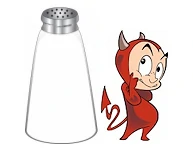 Salt is not the Devil, but overuse of it could make you meet your maker sooner than you would like.
In general Americans typically consume 3800 mg of sodium per day, far more than the 2300 mg recommendation for healthy adults, and drastically more than the 1500 mg recommended for people over 50 years of age. The 1500 mg maximum sodium intake, is also recommended for African Americans, diabetics, and those who have hypertension or chronic kidney disease. It is astounding how much salt is in many popular foods, especially processed ones. My husband recently asked me to pick up a certain frozen dinner for him that was on sale. When I checked the label the sodium in it was 71% of the daily recommended allotment. That is simply ridiculous (I bought him a different brand, that he likes).

I found myself with blood pressure issues after giving birth to my daughter, and was surprised to see how hard it was to just keep my daily intake of salt down to the 2300 mg level. It can be quite an eye opener to see how fast the sodium adds up, and is a bit shocking to see how much salt is packed into popular processed foods. Salt is cheap, packs a lot of flavor and preserves food, so many manufacturers load it on.

Switching to a lower sodium diet with the help of Mrs. Dash
For me, the solution was to start cooking more of my family's food from scratch.  I had already tried and liked Mrs. Dash Salt Free Seasoning,  in the past, so I picked up a bottle and started adding it to many of my recipes.  A bit of it seems to end out in most of my savory dishes.  I usually buy the table blend, which is more finely ground, since it is a little easier to integrate into recipes, but the original is wonderful in simmered dishes, and on grilled or roasted meats & vegetables.
When you cut back on use of sodium in cooking, it is time to investigate the many other uses for salt.
I am pretty adept at the use of herbs and spices, but having these blends on hand makes cooking so much easier. I don't omit salt from my cooking, but the salt-free seasonings from Mrs. Dash help me to create flavorful dishes, which are healthy for my family, and contain reasonable amounts of sodium. Mrs. Dash now has a whopping 14 different salt-free seasoning blends available, as well as, a half dozen marinades. I was sent a all the seasoning blends and have been having fun experimenting with them. I made a pink sauce with the Garlic & Herb blend, which came out quite well. I've also used the Italian Medley on homemade pizza & tossed a generous amount of the Extra Spicy blend in the fajitas I made recently, with good results in both cases.

There are many great recipes available right on the Mrs. Dash website. The recipes are broken down by course, primary ingredient, or dietary concerns. I found the recipe listing to be very user friendly. For even more low sodium recipes, and discussions about healthy eating check out Mrs. Dash Recipes on Facebook
Disclosure: Product samples provided for the purpose of this review. All opinions presented here are my own.