Oatmeal Lavender Bath Soak
This Oatmeal and Lavender Bath Soak recipe is full of so many wonderful ingredients that are beneficial to your body and mind, that its like having a mini spa experience at home for a fraction of the cost. Basic, easy to find ingredients make this soak a simple and affordable treat. Make some up for yourself or make a batch for mom as a Mothers Day gift- don't forget to include a scoop. Send some with a sweet note at the end of the school year for your child's teacher. Pretty jars are easy to find at your local craft store, even a mason jar makes for a beautiful presentation.  To make the Oatmeal Lavender Bath Soak even more giftable, I've included a handy printable label.
My sister website Beauty Crafter has more in depth information about the benefits of an oatmeal bath and another recipe version along with DIY soap & bath bombs too. 
 Benefits of an Oatmeal Lavender Bath Soak
Here are some of the benefits that each ingredient brings you:
Epsom Salts– Draws out toxins from your body, and reduces swelling and inflammation.

Oatmeal- Moistens and soothes dry skin from eczema, allergies, and other conditions.

Sea Salt– The minerals found in sea salt (Salt from the Dead Sea is best) can help alleviate pain from  fatigued muscles and arthritis pain.

Cornstarch- Soothes skin irritations.

Lavender essential Oil – Has wonderful aromatherapy benefits, promoting relaxation and is reported to help tremendously with headaches.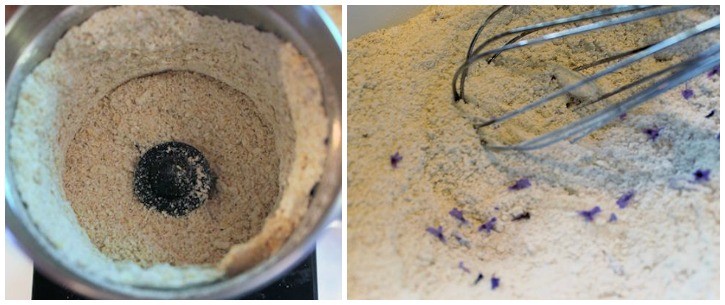 Oatmeal and Lavender Bath Soak Recipe
Ingredients
1

cup

Epsom salts

1

cup

Oatmeal

½

cup

sea salt

½

cup

cornstarch

8-10

drops lavender essential oil

¼

cup

dried lavender

optional
Instructions
Grind oatmeal in a blender, food processor, or coffee grinder until it is almost a powder.

Combine oatmeal with epsom salts, sea salt, cornstarch, lavender oil, and dried lavender ( if using) until well mixed and ingredients are evenly distributed.

Place in an airtight container.

To use: scoop one cup under running bath water.

Oatmeal Lavender Bath Soak Labels
These Victorian Style labels, will dress up your bath soak a little more.  Use nice quality printer paper, and cut out labels with sharp scissors or preferably an X-acto knife and adhere to jars with a thin coat of glue.  Use a purple ribbon to tie a small scoop and/or recipe to the jar and you have a fine quality handmade gift (that was super easy to make).  Great for fund raisers and bazaars too.
Here is the PDF file for you >>  Oatmeal Lavender Bath Soak Free Printable Labels