Want to make some fun rolls? Try my Pretzel Rolls recipe. These mini pretzel buns make great sliders too, so much better than store bought slider rolls!

Pretzel Rolls
Pretzel rolls are a fun twist on regular dinner rolls. They are also great for snacking on with a mustard or queso dip. Of course as I mentioned above, they also make terrific slider rolls. Just pop a mini burger or some pulled pork inside.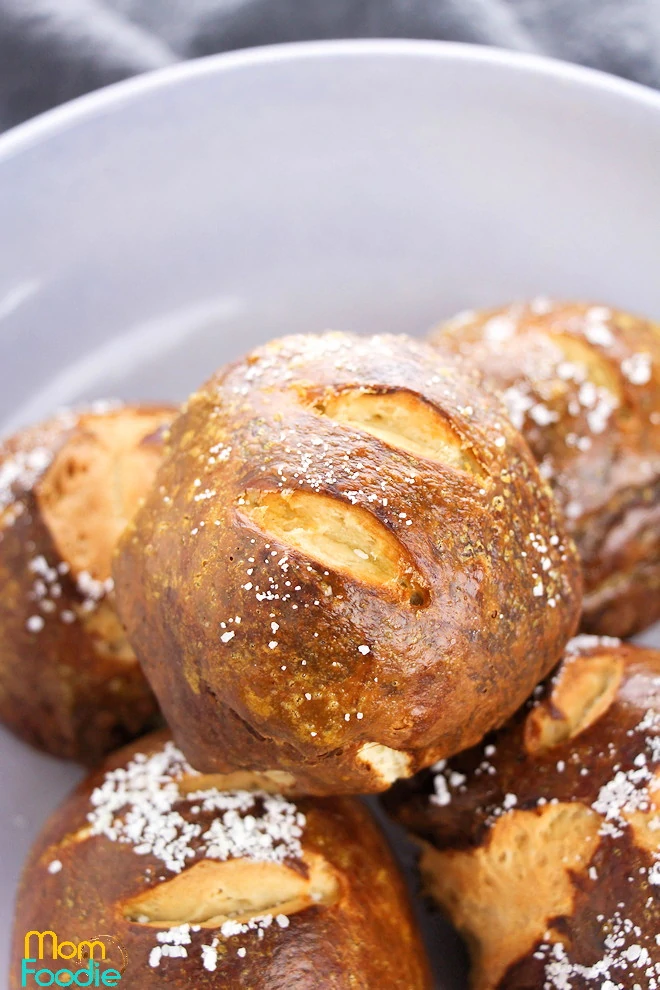 Granted pretzel rolls take the extra step of boiling before baking, but the amazing texture of the rolls make it worth the extra few minutes.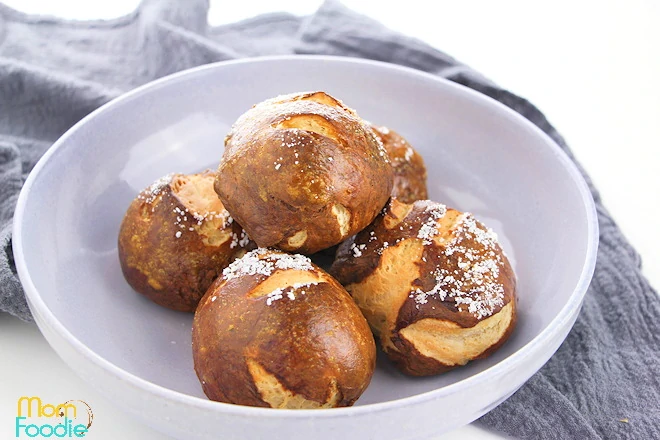 How to Make Pretzel Rolls
Here is a quick guide to making these mini pretzel buns. Printable recipe card can be found below.
How to make Pretzel Dough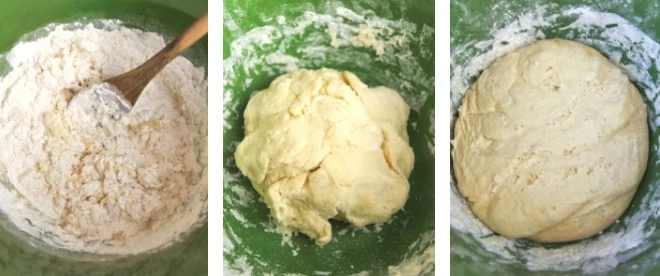 Combine the dough ingredients as directed. Knead the dough (using a dough hook on a stand mixer makes this easier). Then cover and place the dough in a warm oven to rise or other warm spot until the dough has doubled.
How to Make the Rolls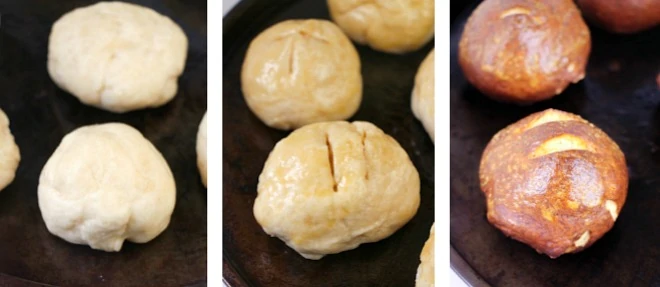 The dough should now be smooth and elastic. Divide it into eight equal balls. Roll the balls on a floured surface or in your lightly oiled hands.  Drop each dough ball into a large pot of baking soda infused boiling water for 2 minutes. Place the now boiled rolls onto a greased baking sheet and score the top of each roll with a sharp knife.  Brush the rolls with egg wash and sprinkle with coarse sea salt. Place the rolls in a preheated oven (400 degrees), reduce heat to 350 degrees for the final 10 minutes of baking.
Why are Pretzel Rolls boiled?
Just like regular pretzels the process of boiling in an alkaline bath is what creates the dark crisp crust pretzels are known for. While lye is used for this by commercial bakers, most home cooks select the safer alternative of boiling in a baking soda bath, as is done in this recipe.
For another fun twist on the common dinner roll check out my Pani Popo - 3-Ingredient Samoan Coconut Rolls!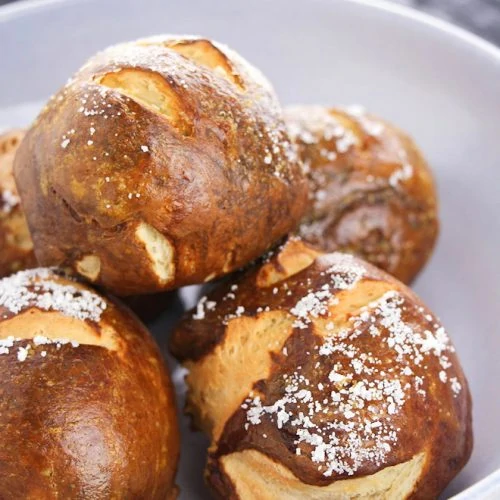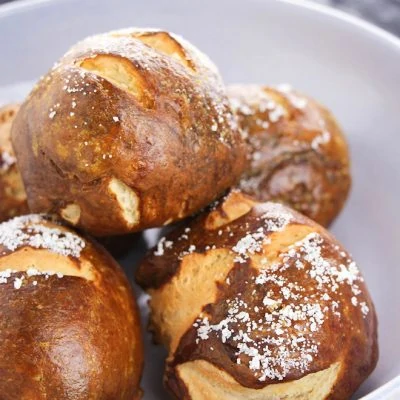 Pretzel Rolls Recipe
Pretzel rolls that make great alternatives to standard dinner rolls or use as slider buns.
Print
Pin
Rate
Ingredients
1

cup

milk

4

Tablespoons

butter

divided

2 ¼

teaspoons

yeast

2

Tablespoons

brown sugar

3

cups

flour

8

cups

water

½

cup

baking soda

1

egg

Sea salt

coarse
Instructions
Preparing Dough
In a medium saucepan over medium heat, combine the milk and 2 Tablespoons of butter.

Heat to 125 degrees F (hot but not boiling) and remove from heat.

Stir the yeast and brown sugar into the milk mixture and let proof for up to 5 minutes.

Pour the milk mixture into a large bowl and stir in flour (with a spoon or with your hands).

Knead for 5 minutes, and then cover with plastic wrap and place in a warm spot of your kitchen.

After an hour, the dough should be doubled in size.
Shaping and Boiling
Punch down the risen dough and divide into 8 even balls.

Preheat oven to 400 degrees F and Grease a cookie sheet , set aside.

Place 8 cups of water and the baking soda in a large stockpot and bring to a boil over high heat.

Drop the rolls into the boiling water, two at a time, for two minutes, turning once.

Use a slotted spoon to remove the rolls from the boiling water and place on greased cookie sheet.
Baking the Rolls
After boiling all of the rolls, make two or three small cuts to the top of the roll to allow steam to come out.

Combine the egg and 1 teaspoon water and brush over the rolls, then sprinkle on sea salt.

Bake at 400 degrees F for 15 minutes, then reduce heat to 350 degrees F for remaining 10-12 minutes.

Remove from oven. Set on wire racks to cool.
Notes
Nutrition calculations based on using ½ tablespoon of sea salt to top the rolls and a 1 teaspoon residual amount of baking soda from boiling.  These are estimates, as are all nutritional calculations presented here.
Nutrition
Calories:
269
kcal
|
Carbohydrates:
41
g
|
Protein:
7
g
|
Fat:
7
g
|
Saturated Fat:
4
g
|
Cholesterol:
38
mg
|
Sodium:
680
mg
|
Potassium:
130
mg
|
Fiber:
2
g
|
Sugar:
4
g
|
Vitamin A:
255
IU
|
Calcium:
56
mg
|
Iron:
2.3
mg