This Rosewater Facial Mist is a homemade Mother's Day gift she will really use. It's great for the complexion, easy to make, and I've made pretty printable labels for you!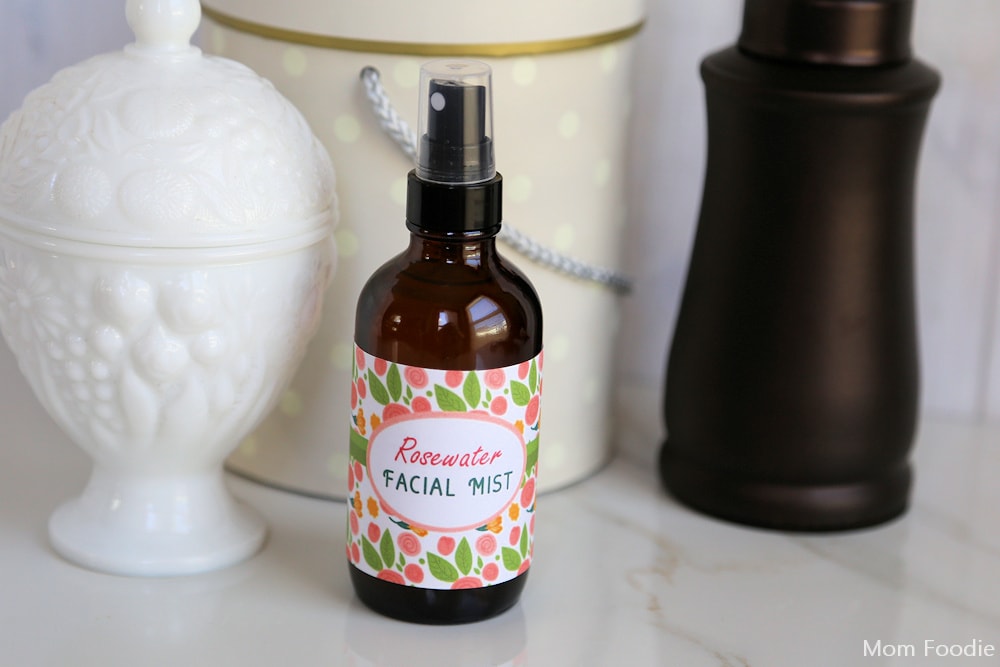 All the ingredients for this can be ordered right off Amazon. Affiliate links below.
Rosewater Facial Mist (Origin)
I've been making this facial mist for a few months now, and use it pretty much daily.  It all started due to my eight year old daughter's love of being misted with rosewater
.  It seems to put her in a cheerful mood and I knew it was supposed to be good for the skin, so I indulged her.  Of course, mom would spritz a bit on herself as well.  I liked how it felt on my skin, and the smell is certainly lovely.  I was spurred to do a little research, and turn to a few of my other favorite ingredients that are beneficial to the complexion to create my own natural facial mist.
My goals were make a nourishing and hydrating facial mist, while keeping the recipe as simple as possible. I wanted it to be something I could use daily without any concerns.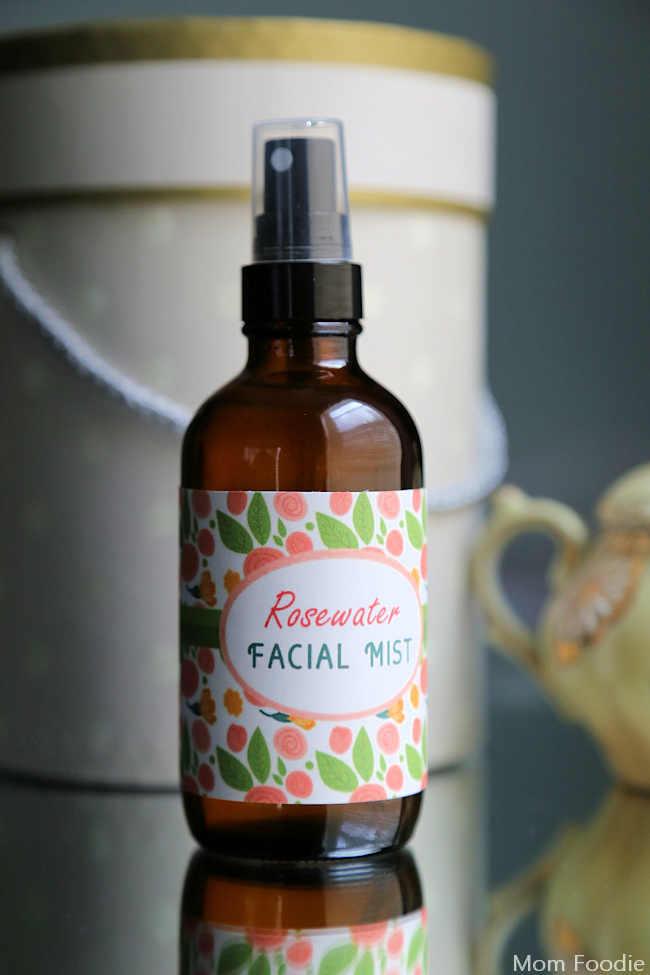 I came up with a simple three ingredient Facial Mist, which relies heavily on the power of roses to invigorate skin.
Beneficial Complexion Ingredients
Rosewater
Rosewater
(also known as rose hydrosol) not only perfumes the mist with a delicate floral scent, which is said to reduce stress and improve mood, but has long been known for it's complexion benefits as well.  It's extolled for soothing inflammation of the skin.  Rosewater is considered a humectant and it's toning properties help shrink pores.  It also has mild anti-bacterial properties making is a great cleanser or mid-day refresher.
Rosehip Oil
Rosehip oil
absorbs readily into the skin, and doesn't leave any greasy residue, so it works very well in a facial mist.  The oil has number of purported healing benefits for the skin, and  is one of the "go to" oils to combat wrinkles and dry skin, due to it's high level of essential fatty acids.
Vegetable Glycerin
Glycerin
is moisturizing and helps to soften and soothe skin.  It is said to create a beneficial barrier for the skin, and will even draw moisture to your skin on a humid day.
Grab Your Supplies
Water-Rosewater Heritage Store 8 oz Liquid
Leven Rose Organic Unrefined Rosehip Oil for Healthier Hair and Softer Skin, 1 fl. oz.
NOW Solutions Glycerine Vegetable, 16-Fluid Ounces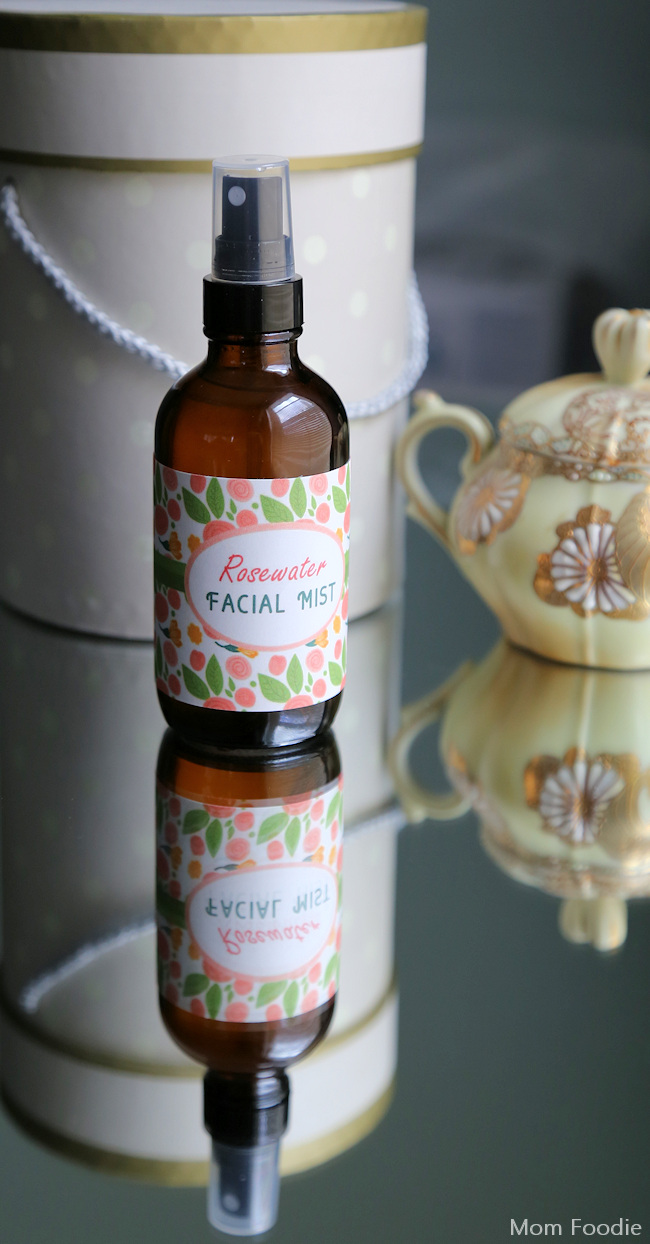 Rosewater Facial Mist Recipe
Ingredients*
approximately 3 1/2 oz. Rosewater
1 tsp rosehip oil
1 tbs glycerin
Directions
Fill a clean 4 ounce glass spray bottle
about 75-80% full, with rosewater.
Add the rosehip oil and glycerin, then shake well.
Store in refrigerator for longest shelf life, since the rosehip oil is fragile in warmer temperatures.
To use:  Simply shake a couple times and apply a few spritzes to face.
*source these ingredients as organic if possible
If you really need some extra moisturizing boost up the amount rosehip oil and glycerin a little.  I use a more concentrated bottle to mist dry skin areas after my shower. BONUS: this doesn't irritate like most moisturizers shortly after shaving.  It helps lock in moisture until you can generously apply a regular body lotion.
Get Your Bottles
6, Amber, 4 oz Glass Bottles, with Black Fine Mist Sprayers
SimpleHouseware 6PK 4oz Cobalt Blue Glass Bottles with Mist Sprayer
Homemade Mother's Day Gift
To make this facial mist giftable and pretty, I've created some free printable labels for you.  Simply print on a light-medium weight cardstock (regular printer paper won't give a s good of a result), trim and glue onto your bottles.  I apply a thin coat of regular all-purpose glue, center the middle of the label, then gently press outwards to edges.  This ensures an even and unwrinkled label application for mom's new homemade beauty product.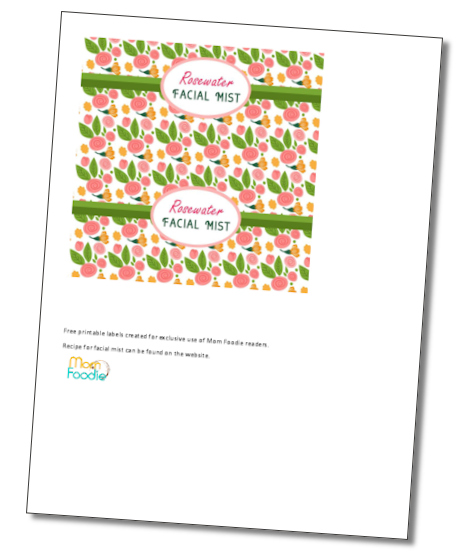 Here is the PDF file for the labels >> Rosewater Facial Mist Labels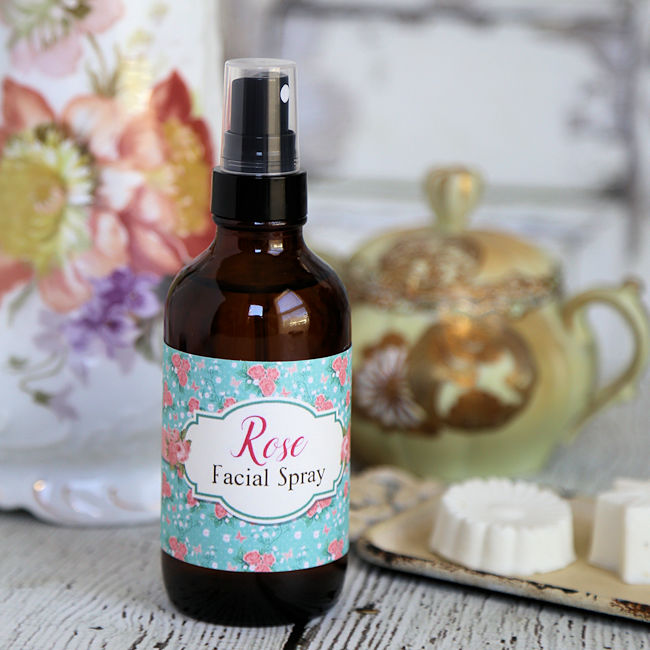 I published another version of the labels on our sister site Beauty Crafter. So, pop over there for a more Old Fashioned option.