A pop up bug tent can be a useful outdoor item, especially for families with small children. They are great for outdoor play as well as camping. Here I review a Sansbug model. (sample product provided at no cost to me)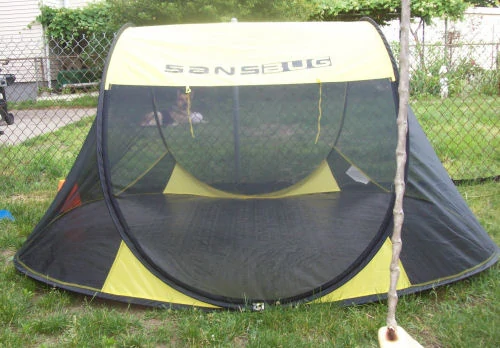 Sansbug Tent Review
When my Sansbug
III pop-up bug tent arrived for review, I was very surprised at how light it was, and wondered if they had sent me one of the smaller models instead of the Sansbug III
model, how was this going to open into a 40 sq. foot tent.  My inquisitive nature took over and I decided to pop the tent open right then and there in my kitchen.  About 10 seconds later I had a fully erect, Sansbug III tent standing in my kitchen.  I tried putting it away, and didn't do too well, until I watched this short video.  After watching the video, I folded it right up.  Bing .. bang .. done.  It took me about 30 seconds to have it zipped back up in it's bag.
With mosquito season starting up, a Sansbug tent could be a real lifesaver.  I plan on using mine for the outdoor concerts our local park offers in the evenings.  It will be perfect for my family to sit and watch the concerts without getting bitten.  We can even watch the fireworks on the 4th of July in it.  The sides have an especially extensive view area.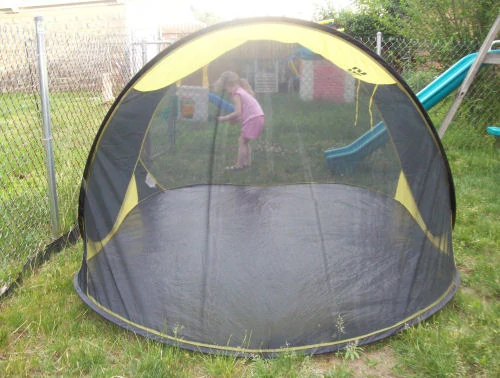 These mosquito tents are wonderful to have on hand for events, parties, camping, or fishing.  They are also a perfect spot for kids to take a nap, while the family is outdoors.  What a great chemical free way to keep your family safe from disease bearing mosquitos and other pests.


The tents are very reasonably priced, and would make an excellent Father's day gift.  The Sansbug
III that I received is their largest model and has plenty of room for three.