This post brought to you by Tom's of Maine. The content and opinions expressed below are that of Mom Foodie at blommi.com.
By this point, I think most of us are aware there are some not-so-great-for-you chemicals in most traditional deodorants and antiperspirants. Still, the vast majority of us stick to the chemical laden stuff, mostly out of fear of being "that smelly person" in the room. I sure don't want to be "that person".
We can have both. We can get rid of harsh chemicals, and still smell good. Tom's of Maine has been making natural deodorant for decades, but just released their new Long Lasting Natural Deodorant formula. As always, it is free of aluminum, artificial fragrances and petrochemicals, yet provides clinically proven 24-hour odor protection. Hops and zinc are used to combat odor rather than chemicals.
This product fits in well with my goals to reduce the overall chemical exposure of my daughter and myself. So, I was happy to try it.
While I was forewarned there may be a transition period when switching from a chemical based deodorant to a natural one, I didn't have any difficulties. Perhaps a difference would have been more noticeable during the dog days of summer since this is a deodorant, not an antiperspirant.
After trying the natural powder, wild lavender, and unscented versions, not surprisingly I like the Wild Lavender the best. On the other hand, my cat Frisky seemed to have a preference for the natural powder scent. She also loved that Tom's of Maine does no animal testing and uses no animal ingredients.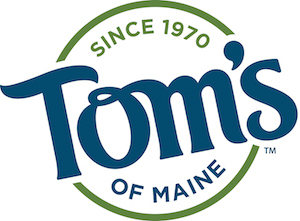 Not only are Tom's of Maine products mindful of chemicals their packaging is fully recyclable, and 10% of Tom's of Maine profits go back to helping people and the planet. Follow them on Facebook to keep up with their good works and new products.