The All-Clad Non-Stick Hard Anodized Roaster I was sent for review got a bit of a workout today.  I've been a fan of All-Clad products for some time now, so I was looking forward to trying it.  Before getting this pan, roasting pans never saw much action in my kitchen.  I would drag my cheapo roaster out on Thanksgiving to hold the bird, and it might get used once or twice throughout the year, and that was even when my very carnivorous ex lived with us.  Last year, rather than chiseling the encrusted drippings off of the pan, I chose to deposit it in the trash.  It accomplished nothing more than holding the turkey, it did nothing to enhance the completed meal, a disposable aluminum pan could do that just as well.  I would either get a good quality roaster, or use disposable.
After using this Hard Anodized All-Clad roasting pan,  boy am I glad I didn't end out with the disposables.  It does exactly what you want in a good roasting pan.  It roasts the contents evenly, creating lovely caramelization, and those delightful brown bits release easily from the pan, truly a gravy makers dream.  I can't wait to roast my turkey in this baby!
So, you are probably wondering, what did I cook in it.  I wasn't so thrilled with my apple- butternut squash last Thanksgiving, so I decided to do a trial run this morning of a completely reworked version of the recipe, which would be healthier and hopefully more flavorful with better texture.  It seemed a good choice to try the roaster out with too, since I was coating the squash with a somewhat sweet glaze, and was hoping to attain a nice caramel browning on it.  Well, between my changes and the performance of this pan, the Roasted Apple-Butternut Squash was divine.  Later, I made a couple batches of oven fries in it.  Looks like this pan will be seeing plenty of action in my kitchen.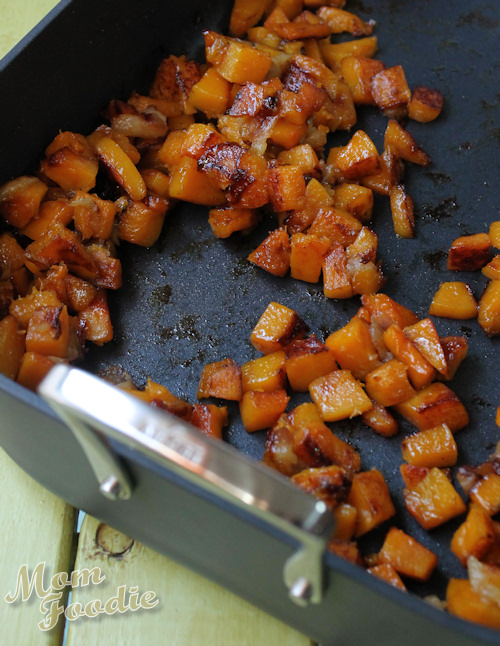 This  All-Clad Hard Anodized roaster  features heavy gauge aluminum to deliver even heat without hot spots.  The commercial grade stainless steel bases prevent warping and reduce the chance of stove tops being scratched. Layered nonstick is bonded to the pan, providing excellent release and scratch resistance.   While I personally wouldn't do it, they are listed as dishwasher safe. The pans are oven safe to 500 degrees and fine for induction ranges too.
The All-Clad Hard Anodized Non-Stick Roaster and other products from the line are available at Bed Bath & Beyond.
Available in these sets:
2-piece fry pan set (8" & 10")
5-piece set (10" Fry pan, 2 Qt. Sauce pan with lid and 3 Qt. Sauce pan with loop & lid)
10-piece set (8" Fry pan, 10" Fry pan, 2 Qt. Sauce pan with lid, 3 Qt. Sauce pan with loop & lid, 4 Qt. Sauté pan with lid and 8 Qt. Stockpot with lid
Other open stock options:
3 Qt. Sauce w/Loop & Lid
8 Qt. Stockpot with Lid
4 Qt. Soup Pot
12″ Chef's Pan with Loop & Lid
11″ Flat Square Griddle
Media sample provided.  All opinions and experiences presented here are my own.