Whether you are planning a more formal outdoor dinner party or a relaxed barbecue this summer  following these outdoor entertaining tips, can help ensure your party or event is a success.  After all, your goal is to make sure your guests can relax and enjoy themselves. Think ahead of both your and your guests comfort and enjoyment and you will set the tone for a fabulous outdoor party.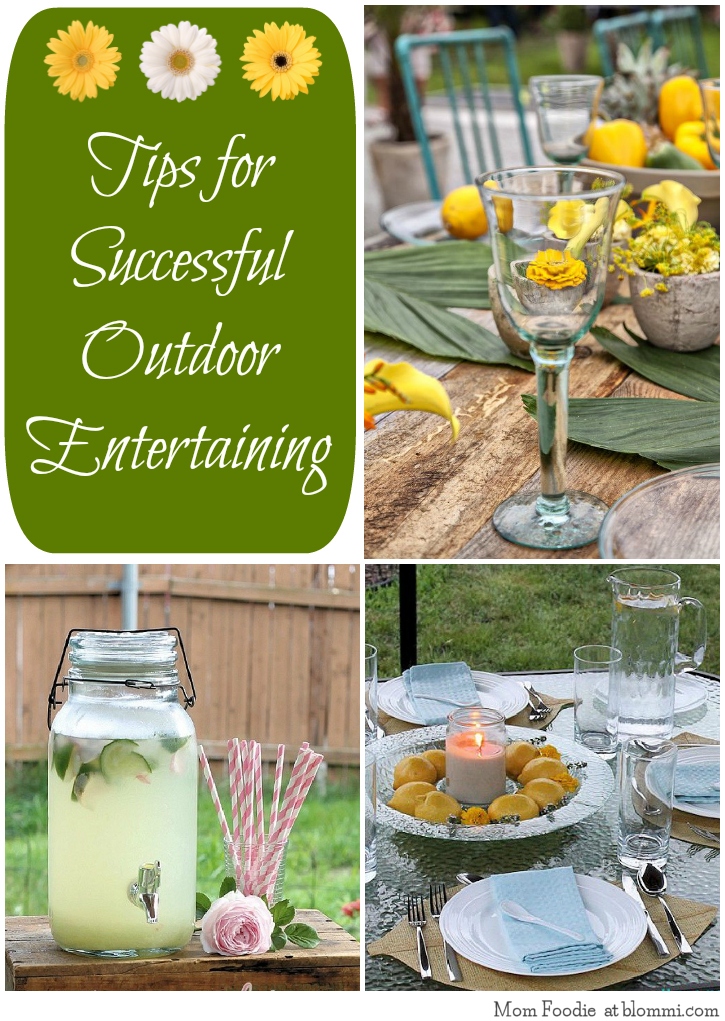 Outdoor Entertaining Tips for a Successful Party
Here are some of my favorite outdoor entertaining tips to help ensure a  successful outdoor party. Let's make this your best party ever!
Provide adequate seating- Set up around a table or even random Adirondack, chaise, lounge, or folding chairs scattered throughout your party area. Benches, logs, hay bales (be sure and cover them with some kind of fabric so they are not scratchy), picnic tables, or similar. Just make sure you have more than enough seating for everyone attending the party. The second part of this is to also have tables or something similar for party goers to rest plates and glasses. You don't want them standing with both hands full, unable to eat or drink. Check all your outdoor furniture prior to the party not just to make sure it is clean, but also for soundness.  Make sure there are no loose screws, cracked wood, or other repairs that need to be made to the furniture.
Keep it Simple- Even a dinner party can be relaxed, especially outdoors. You want your guests to feel at ease, not worrying about spilling something on your fancy linen tablecloth or breaking fine china. A plain white tablecloth and simple dinnerware is ideal. Dress things up with flowers and great lighting rather than fancy place settings.  Consider buying inexpensive wine glasses and plates in bulk (or even acrylic ones
).
Plenty of shade- If your party is during sunlight hours you will want to have plenty of shade to offer. Trees, tents and strategically placed umbrella's offer guests a place to hide from the sun.
Clean and stock guest bathroom- Unless you have rented an outdoor potty you will still need to pay special attention to this area of the house. After a thorough cleaning- stock extra items like scented soap, hand lotions, body spray, and plenty of toilet paper for your guests.


Provide comfort- Set out a pretty basket with outdoor necessities like; bug spray, sunscreen, wipes, hand sanitizer for your guests convenience. These thoughtful touches can make it an enjoyable and memorable outdoor entertaining experience for guests.
Scatter dining stations- Spread out your food, drinks, plates and utensils to avoid guest congestion. Give each item it's own area, preferably with both sides of the table open for serving to keep lines flowing and guests mingling.
Turn on the music- Music is wonderful and can definitely set the party atmosphere be it classical or rock. Keep it just loud enough so that everyone can enjoy but not so loud that guests have to yell to have a conversation.
Consider lighting- One of my favorite outdoor entertaining tips is to focus on lighting, especially if your party will be mostly in the evening.  Make sure you have adequate lighting. Candles, lamps, lanterns, landscape lights, or strings of Christmas lights not only allow guests to see what they are eating and where they are walking but can set a beautiful mood for your party. I spots that don't have access to electricity, ensure you have plenty of  solar lights and candles, as well as my favorite battery operated seed lights, which throw a surprising amount of light and can go most anywhere.  They are perfect in a mason jar or woven into decorations.
Relax yourself- Most likely your guests did not come to have your wait on them hand and foot, they want to see you and enjoy your presence. Give yourself enough time before your gathering to relax- a long bath, a glass of wine. So that you will be ready to receive them with a genuine smile., accept their offers of help, recruit friends beforehand to help with clean-up.