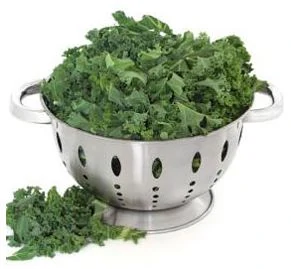 "What is Kale?" The question seemed a bit surprising to me, since I grew up on this green, but then upon further thought, I realized that until I had started cooking it myself, it had almost always been presented to me in Portuguese Kale and Bean soup.  My mother is half Portuguese, and the recipe is inexpensive to make, so it was a staple in my household growing up.
What is Kale?
So to answer the question What is Kale? ... It is a leafy green vegetable, from the cabbage family.  While I have always grown, and purchased curly kale, a flat leafed variety is also commonly available, as well as, several other cultivars.
Nutritional Benefits of Kale
Kale packs a great nutritional punch.  It is low in calories, high in fiber, and is an outstanding source of vitamins A, K & C.  It is also high in manganese, calcium & iron, and has been shown to help lower cholesterol and cancer risk.  This cruciferous vegetable has both antioxidant and anti-inflammatory benefits for the body, so adding it to your family's diet makes good common sense.
How to Cook Kale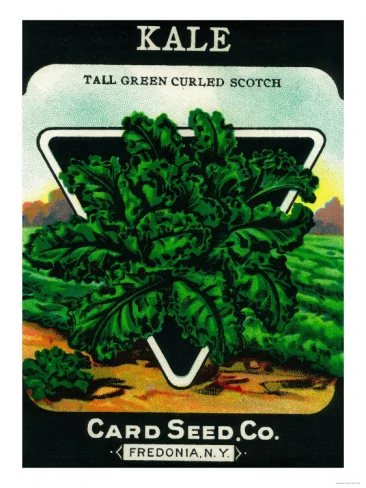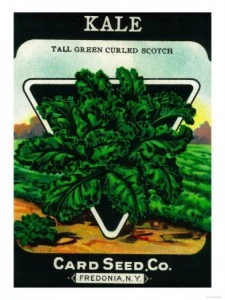 Kale is often used in soups, but is well suited for saute, stir fry, braising and steaming.  It can be baked into breads, mashed into potatoes, and even baked into chips.  Pretty much any way you would cook collards or other greens, could be readily adapted for cooking kale.  Keep in mind though, like most vegetables, long boiling will destroy much more of the nutritional value, than methods like stir frying or steaming will.
Growing Kale
Kale is pretty easy to grow, and is a great crop to fill in the spaces left bare by late spring, early summer crops, since it is typically planted late in the season, as it handles frosts well (actually frost improves the flavor of this green).   Many years, even here in New England, we have been able to harvest right through the winter, even under snow.  Like other cruciferous vegetables, kale prefers full sun and moist well drained rich soil, for optimal results.
If you didn't know what kale is, now you do 🙂