Print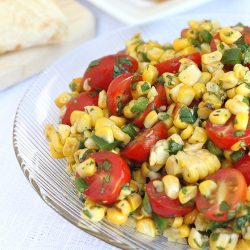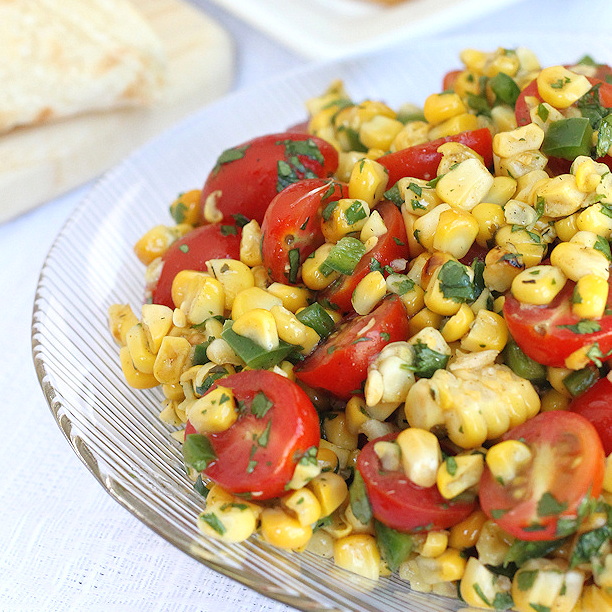 Tex-Mex Grilled Sweet Corn & Tomato Salad Recipe
Grilled corn and tomato salad. Perfect picnic or BBQ side dish. Also great used in or with other Tex-Mex dishes.
Corn Salad Dressing
2

tbs

olive oil

2

tbs

fresh lime juice

2

cloves

of garlic

3/4

tsp

Kosher salt

1

tsp

light brown sugar

1/4

tsp

chili powder
Combine dressing ingredients in small bowl and whisk together. (1/4 will be used to baste corn, 1/2 will dress the salad & 1/4 is reserved for marinating an accompanying protein or just to drizzle)

Preheat grill.

Peel back the corn husks, discarding all but a couple inner layers. Remove corn silk, then baste with dressing, and recover corn with remaining husk. *

Grill on med-high for 20-25 minutes, turning 3-4 times during cooking time.*

Remove the corn from grill and allow to cool a few minutes, then cut off stem end, place the flat cut end on bottom of large bowl, and run a small sharp knife down the length of the cob, slicing off kernels.

Add the tomato, cilantro, jalapeno and 1/2 the dressing. Mix well.

Serve at room temp or chilled.
*if you prefer, soak ears of corn in water for about 10 minutes prior to husking and de-silking. The husks will char less, giving less smoked flavor and helping the corn steam (Grill on high for 15 minutes instead, if you go this way).