Print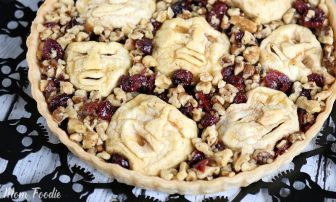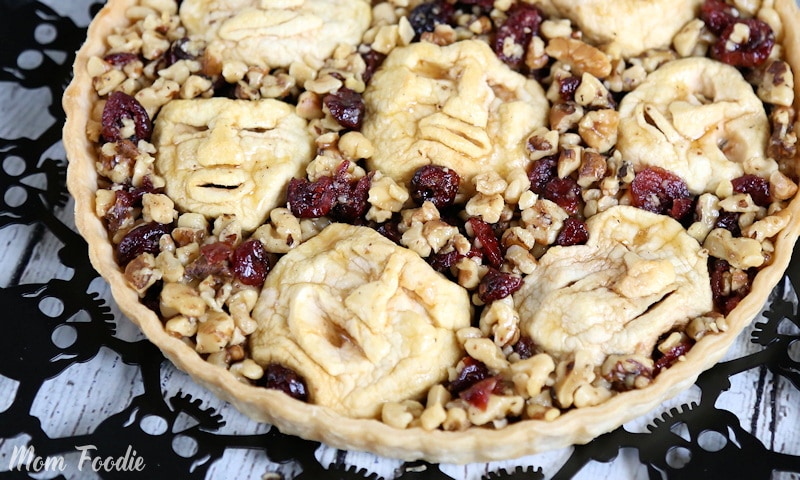 Shrunken Heads Halloween Apple Cranberry Walnut Tart Recipe
This Shrunken Heads Halloween Apple Cranberry Walnut Tart is the perfect dessert recipe to make for a Halloween dinner party.
4-6

firm apples

medium sized

1

tbs

citric acid

or 1/2 cup lemon juice

2

cups

water

single pie crust for tart shell

3/4

cup

chopped walnuts

1/4

cup

dried cranberries

1/4

cup

of honey

1 1/2

tbs

orange juice

*** optional 1/4 tsp cinnamon
Cut the apples in half core and peel. Take care to make sure you have removed seeds and hard bits, but keep as much apple as you can.

Mix the citric acid or lemon juice with water in medium size bowl. Make sure it is deep enough to cover an apple half.

Carve the faces in each apple as shown, then drop in the water bath. Remove, shake off and pat dry with paper towel. This keeps the apples from browning.

Preheat oven to 200 degrees. Place apples on parchment lined baking sheet. Bake for approximately 3 hours. Until apples are starting to shrivel. Place the apples on baking cooling rack and bake another 2 - 3 hours, until apple heads are shrivelled and soft inside, yet not hard and dry.

Remove the shrunken apple heads from oven. Increase the oven temperature to 350 degrees.

Line a tart pan with pie crust pick bottom with fork, trim edges and bake for 10 minutes. Remove, but leave oven on.

Arrange the shrunken apple heads in tart.  Mix together the walnuts, cranberries, honey and orange juice (add cinnamon if you like). Fill in spaces between the apples with cranberry walnut mixture. Baste the apple heads with a little of the syrup from mixture.

Bake for 15-17 minutes. Remove and once the tart is cooled to handleable, remove the tart from pan to plate.