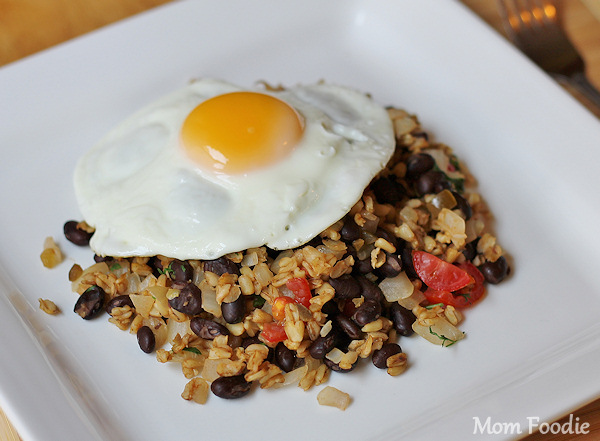 I started working out this week… I am not, nor ever will be a big fan of the whole thing, but sometimes we just have to suck it up, and do what is good for us.   When you're a single parent to a special needs child, the need to be there for them for the long haul is all the more apparent, and I feel like sort of a jerk for not trying harder sooner.
I figured I better make sure and have a good breakfast that included whole grains, relatively low fat and plenty of lean protein.  , When I eat eggs, I generally stick mostly to the whites, but here the yolk added a bit of fat and moisture to the meal, as well as a few extra nutrients.  If you want to skip the yolk, drizzle a tsp of olive oil over the wheat berries & beans to make up for the loss.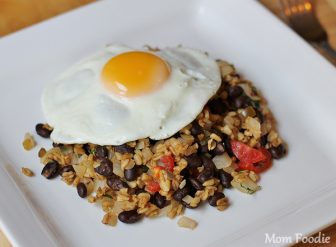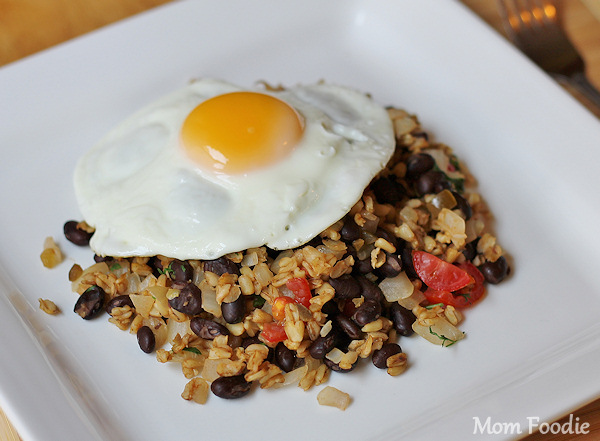 Egg over Spicy Wheat Berries and Black Beans Recipe
Egg over Spicy Wheat Berries and Black Beans is a high protein breakfast Recipe
Ingredients
non-stick cooking spray

1/2

cup

chopped sweet onion

1/2

cup

cooked wheat berries or farro

1/2

cup

canned or precooked black beans

rinsed

pinch

of Kosher salt

generous pinch of chili powder

2-3

slices

of pickled jalapeno

minced

1/2

tsp

chopped fresh cilantro

3-4

grape tomatoes

1

large egg
Instructions
Coat pan with non-stick cooking spray, and put over med-high heat.

Add onions, and saute until lightly golden brown.

Add wheat and saute about 1/2 a minute, then add beans, salt, chili powder, jalapeno & cilantro.

Cut the grape tomatoes into 3-5 slices each and toss them into the pan, stir and remove from burner.

Fry egg in non stick pan and serve over the wheat berries & black beans
Nutrition Facts
Egg over Spicy Wheat Berries and Black Beans Recipe
Amount Per Serving
Calories 305
Calories from Fat 63
% Daily Value*
Total Fat 7g 11%
Total Carbohydrates 54g 18%
Protein 19g 38%
* Percent Daily Values are based on a 2000 calorie diet.