This Pierogies and Kielbasa Skillet Recipe is a hearty family friendly meal that is easily prepared. The Polish sausage and pierogies is a 30 minute dinner prepared in one skillet and loaded with flavor.
Colorful red and green peppers contrast delightfully against the the sour cream, golden brown potato pierogies, kielbasa sausage and gooey melted cheese when serving. The skillet pierogi casserole recipe is such a delicious way to cook pierogies, YUM!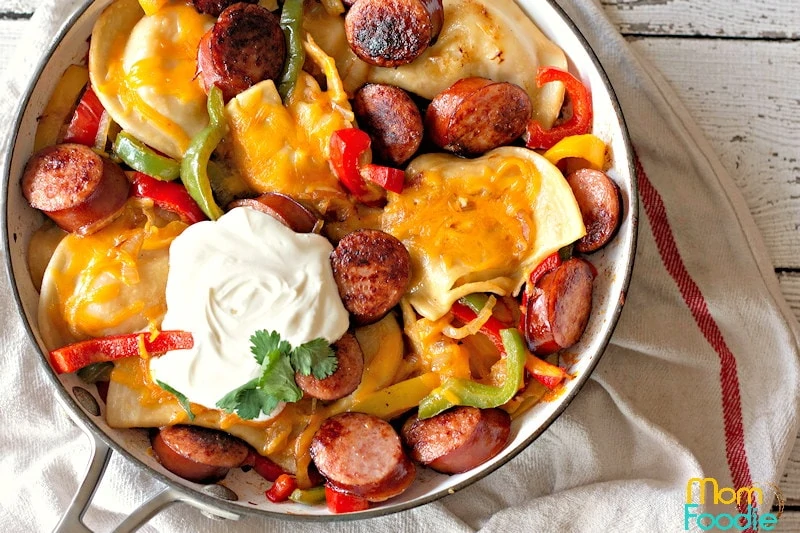 This pierogi and kielbasa combination is great comfort food with easy clean up. The skillet meal is nearly as popular in my house as my Kielbasa and Potatoes recipe!
Kielbasa and Pierogies Skillet
Pierogies and Kielbasa are both classic Polish comfort food. It is not surprising that they pair together so well. Here they have been pan fried along with peppers and onions, then topped generously with shredded cheddar cheese.
The combination of all these ingredients makes a fantastic skillet meal your family will love! It is one of my favorite recipes using frozen pierogies. Just top with a couple tablespoons of sour cream and perhaps some sliced green onion then dig in.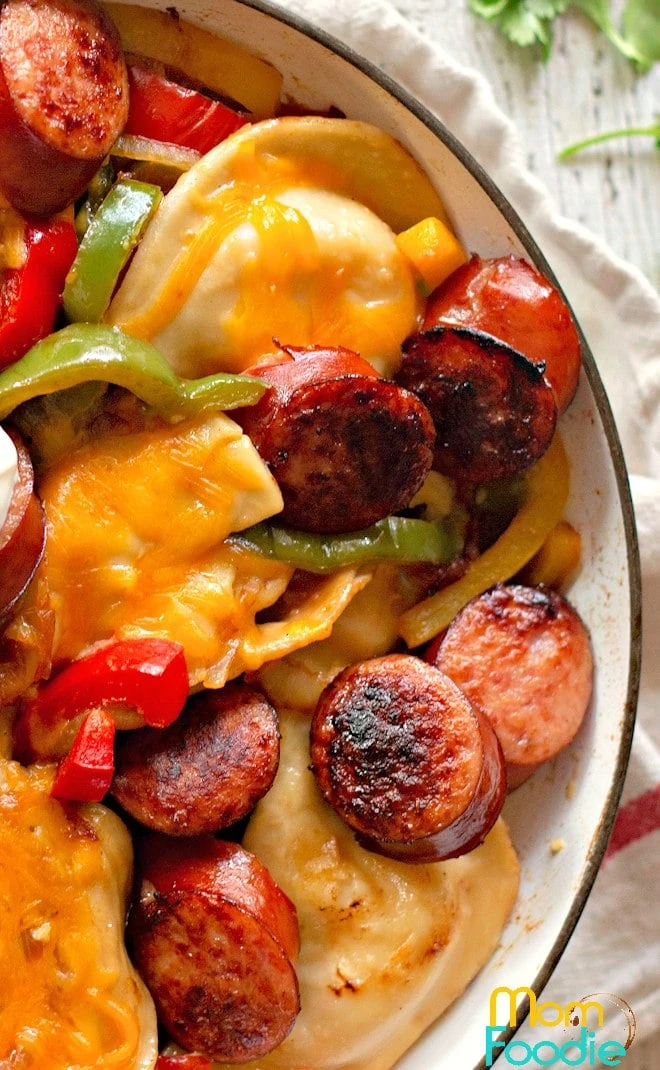 While I suggest serving a nice big dollop of sour cream with the dish, it isn't really necessary.
If you love spicy food a splash of hot sauce would be a tasty alternative.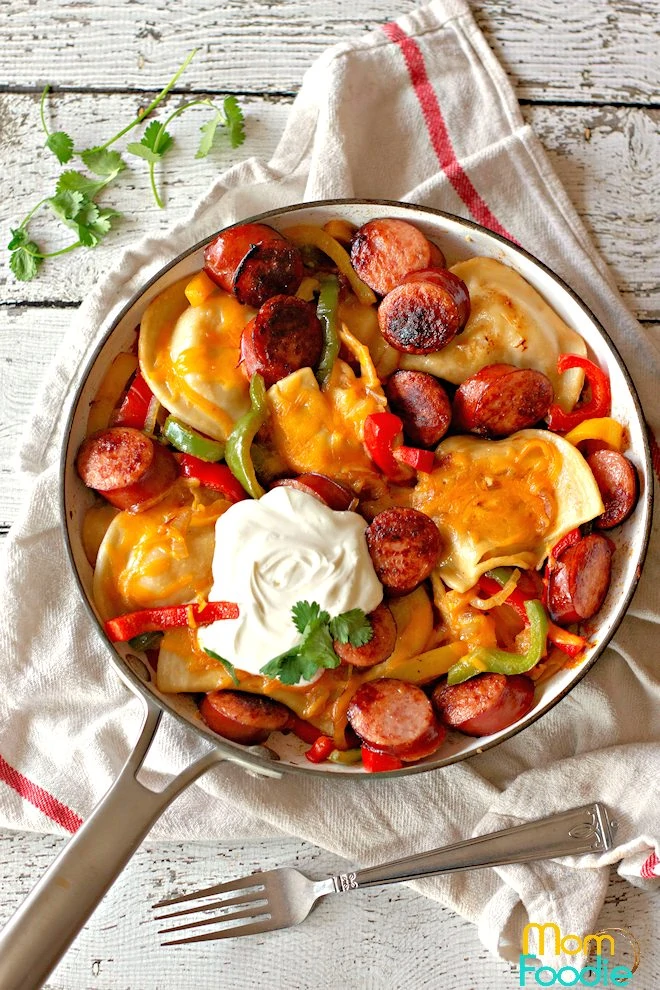 How to make Pierogies and Kielbasa Skillet
Just follow along with the simple steps and this recipe is a breeze.
I've included some images of the preparation to help. Full recipe is on the printable recipe card below.
The kielbasa and pierogi recipe makes 4 servings.
Prep time: 5 minutes Cook time: 25 minutes Total time: 30 minutes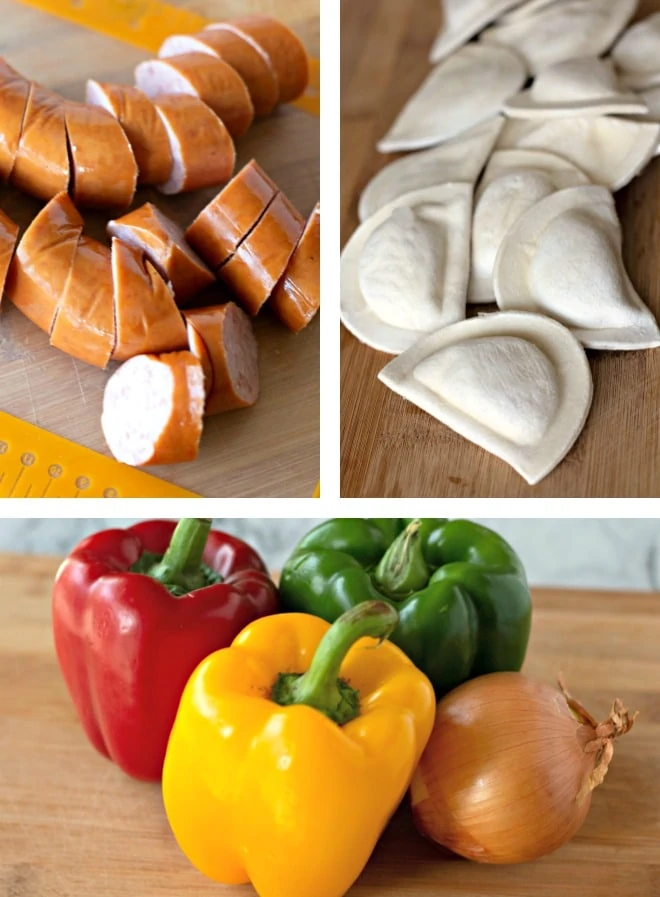 Here are most of the ingredients you will need toe make this kielbasa skillet recipe.
Ingredients
Kielbasa is a fully cooked Polish sausage. It can be found in the grocery store along with the other smoked sausages. Traditionally, kielbasa is a ground pork sausage, but my late husband preferred the beef variety. I have made the turkey kielbasa for myself on occasion and the olive oil used in this recipe is sufficient to make up for the lower fat in that sausage.
Pierogies are found in the frozen food section. They are pasta pockets typically filled with mashed potatoes and flavoring such as cheese or chives. Any variety will work, but since I was already adding cheese to the dish, I selected potato and onion pierogies. Feel free to make your own homemade pierogies if you like, but that is a time consuming process.
Peppers & onions add color and texture to the dish and make it a complete meal in a skillet.
Melted Cheddar cheese tops off the skillet meal and elevates it to full on comfort food. not pictured
Olive oil and butter are used to fry the kielbasa, vegetables and pierogies. not pictured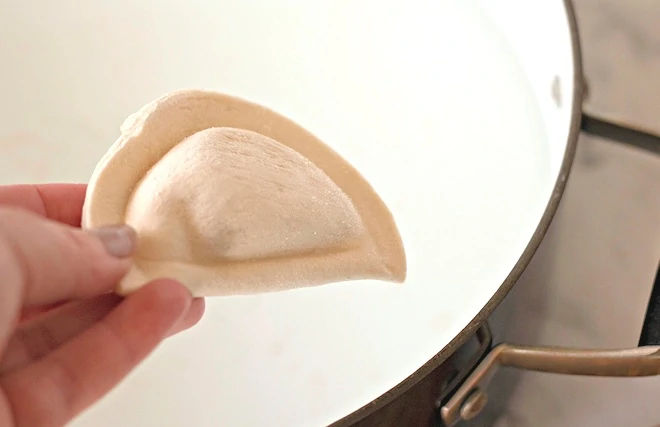 Place a pot of water on to boil at the start. Boil the frozen pierogies according to box directions, while frying kielbasa, peppers and onions.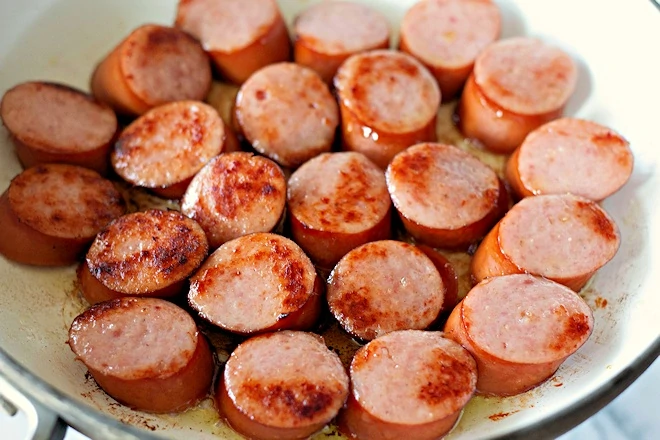 Put a large skillet over medium-high heat and brown the sliced kielbasa.
Scoop out the browned sausage into a bowl and set aside. Leave the fat and oil in the skillet.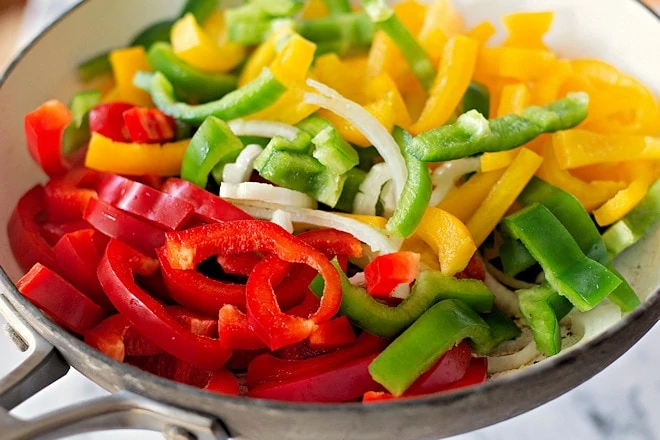 Reduce heat to medium. Add the sliced peppers and onions to the skillet.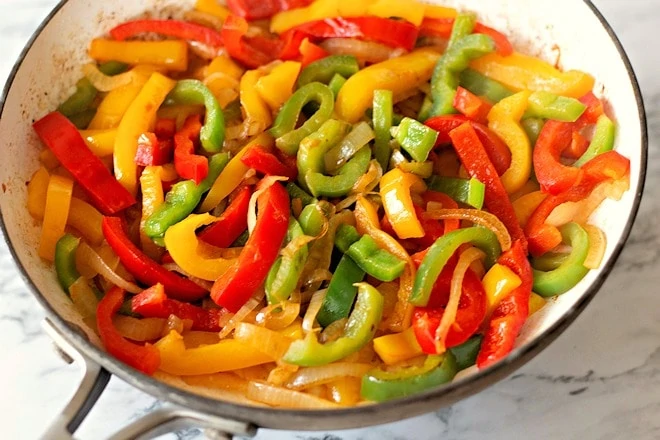 Pan fry the vegetables until onions are soft and golden brown. The peppers will be cooked to tender, but not mushy. Remove to bowl with the kielbasa.
Then pan fry the pierogies in butter until lightly browned.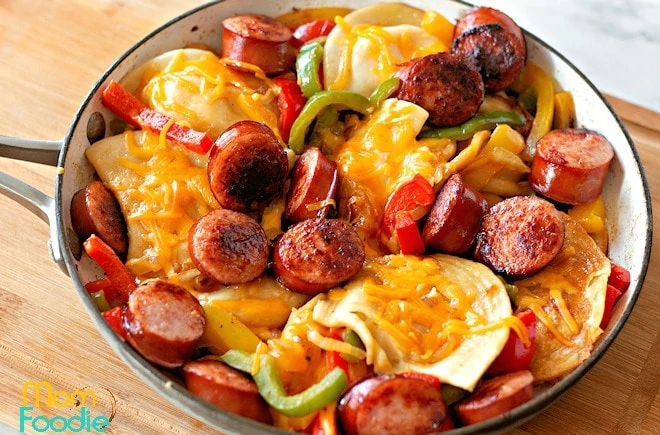 Return the sausage and vegetables to the skillet with the pierogis. Mix these together gently, then top off with shredded cheese.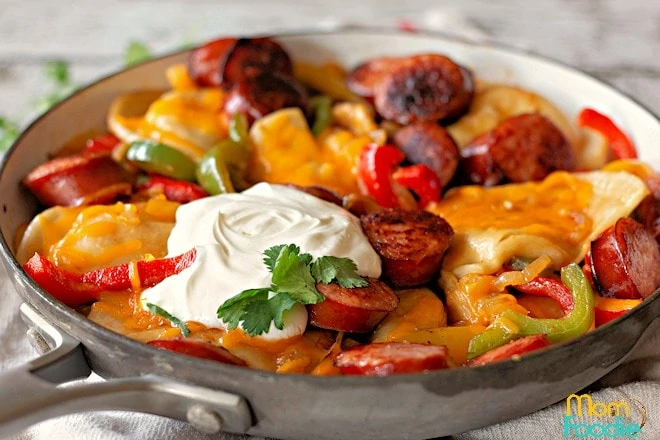 Serve the dish right out of the skillet. Top with 2 tablespoons of sour cream per serving, if you like. Season with Kosher salt and freshly ground black pepper.
Storage
Leftovers can be stored in an airtight container in the refrigerator for 3-4 days or frozen for up to 3 months.
Can I use Italian sausage instead of kielbasa?
Yes, you can swap the sausages, but keep in mind you will lose the smoked sausage flavor.
Can I use mini pierogies in this dish?
Yes of course, you may actually find mini pierogies easier to move around in the pan with the kielbasa.
Looking for a low carb alternative kielbasa recipe to this dish? Try my Kielbasa and Cabbage Skillet. Want another quick recipe? Try my Cheesy Instant Pot Kielbasa Pasta or Chicken Sausage skillet with rice and vegetables.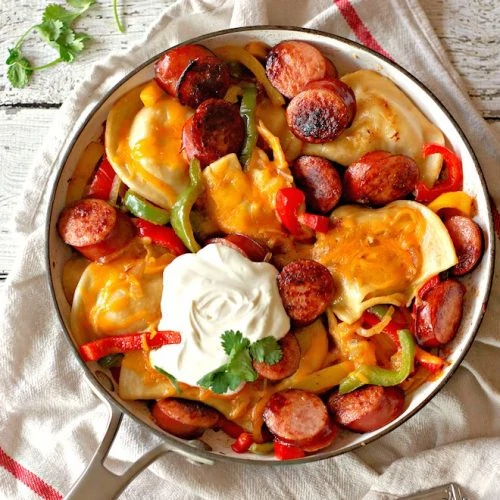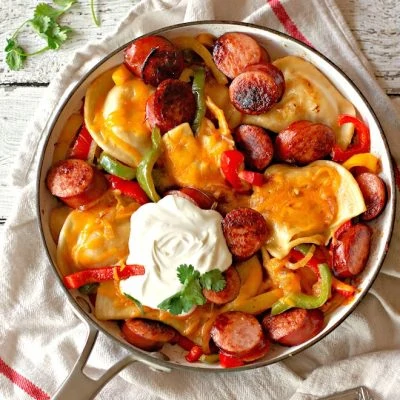 Pierogies and Kielbasa Skillet
Pierogies and Kielbasa skillet dinner with peppers, onions and cheddar cheese.  An easy 30 minute dinner recipe.
Print
Pin
Rate
Ingredients
1

tablespoon

olive oil

14

ounce

kielbasa

sliced into ½ inch thick medallions

3

small bell peppers

assorted colors, seeded and cut into strips

1

medium onion

peeled and cut into strips

12

onion or cheddar pierogies

(12 count box) count will be different if you use mini pierogies

1

tablespoon

butter

⅓

cup

shredded cheddar cheese

Sour cream

optional
Instructions
Put on a pot of boiling water for the pierogies.

In a large skillet, heat the olive oil over medium to medium-high heat. Add the kielbasa and cook on each side until it begins to brown. Remove the browned kielbasa from the skillet and set aside. Leave the oil in the skillet.

Add the bell pepper and onions to the skillet and cook over medium heat until softened, about 10-15 minutes. Remove from the skillet and set aside.

Boil the frozen pierogi in water according to package directions; drain well.  This should be done while cooking the sausage and peppers.

Melt the butter in the skillet over medium heat. Add the pierogies and sauté one side until they begin to brown on that side, then flip the pierogi.

Once the pierogies have been flipped in the skillet, add back the sautéed bell peppers and onions and the browned kielbasa. Use a spatula to gently toss everything all together.

Sprinkle the shredded cheddar over the pierogi and kielbasa in the skillet. Cover with a lid and allow the cheese to melt.

Remove the skillet from the heat. Serve with sour cream and a dash of salt and pepper if desired.
Notes
Nutrition data based on pork kielbasa. No account has been made for draining off any of the fat after making the peppers. If you do that, the fat and calories will be slightly lower. Swapping turkey kielbasa will also alter the data. 
As always data is just an estimate and will vary based on brands used and other factors.
Nutrition
Calories:
606
kcal
|
Carbohydrates:
41
g
|
Protein:
22
g
|
Fat:
38
g
|
Saturated Fat:
13
g
|
Trans Fat:
0
g
|
Cholesterol:
86
mg
|
Sodium:
1406
mg
|
Potassium:
626
mg
|
Fiber:
3
g
|
Sugar:
5
g
|
Vitamin A:
2900
IU
|
Vitamin C:
117
mg
|
Calcium:
79
mg
|
Iron:
3.2
mg