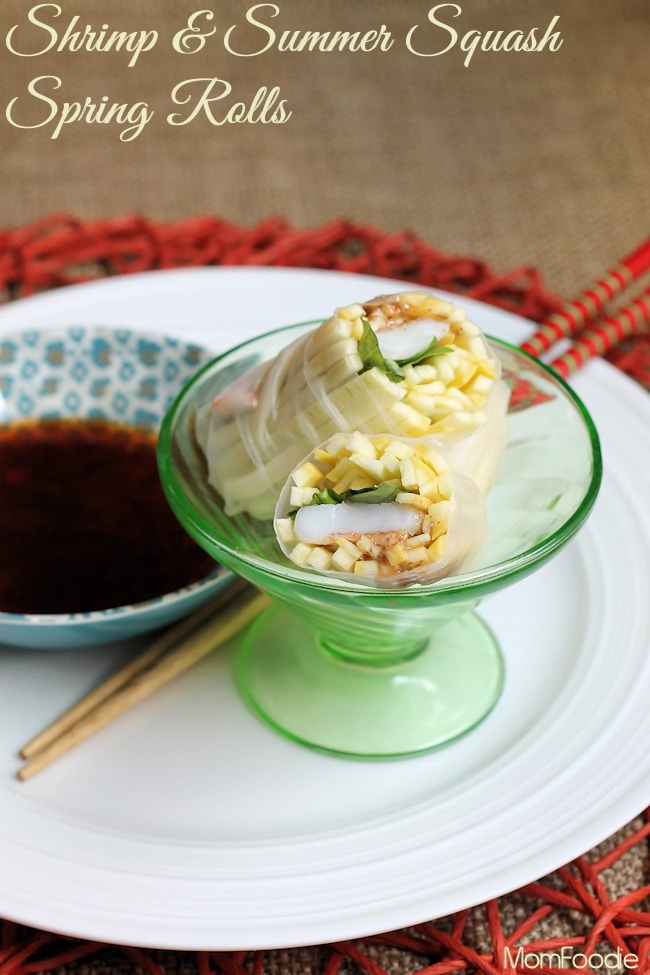 These low-carb Shrimp & Summer Squash Spring Rolls are a refreshing summer dish perfect for a light meal or appetizer course.
I have to admit it, the catalyst of this recipe was a junky piece of kitchen equipment.  There I was this afternoon with two lovely little yellow summer squash.  I had it in my mind to slice them into ribbons on my mandolin and make them into some sort of a salad.  The mandolin is old and absolutely craptastic, so it was sort of bruising the squash, more than slicing it.  I resolved to try and slice the ribbons by hand with a nice sharp knife (the Ergo Chef Utility knife I won off their Facebook page to be exact... love their stuff).  Well, I cut them thin, but not wafer thin as I had planned, so I proceeded to cut them into long matchsticks.
I plucked one of the tiny summer squash sticks from the tidy pile I'd formed and nibbled on it, enjoying the delicately sweet crispness, that is when the realization dawned on me that these would be be perfect in a nim chow style spring roll, in place of rice noodles.  This would make for a lighter lower carb roll, with a tender crispness to it.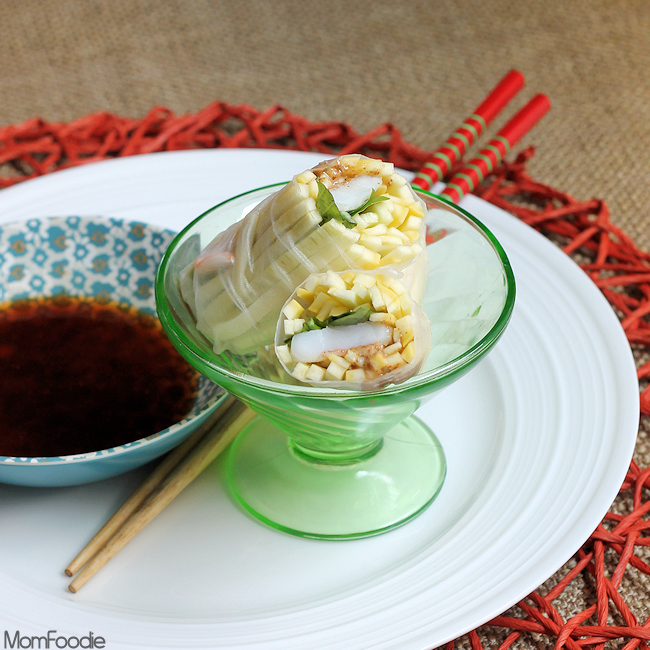 I made a simple dipping sauce, and filled the rice wraps with fresh basil and poached shrimp along with the summer squash.  About half way through rolling them up, I started adding a smear of crunchy almond butter on top if the squash before rolling.  Those ended being my favorites, and sort of stood in for the crushed peanuts typical of nim chow rolls. I do think a little daikon radish pickle in the rolls would be a tasty addition.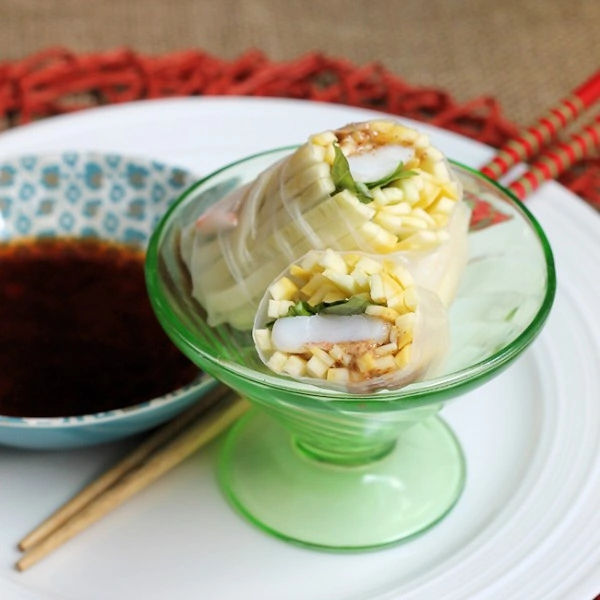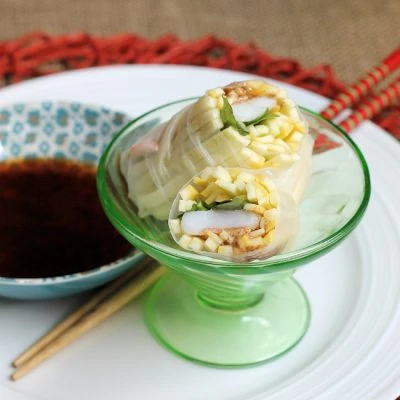 Ingredients
12

spring roll rice wrappers

2-3

small yellow summer squash

cut into thin matchsticks

bunch of fresh basil

¾ - 1

pound

of shrimp

peeled, deveined and cooked

¼

cup

crunchy almond butter
Dipping Sauce
2

teaspoon

Sambal Oelek

chili garlic paste

2

tbs

rice wine vinegar

2

tbs

Ponzu sauce

a lemon soy sauce dressing

½

teaspoon

sesame oil
Instructions
Whisk together the dressing ingredients and set dressing aside.

Soak a rice wrap, until soft and malleable, but not mushy. (Do them one at a time, they over-soak very fast)

Place a handful of the squash on rice wrap, slightly off-center, facing in all the same direction.

Smear about a teaspoon of almond butter on the squash.

Top with basil and shrimp.

Fold the smaller side of wrap parallel it squash slices over the contents, then fold in top & bottom and roll tightly like a burrito.

Serve 3 per person along with dipping sauce.