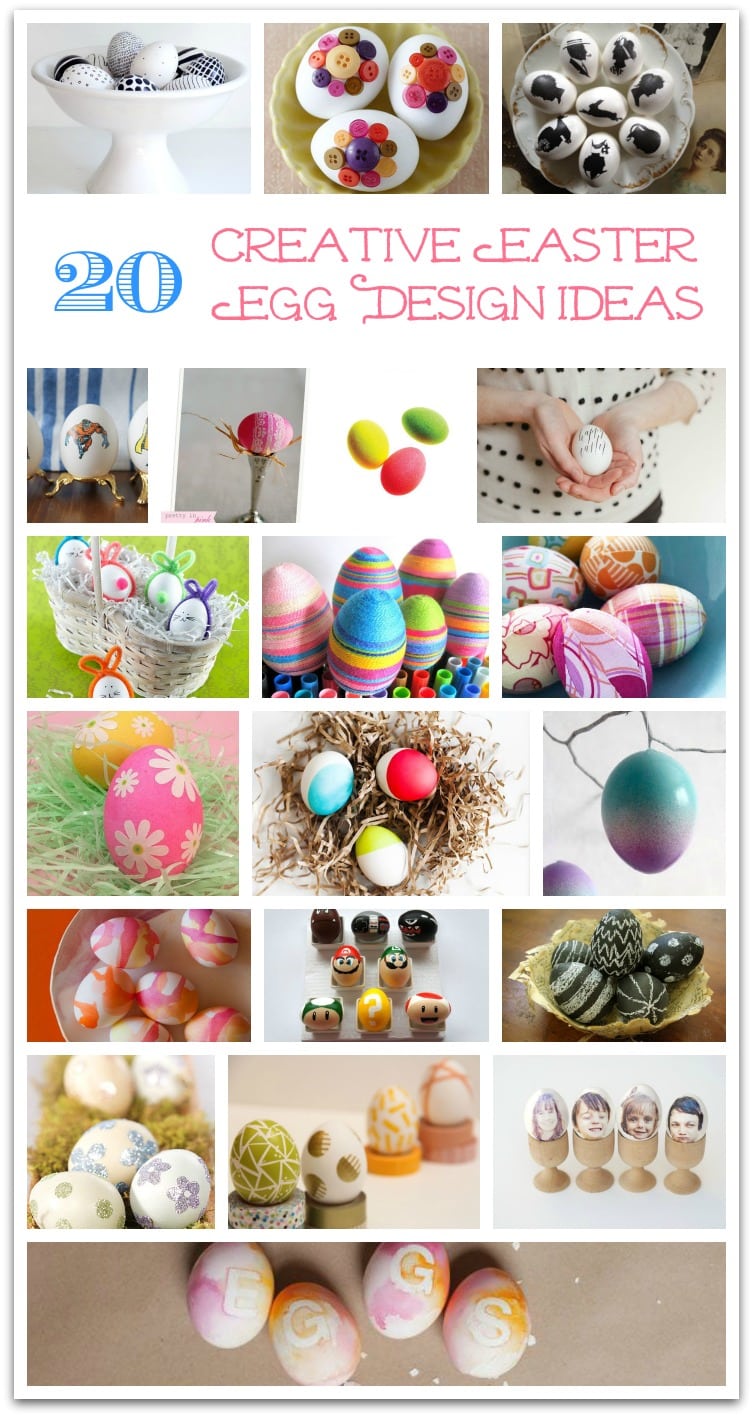 What is Easter without decorating eggs? Egg decorating itself has been a tradition that, according to Wikipedia, has documented artifacts as far back as 60,000 years. For the modern world, during Easter, or Eastertide, the egg represents the tomb of Jesus Christ.
Today, many people enjoy decorating eggs. In this article, here are 20 creative easter egg design ideas.
20 Creative Easter Egg Design Ideas
1. Ombre Eggs - The egg color gradation can be really eye catching with the right combination.
Source: Ashbee Design
2. Lazy Daisy Eggs - These simple eggs are colors and adorned with cute daisy stickers. You can use the same concept or other types of sticker to get a similar look.
Source: The Decorated Cookie
3. Super Mario Brothers Eggs - You've heard it! If you've got little gamers in the house, they might enjoy trying to make their favorite Mario Brothers into Easter eggs.
Source: Instructables
4. Craft Thread Eggs- This Easter egg design idea might take a bit more time to complete. It takes wrapping embroadery thread around the egg.
Source: Craftberry Bush
5. Chalkboard Easter Eggs - Remember when you were little and got to draw on the sidewalks and black top concrete with chalk? Well, you can also do that with eggs!
Source: Oleander and Palm
6. Watercolor Letter Easter Eggs - If you have children, they might get a kick out of personalize Easter eggs.
Source: Oh Happy Day
7. Lace Easter Egg - If you have some spare lace around, wrapped it around and glue it to a colored egg for a simple but elegant look.
Source: Celebrating Everyday Life
8. Black and White Eggs - All you need is a marker and your eggs, and you're all set. If you're not into black and white, you can always pick up colored markers and try the same idea.
Source: Obviously Sweet
9. Glittered Easter Eggs - This may be a messy project for an Easter egg design idea, but the end result is simply fabulous!
Source: Martha Stewart
10. Fabric-Covered Eggs - If you've got scrap fabric laying around and nothing to do with them, why not use them to decorate eggs. They may end up looking really nice, and you find a purpose for those extra fabric pieces. 🙂
Source: Better Homes and Gardens
11. Tattoo Eggs - Those cheap temporary tattoos can be put on other things than skin!
Source: Brit + Co
12. Chenille-Stem Egg Bunnies - All you need is some chenille-stem piping and a marker. This is simple and can be fun. You could even do more than make bunnies!
Source: Better Homes and Gardens
13. Neon Dip- dyed eggs - These simple eggs are bright and very easy to make.
Source: Oh Joy
14. Button-Decorated Easter Eggs - This bizarre idea actually works. If you've got a lot of buttons hanging around, you can create an interested design.
Source: Better Homes and Gardens
15. Watercolor Easter eggs - You don't have to paint an elaborate design with watercolors. Going abstract with watercolor looks neat!
Source: Spoon Fork Bacon
16. Glittered Sticker Eggs - This idea might not be as messy as the Glittered Easter Eggs, and has just as much pizazz.
Source: Martha Stewart
17. Washi Tape Easter Eggs - Using decorated tape has never been more fun than this.
Source: Lovely Indeed
18. Photo Print eggs - Aside from personalized eggs with lettering, photo print is a nice touch. If not your family, you can do photo print eggs with a lot of images.
Source: A Subtle Revelry
19. Calligraphed Eggs - This simple, but elegant look for an Easter egg might be a nice change up from the normal decorating ideas, but it does work.
Source: Oh Happy Day
20. Silhouette Easter Eggs - Remember those lockets and brooches with the silhoettes that you've seen on antiques from the Victorian era, well you can get the same look on Easter eggs too!
Source: Rook No. 17


Happy decorating!
If you end up trying any of these idea, please share. What is your favorite Easter egg design idea?