Want to know how to make the best chicken soup that comes out perfect every time? This recipe makes a nice big pot of flavorful traditional homemade chicken soup.  The pasta (or rice if you prefer) is cooked separately and added at serving time, so it doesn't get mushy.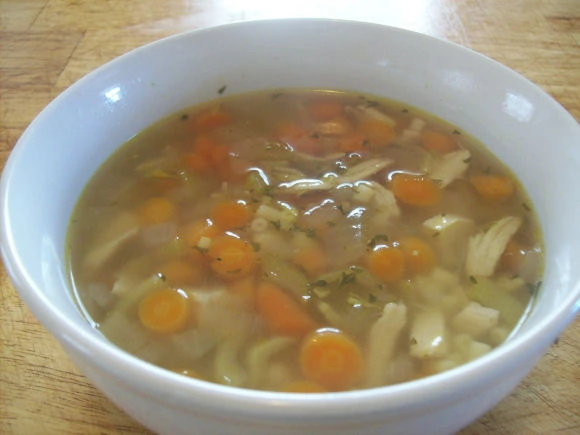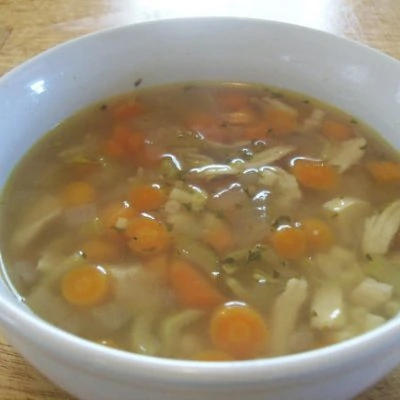 Ingredients
1

whole fryer

½ - ¾

lb.

carrots

½

a bunch of celery

1

medium sweet onion

2

tbs

low sodium chicken base

not powder, base

2

bay leaves

teaspoon

dried parsley

salt

pepper

pasta or rice
Instructions
Cut wings and legs off chicken, then cut the rear half of the back off (right through the backbone). Leave the remaining chicken intact.

Heat a tbs. of oil in a large dutch oven or wide stockpot, on med-high heat.

Lightly salt & pepper the cut off pieces then toss into the pan, and turn regularly until lightly browned.

Add 2 ½ qts of water to the pan.

Nestle the chicken body into the pan using the remaining back like a stand. Part of the breast should remain uncovered.

Add bay leaves to pot.

Cover tightly, and simmer for an 1 ½ hours.

While chicken is simmering, dice up the vegetables.

Remove chicken pieces with tongs, and set aside. The cut off pieces can be used in another recipe. Only the breast meat will be going in the soup.

Strain the broth, into a large bowl, and skim the fat.

Return broth to pan, add vegetables, parsley, and chicken bouillon.

Simmer. While simmering cook al dente pasta or rice separately. (I use tubettini)

When chicken breast portion is cool enough to handle easily, cut off the breasts and dice, add to soup when vegetables are almost tender.

Simmer for approx. 15 more minutes.
Our family assembles the soup by the bowl, scooping in the amount of pasta we each want and topping with the stock filled broth. If you are serving a large number of people the pasta can be mixed into the pot, shortly before serving. The point to keeping the pasta separate is so it won't get too soft, and left overs won't have over swollen noodles.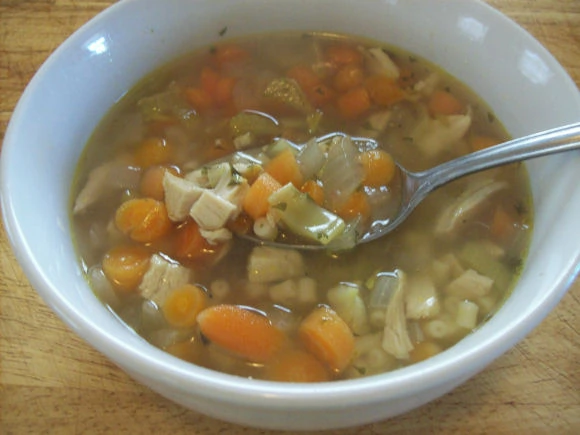 Best chicken soup ever!