I've been using this crispy grilled chicken drumsticks recipe for some time now.  This is a basic recipe for a coating to grill your chicken in.  It it very thin, but locks the juices in and helps the skin crisp up nicely.  It also serves as a nice base to stick sauce to.  Baste the drumsticks in your sauce of choice at the end of cooking, it will stick well.  During poor weather, I use the same coating in the oven, just make sure to turn the chicken several times during cooking, so you won't have dry spots.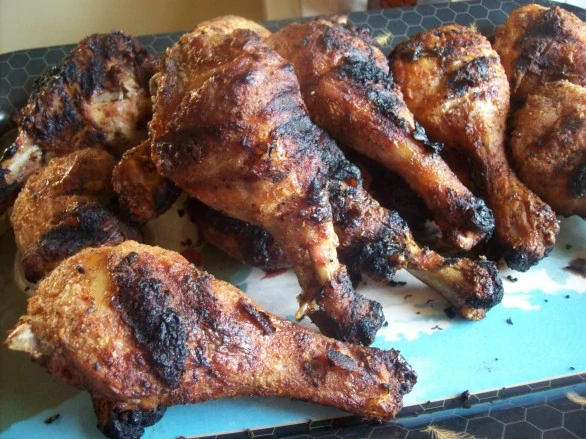 These crispy drumsticks are great paired with traditional picnic foods, such as macaroni salad and potato salad, as well as hearty casseroles like Ravioli lasagna. Want to keep it light? Pair the chicken legs with Asian Cucumber Salad and sautéed frozen cauliflower rice.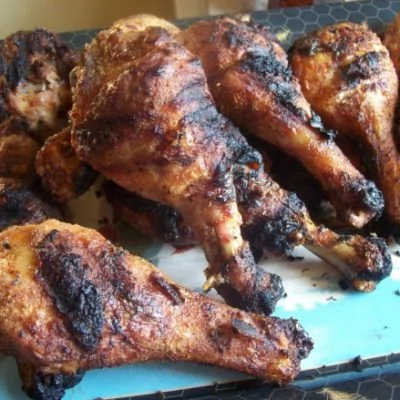 Ingredients
3 - 4  

lbs.

chicken drumsticks

1

cup

seasoned breadcrumbs

½

cup

flour

1

teaspoon

salt free seasoning

ie. Mrs. Dash table blend

½

tsp.

Kosher salt

½

teaspoon

white pepper
Instructions
Whisk all dry ingredients together in a large deep lightweight bowl. (If you don't have a bowl like this use what you have, and then pour it in a large plastic storage bag)

Drop the drumsticks in one or two at a time.  Toss until well coated.  Press coating on in spots that don't look like they got sufficient coating. (If using a bag shake, then press)

Place chicken on preheated grill, turn down to low-med, and grill until you just start to see the meat pulling away from the bone in spots.

Serve the grilled chicken drumsticks as is, or with your favorite sauce.