These mini DIY Easter Baskets are made of felt and perfect for stashing treats and candy in. The little Easter Basket template is included below and these don't take a lot of supplies. So, get to work.

DIY Easter Baskets from Felt
These adorable mini felt Easter baskets  are great for a number of uses. Fill them with candies such as Easter Bark or Jordan almonds
and...
give them as small gifts for coworkers or your child's teacher
treats on the Easter Brunch table
place a few on your coffee table or mantle for an Easter decoration with a sweet surprise
stash a small gift inside for your child, such as a DIY Easter Egg Bath Bomb
put a little potted plant inside to decorate or gift
fill with a bouquet of paper flowers

How to Make Felt Easter Baskets
Here is a visual guide to making your own DIY Easter Baskets from felt.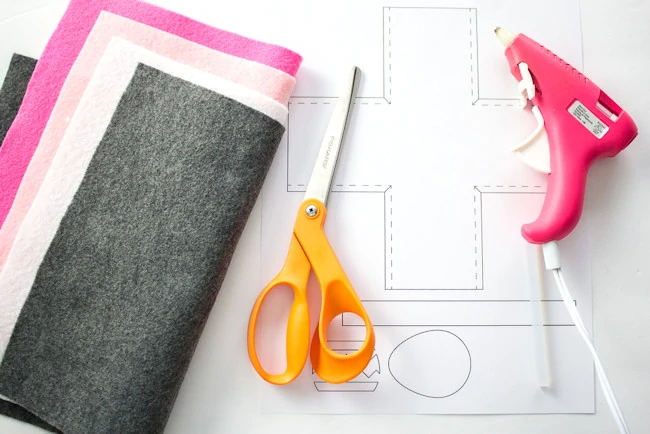 Print the template and gather your supplies.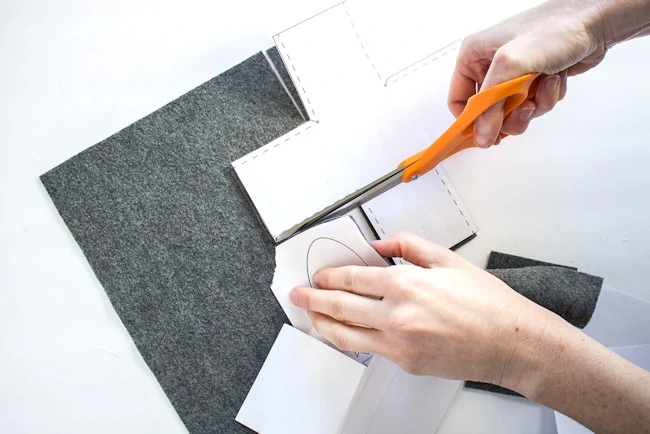 Cut out the main body of basket and the handle. Set them aside.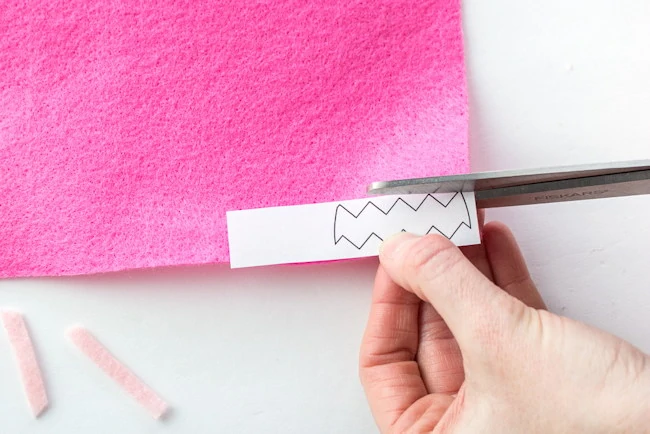 Cut out the egg shape along with the decoration pieces from complimentary colors.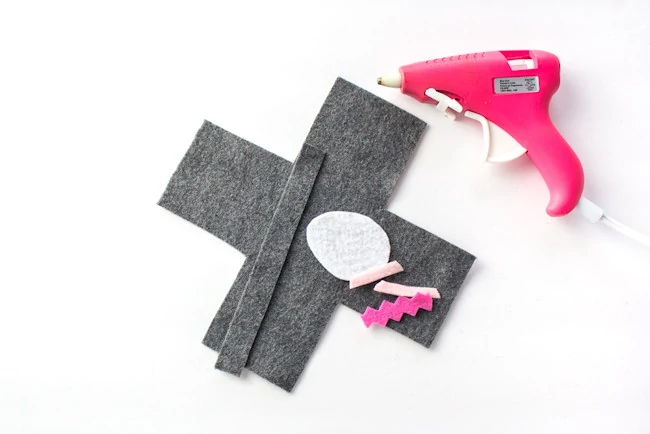 Put away scraps and heat up your glue gun
.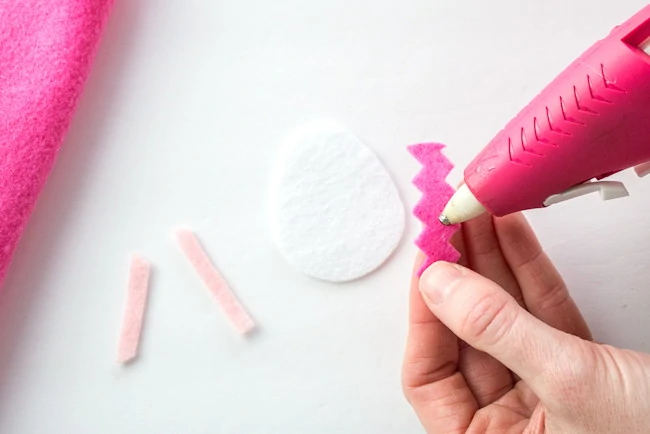 Apply glue to each egg decoration...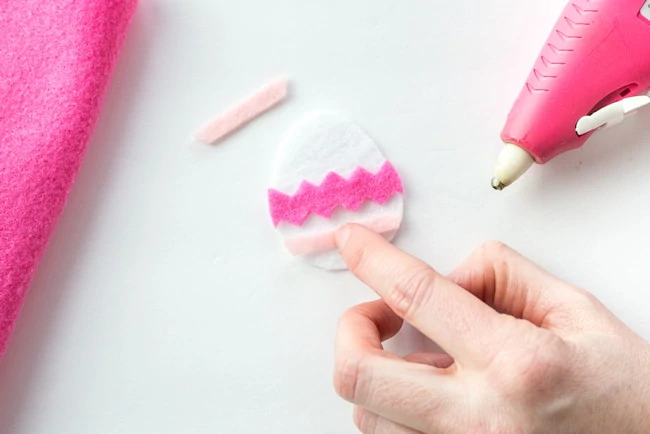 and adhere to egg shape.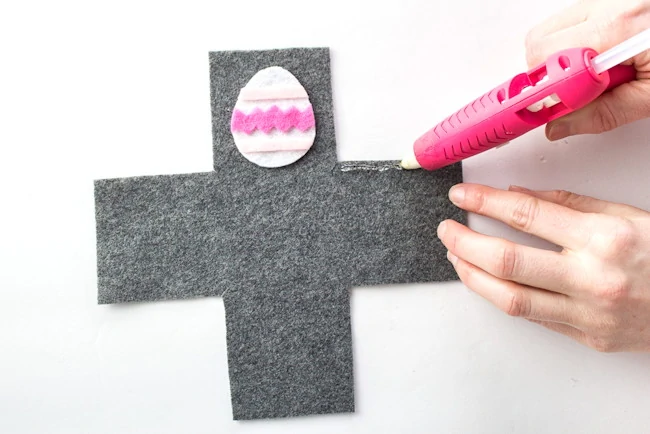 Glue egg to one flap of the basket then assemble the body of the felt basket by running a line of glue down flap edge...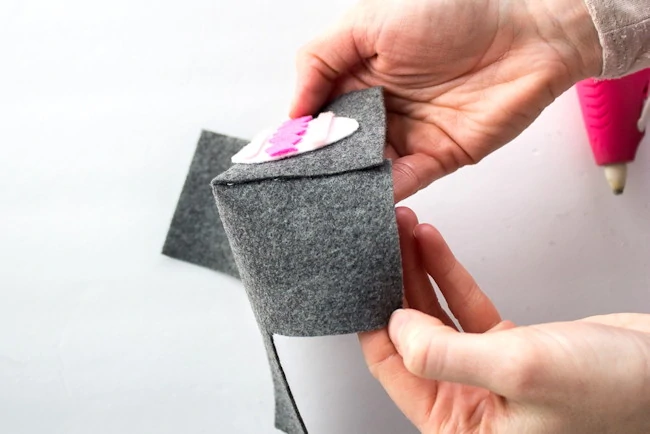 and folding the adjacent edge over it. Hold firmly until it holds. Repeat until basket is formed.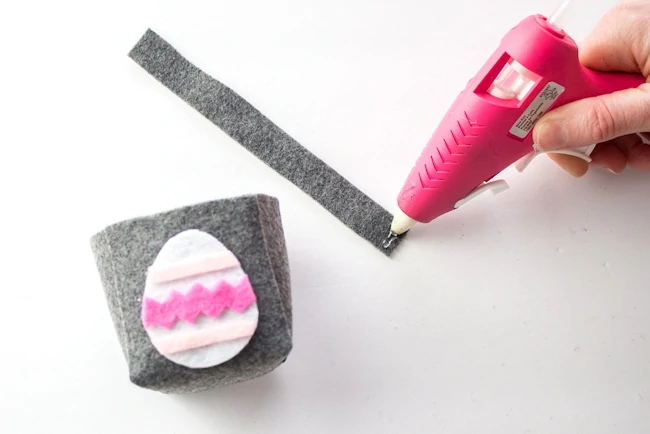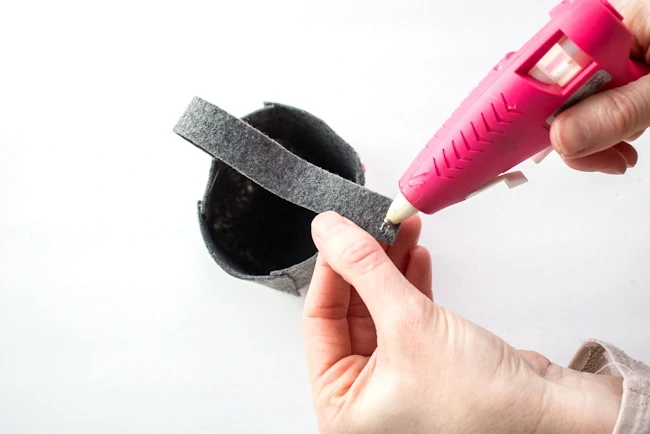 Now glue the ends of the basket handle to the inside of the Easter basket body.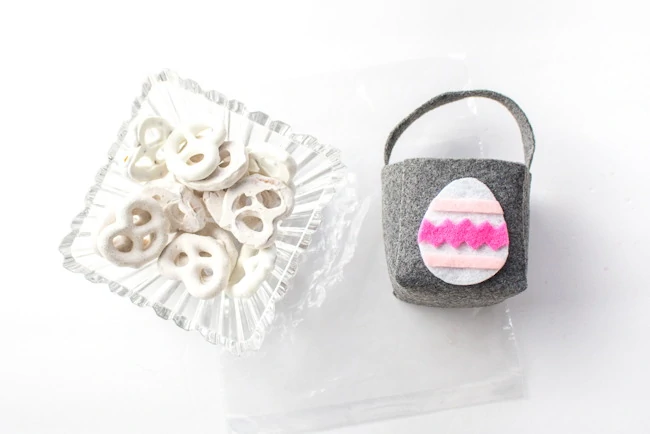 Once fully cool in just a couple short minutes your mini felt Easter Baskets are ready to fill with treats or little gifts.
Free Printable Template
Here is the printable file to make your own little  Felt Easter Baskets >> Easter Egg Felt Basket Printable Template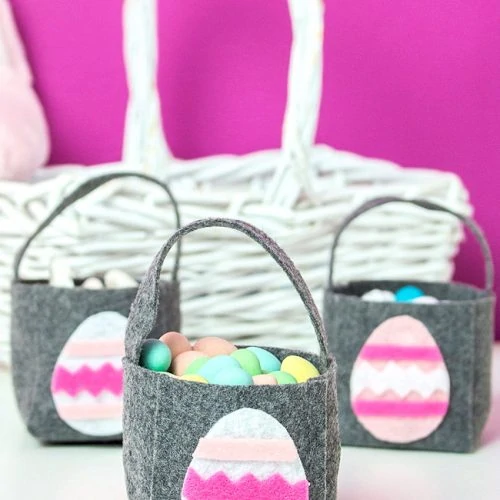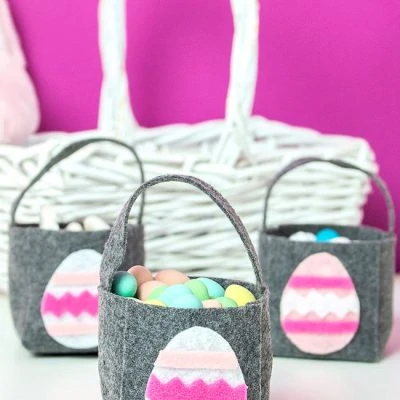 Print Recipe
DIY Easter Egg Felt Baskets
These mini DIY Easter Baskets made of felt are such a cute way to stash some Easter candy.
Ingredients
Felt sheet 9"x12" in charcoal

Felt scraps in white

light pink and dark pink (or any coordinating colors of your choosing)

Easter Egg Basket Printable
Instructions
Print off template.

Using fabric scissors, cut the large box pattern and basket handle in charcoal felt. Clip all four inner corners of the box pattern. Put aside.

Cut out the egg pattern in white felt.

Cut out the decorative pieces (stripes and zig zag) in any color of your choosing.

Preheat the hot glue gun.

Align the decorative egg pieces onto the cut egg shape for placement. Working with one decorative piece at a time, apply glue to the backside of the stripe and press onto the egg. Repeat for the other stripe and zigzag cut pieces.

Turn the prepared egg face down and apply glue to the backside. Working quickly and carefully, press the egg onto the top section of the cut box pattern as shown. Take care to not place it too low on the one side.

To assemble the box, work one corner at a time. Add a line of hot glue to one cut corner edge as shown and overlap with the other cut piece. Press together to form corner.

Repeat for remaining 3 corners.

Add a bit of glue to the ends of the long rectangular piece and attach it to the inside of felt box to form the basket handle.

Fill the finished felt basket with treats or alternatively you can fill a little plastic bag with treats and place it inside the felt box.

Enjoy!