Sponsored post by Mirum Shopper. All opinions are my own.
This Gourmet Tea Gift Basket idea is perfect for the tea lover on your Christmas list. The basket includes a DIY Personalized Tea Cup featuring a literary quote about tea, Cardamom Spice Cookies, and delicious Pure Leaf Chai Tea.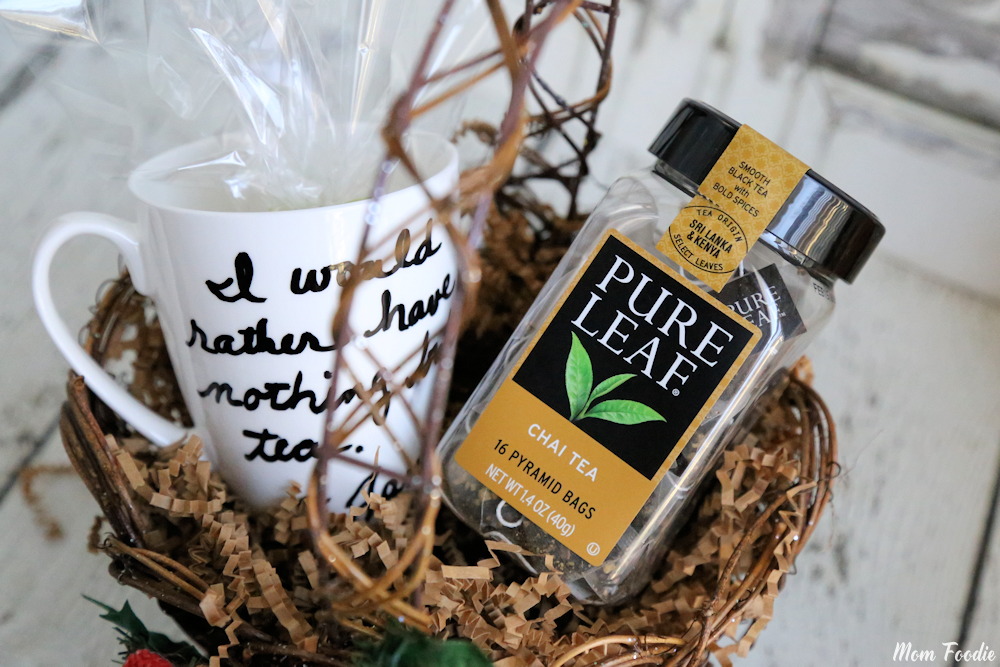 Gourmet Tea Gift Basket
This gourmet tea gift basket is rather easy to create despite having both homebaked cookies and a DIY Personalized Tea Cup craft project. Both are quite simple to make. Including high quality Pure Leaf home brewed hot tea (available right at Walmart) adds to the delight your recipient will experience.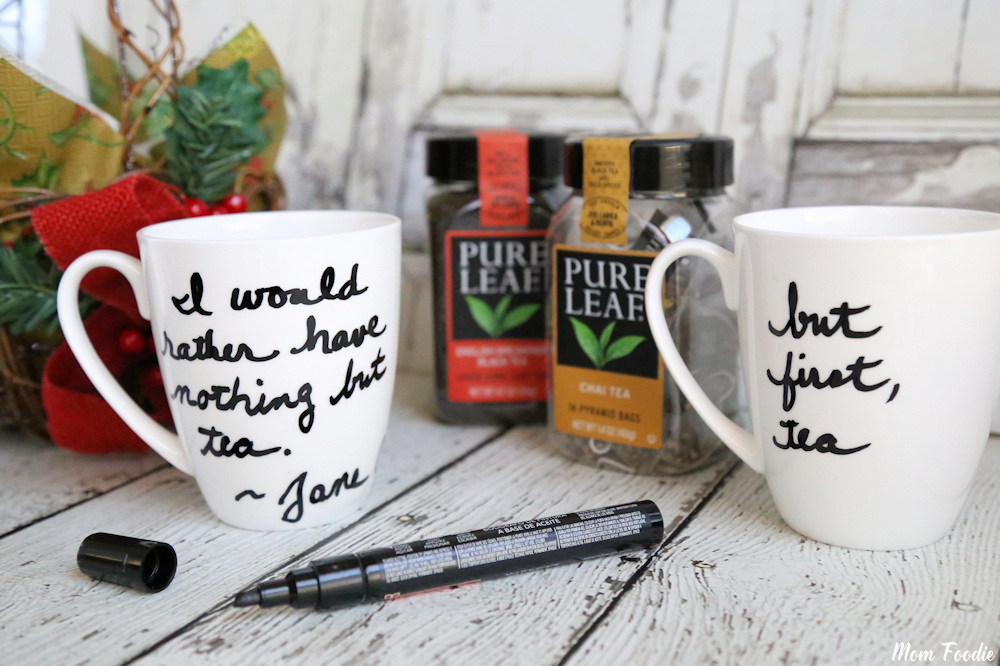 I found a few literary quotes about tea to write on the cups, but any quote or saying that would have special meaning to the recipient would be fantastic.  What could be more special than an inside joke personally inscribed on a gifted cup.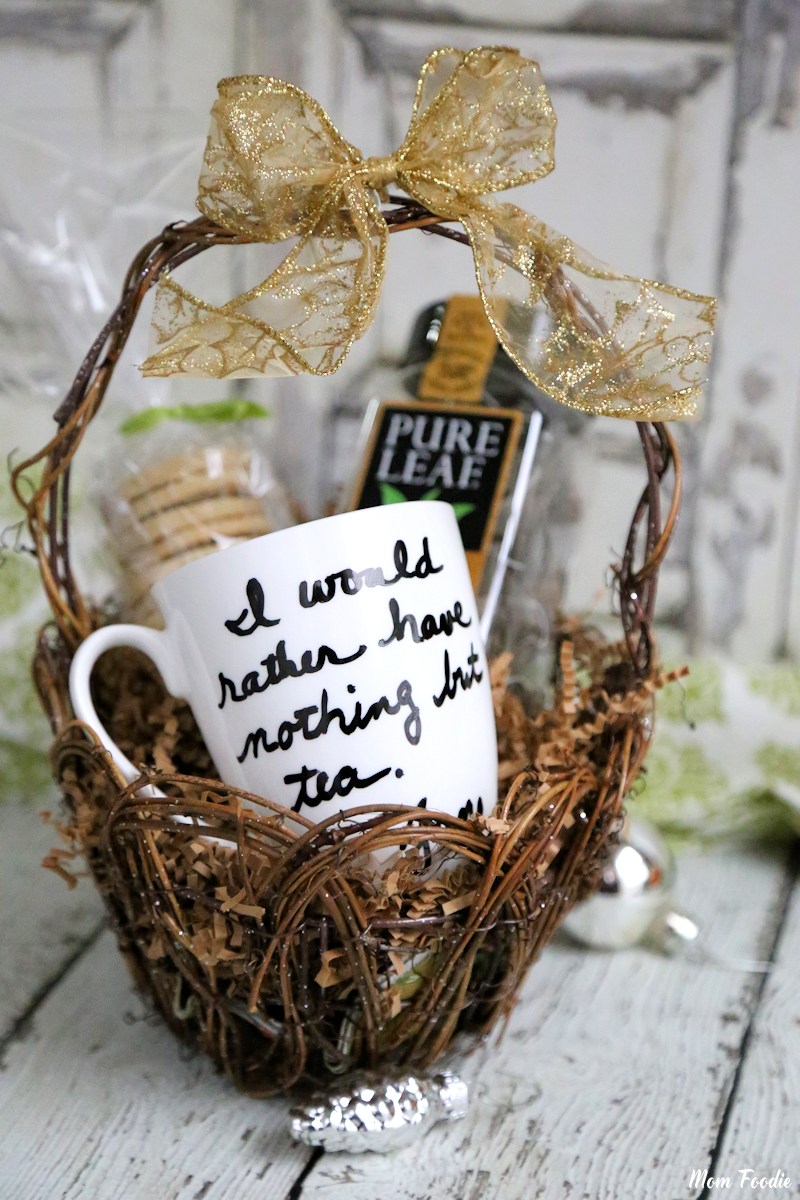 Making a DIY Personalized Tea Cup
This tea cup "art" takes no special skills. My handwriting is horrid and I managed it.
Items needed:
new smooth surfaced cup (white, or pale solid color) a matte finish will work better than a shiny one
top rack dishwasher safe paint marker (available at most craft stores)
Directions/Tips:
Shake and press in paint pen until writing tip is fully saturated.
I suggest practicing writing out short quotes with pen and paper a few times, then try writing the quote out on the back of an old plate before writing on the cups.
Carefully write out the quote on the tea cup. The paint will wipe off if necessary, but it is messy and best avoided. 
Make a "test"mark on the bottom (underside) of the cup.
Place cup in a cold oven set to 425 degrees. Bake for an hour to an hour and a half. Shut off oven and leave cup inside until fully cooled.
Try and scratch your test mark at the bottom of the cup with your thumbnail. If it doesn't scratch off, your cup is top rack dishwasher safe. If it does, I suggest re-baking at slightly higher temperature, or simply hand washing the piece.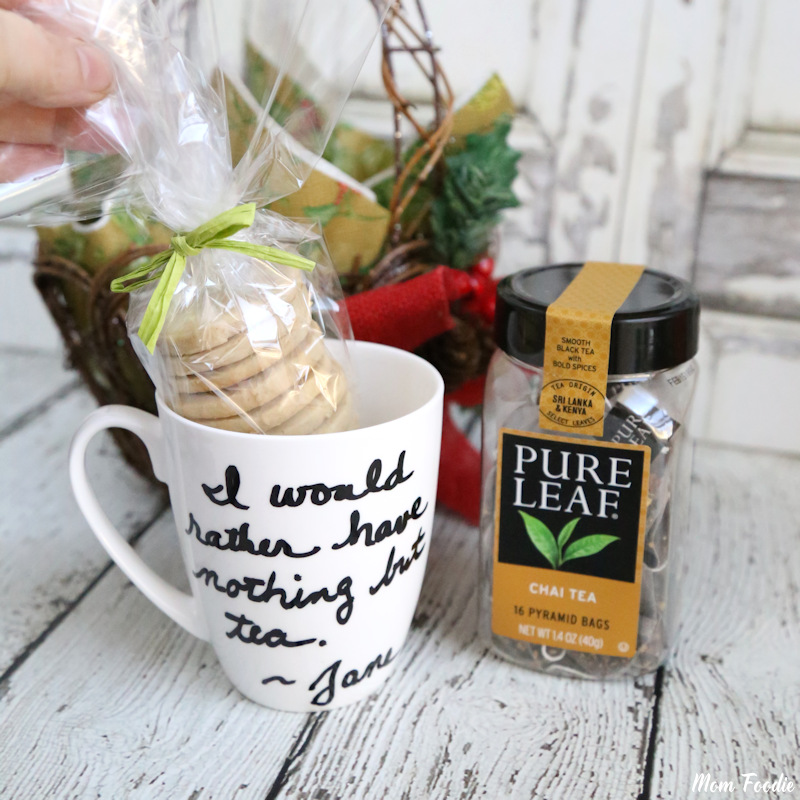 Cardamom Spice Cookies
These Cardamom Spice Cookies pair well with Pure Leaf Chai Tea, making them a great gourmet tea gift basket combination.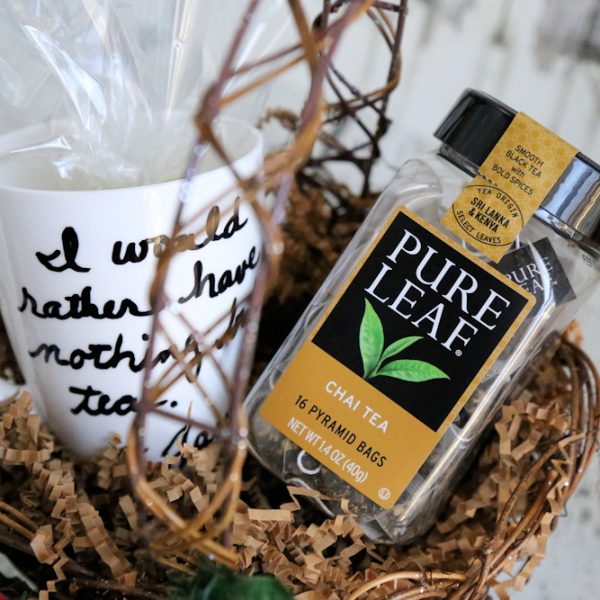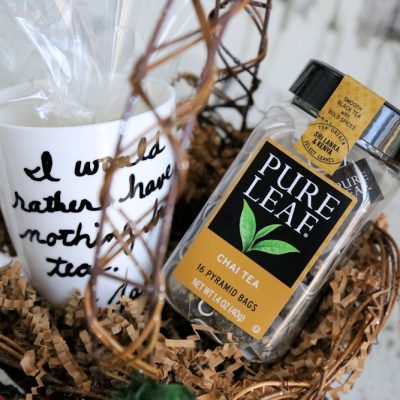 Ingredients
½

cup

softened unsalted butter

1 stick

½

cup

of confectionery sugar

¾

teaspoon

cardamom

¼

teaspoon

cinnamon

¼

teaspoon

ground ginger

1 ½

teaspoon

pure vanilla extract

2

tbs

orange juice

¼

teaspoon

sea salt

1 ½

cups

flour
Instructions
Cream together the softened butter,sugar, and spices.

In a separate small bowl or cup, mix salt with the vanilla extract and orange juice to dissolve, then add to the creamed butter.

Gradually mix in the flour.

Knead the dough lightly, then split in half and roll into two logs about 2 inches thick. Wrap each log in plastic wrap and refrigerate for 2 to 3 hours to firm up.

Preheat oven to 350 degrees and line baking sheets with parchment paper.

Cut each cookie dough log into slices about ¼"-½" thick. Arrange on parchment. These shortbread cookies will not expand much at all, but leave a little space between them.

Bake for 10-12 minutes, then remove to rack to cool.
Gourmet Tea Gift Basket Ideas
There are many variations of gourmet tea gift baskets to be made.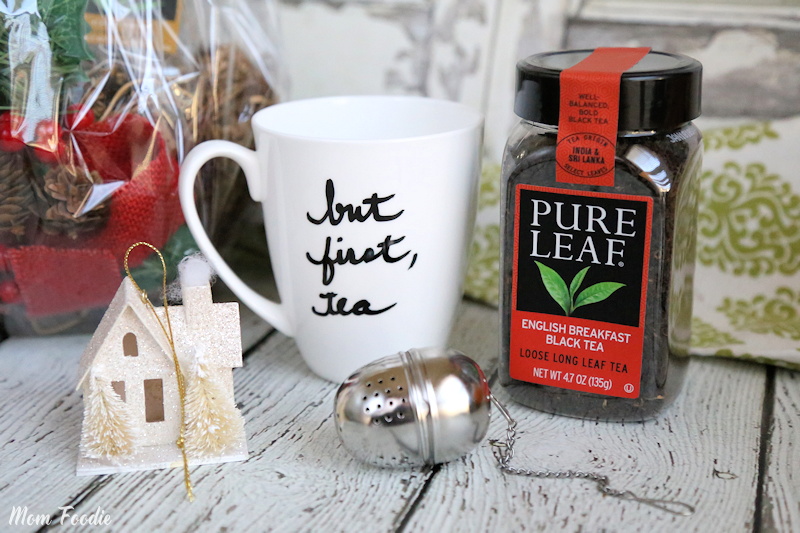 For example, Pure Leaf loose tea would pair nicely with a DIY personalized tea cup. Loose leaf tea lends itself well to a variety of pairings beyond cookies too.
Other great additions to a gourmet tea gift basket featuring loose leaf tea:
a tea ball
a tea towel
a book about tea leaf reading
a cute holiday ornament
Note: as you can see in the background of the above picture, the baskets are best wrapped in clear plastic gift wrap for easy gift giving.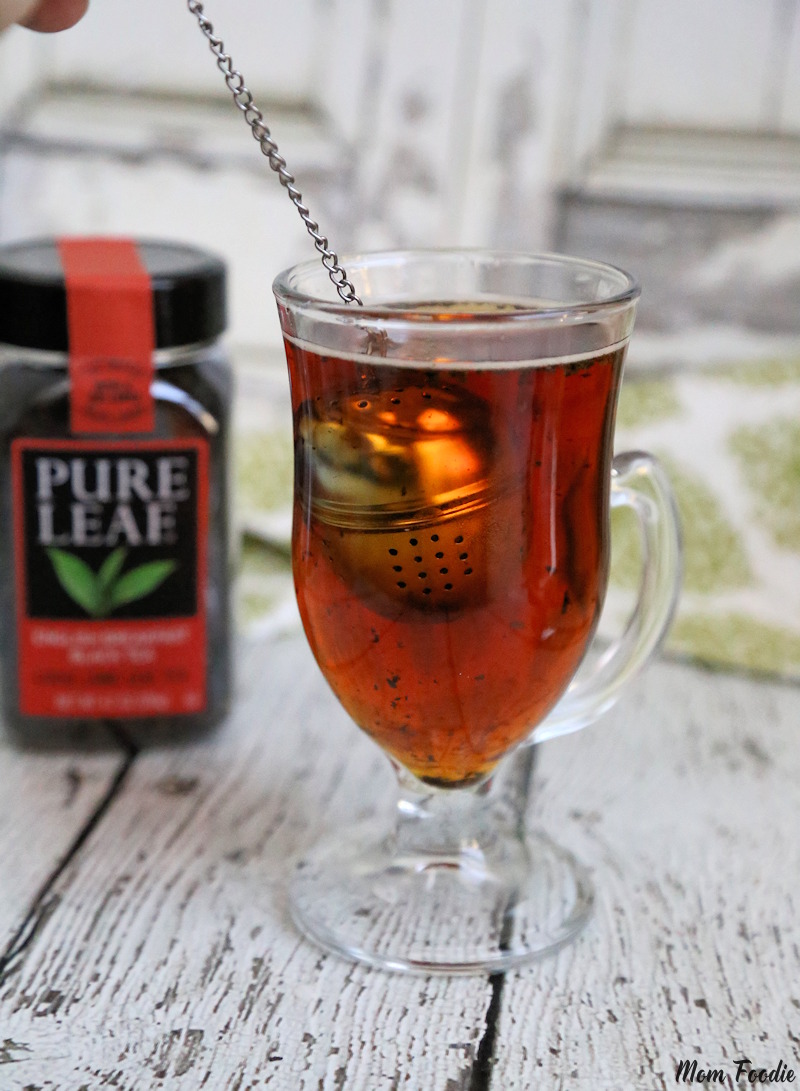 Pure Leaf Home Brewed Hot Tea
Of course, after making a few gift baskets, it is the perfect time to enjoy a cup for yourself. I've been drinking Pure Leaf the past couple weeks in my home and have found it to be smooth rather than bitter, yet strong and flavorful.  I expect the exceptional flavor comes from the use of select long leaf teas-simply picked, rolled and dried…nothing else. Great quality tea, conveniently available right the local Walmart.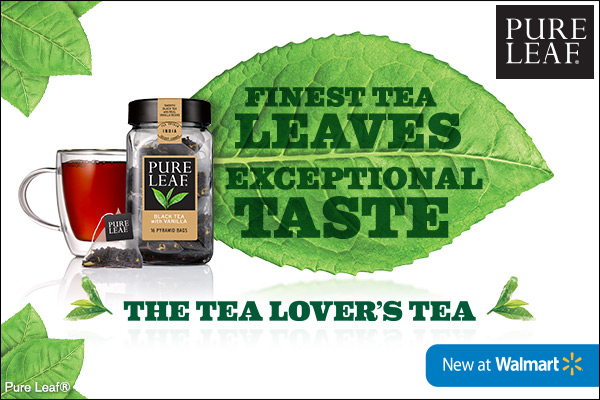 Varieties of Pure Leaf Home Brewed Hot Tea:
Pure Leaf Hot Black Tea with Vanilla (pyramid bags)

Pure Leaf Hot Green Tea with Mint (pyramid bags)
Pure Leaf Chai Tea (pyramid bags)
Pure Leaf English Breakfast Black Tea (loose leaf)
Pure Leaf Gunpowder Green Tea (loose leaf)
Want to brew some fresh iced tea instead? Pure Leaf also has you covered there:
Pure Leaf Iced Green Tea with Citrus

Pure Leaf Iced Classic Black Tea
Pure Leaf Iced Black Tea with Peach
Pure Leaf Iced Black Tea with Raspberry
Learn more about Pure Leaf Home Brewed Hot Teas and receive a free sample, by visiting this page on Walmart.com.