Eureka Pet Vacuum


I was recently contacted by Eureka and asked if I would like to review their new Pet Pal vacuum ( a Walmart exclusive).  I have had good a experience with Eureka vacuums in the past, and own a German Shepherd, who seems to be shedding every time I turn around, so I happily agreed to review this bagless vacuum specifically designed to clean up pet hair.
When the Pet Pal vacuum arrived, I promptly set to putting it together.  The process was very simple, and the only tool required was a Phillips head screwdriver.  There were just two screws to put in, for assembly.  It took me longer to figure out where all the vacuum's accessories went.  A few quick glances at the instruction sheet and picture on the box, and the Pet Pal was fully assembled and ready for action.
The Eureka Pet Pal bagless vacuum has 12 amps of power, with Whirlwind Cyclonic Technology to maintain strong suction.  I was surprised to see how much the pet pal picked up that my old vacuum had left behind.  At first the extra side attachment seemed cumbersome, while vacuuming, but I became accustomed to it after a few uses.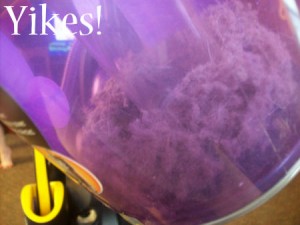 The on/off button is easily accessible, on the top front of the vacuum body.  There is a kick lever for unlocking the vacuum from it's upright position.  It did occasionally take me two tries to get it to unlock.
The Eureka Pet Pal vacuum has two features in specific which are geared towards pet  owners, the Power Paw and the Hair Raiser attachments.  These are what set this vacuum apart.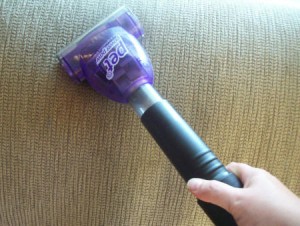 The Power Paw attachment is quite handy and powerful.  This wand attachment is great for removing pet hair and other debris from upholstery and hard to reach carpet areas.  It combines the power of the whirlwind cyclonic technology, with plastic teeth to loosen hair, a rubber strip to grab it and bristles to remove the hair.  My dog rarely goes in my parlour, so I don't get much hair in there.  I still found this to be a very useful tool.  It gets right between furniture, and supplies the full cleaning power of the primary vacuuming action.
The other pet hair tackling attachment, called the Hair Raiser, is a manual hair/lint brush, with its own self cleaning holster.  This is nice to have on hand when you find pet hairs on your clothing.  Just brush them off and stick the brush back in the holster.  The hair and lint is pulled off by two pads on the sides of the holster, and collects at the bottom.  To dispose, just push the yellow lever when the vacuum is on.  The brush can also tackle "hairier" messes by rubbing the yellow sides to loosen the hair before brushing.  It is also good for my delicate cleaning  jobs.  For example, I found this tool quite useful for removing the dust off my fabric lampshades.
Some more features of the Eureka Pet Pal vacuum are:
HEPA Filtration - Captures 99.97% of dust and allergens for a cleaner home.
Washable Hypoallergenic Dust Cup Filter - Save money and lessen waste by reusing the allergen-reducing filter.
Flip-Bottom Dust Cup - Remove dust and dirt easily in one no-hassle quick flip.No-Tip Design - Clean your stairs easily while your vacuum stays upright.
Multiple Height Adjustment - Adjusts to clean various carpet heights in the home.
Extra-Long Crevice Tool & Wand - Removes hard-to-reach dander and dust quickly and easily.
13" Wide Cleaning Path.


The Eureka Pet Pal Bagless is available exclusively through Walmart, and currently sells for just $79.88 (with 97 cent shipping)
Eureka Pet Pal Bagless Vacuum at Walmart
Verdict: I was pleased with the overall performance of this vacuum, and feel it would be an excellent selection for those with pets, especially at this price point.
Disclosure:  I received a sample product for the purpose of this review.  All opinions presented here are entirely my own, and no monetary compensation was given.