As someone who worked in restaurants for many years, I was familiar with the practice of chefs/cooks rubbing their fingers on stainless steel, under running water to remove kitchen odors like garlic, onions and fish.  Hence, when I was approached to review the De Odor Works stainless steel deodorant bar, I didn't find the technology particularly odd or unbelievable.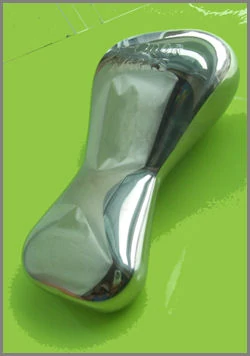 Stainless Steel Deodorant Bar
The deodorant bars are made of approximately 2 ounces of medical grade stainless steel, so they are very lightweight.  They work by rubbing the bar on typically odoriferous body areas, for about 30 seconds, under running water.
De Odor Works has no chemicals, so it is good both for those with sensitive skin and the environment.  It can be used on any part of the body, and you never have to worry about running out of De Odor Works, the stainless steel bar will last indefinitely.  Deodor Works Stainless Steel bars can be purchased right on the website, for $19.95, and have a 30 day money back guarantee.
[amazon_link asins='B0040Y5JTO' template='ProductAd' store='momf04-20' marketplace='US' link_id='5abfdc06-b9d6-4190-8086-e17da101f6fe']
Verdict: While I find a  noticeable  difference when using this bar, in my opinion it is not a complete replacement for deodorant. I suggest teaming it with an aluminium free natural deodorant.
Disclosure:  I received a sample product for the purpose of review, but all opinions presented here are entirely my own and no monetary compensation was given.