This simple recipe for Maple Roasted Delicata Squash cooks up quickly and has a perfect balance between sweet and savory flavors. In my opinion roasting like this is the best way to cook delicata squash.
The slices of squash are great to eat as a simple healthy snack. It is also one of my favorite fall and winter easy side dish recipes. The delicata squash recipe is gluten-free, vegan and both clean eating and Paleo compliant.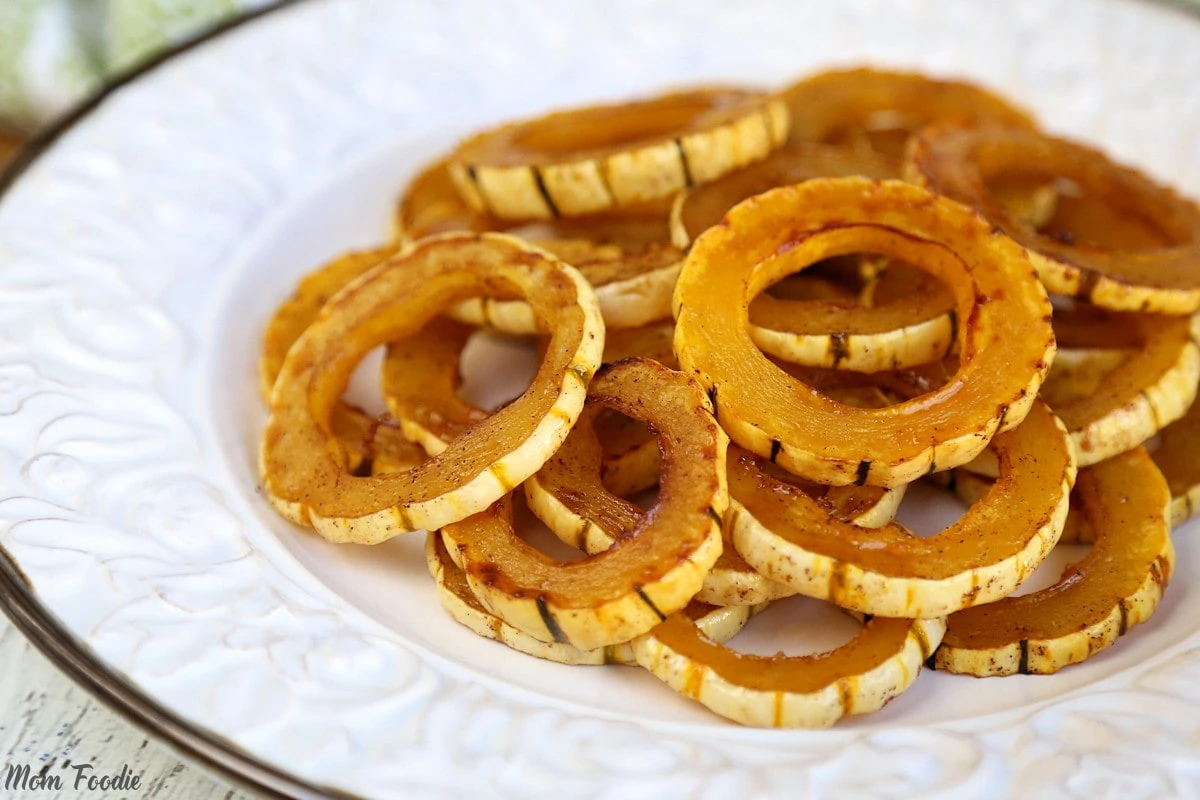 Delicata Squash
Delicata squash (Cucurbita pepo) is also known as sweet potato squash, peanut squash, or Bohemian squash. It's a favorite squash of mine and is widely available in the fall at your local farmers market or grocery store.
This healthy squash is high in vitamins A and C, yet low in calories. It is also versatile and goes great in a wide array of dishes.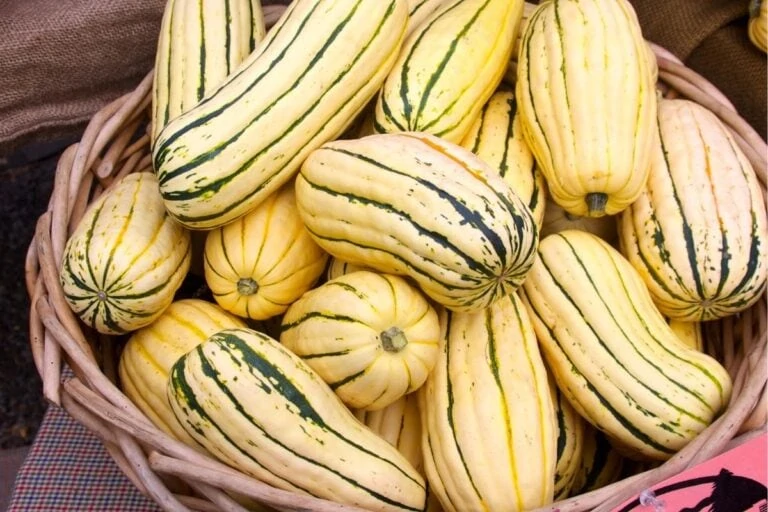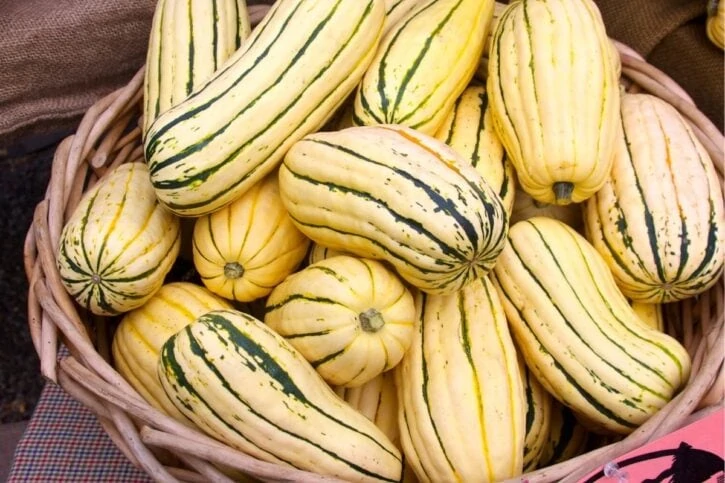 The skin of delicata squash is more tender than most winter squash varieties, making it unnecessary to remove from the slices. I also like that the smaller general size of delicata squash makes it perfect for smaller batch cooking.
While I've simply glazed and roasted it here, I also like to serve it with pasta or grains. The vegetable is also useful in soups, stews and even salads. It's a wonderful side dish choice for Thanksgiving dinner.
How to Roast Delicata Squash
Making this winter squash recipe is super easy, and roasting gives the flesh a creamy texture and enhances the flavor of this fabulous squash. Follow along here or jump down to print the roast delicata squash recipe.
Recipe makes 4 servings, but is easily multiplied.
Prep time: 10 mins|Cook time: 20 mins|Total time: 30 mins
Ingredients you will need to roast delicata squash:
2 delicata squash (small to medium sized)
2 tablespoons pure maple syrup
1 ½ tablespoons olive oil
¼ teaspoon sea or Kosher salt
¼ tsp ground cinnamon
freshly ground black pepper ***optional
Supplies: You will also need a large rimmed baking sheet, sharp knife and basting brush.
Instructions
Here are the easy steps to roasting the Maple Roasted Delicata Squash Rings. Full recipe below.
How to Cut Delicata Squash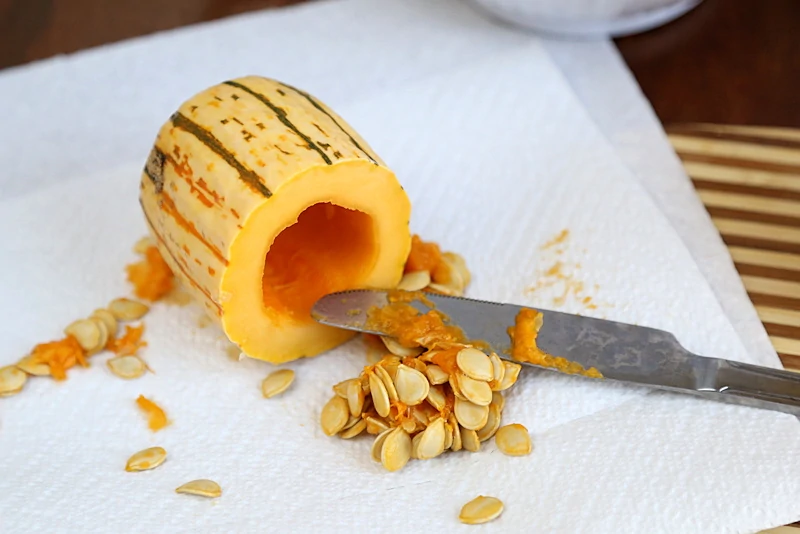 I cut delicata squash for this recipe, by cutting ends off then cutting into halves the short way so I could use a spoon to scoop out the seeds. The delicata squash can then easily be sliced into rings.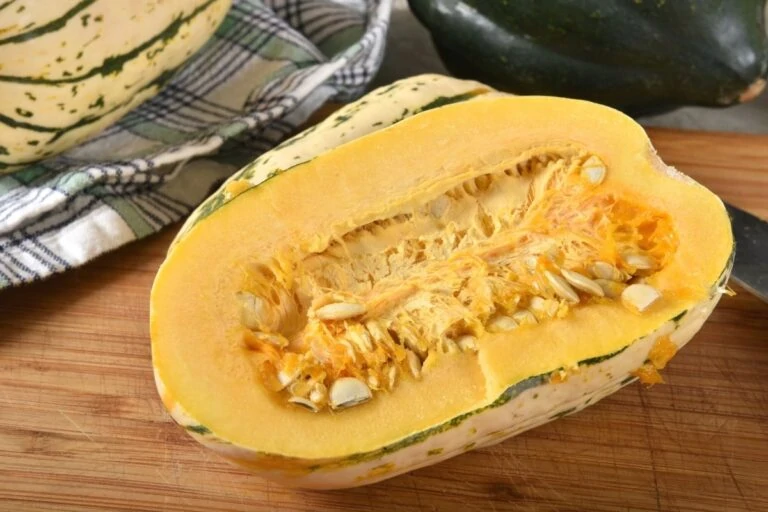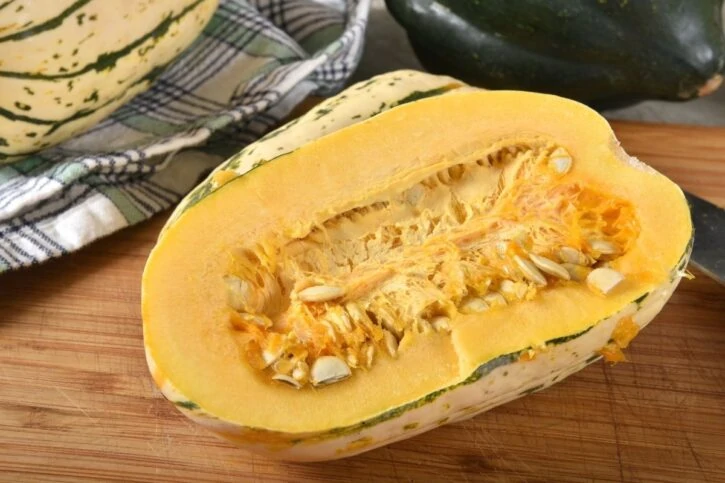 Alternately, cut the squash in half lengthwise before slicing and scooping seeds, if you prefer half moons. Either cutting method is good, it's just a presentation preference.
You make wish to put paper towel or parchment paper in the cutting board to help catch the seeds.
Don't worry about peeling, you can eat the skin after cooking. Compared to other squash, delicata skin is quite tender.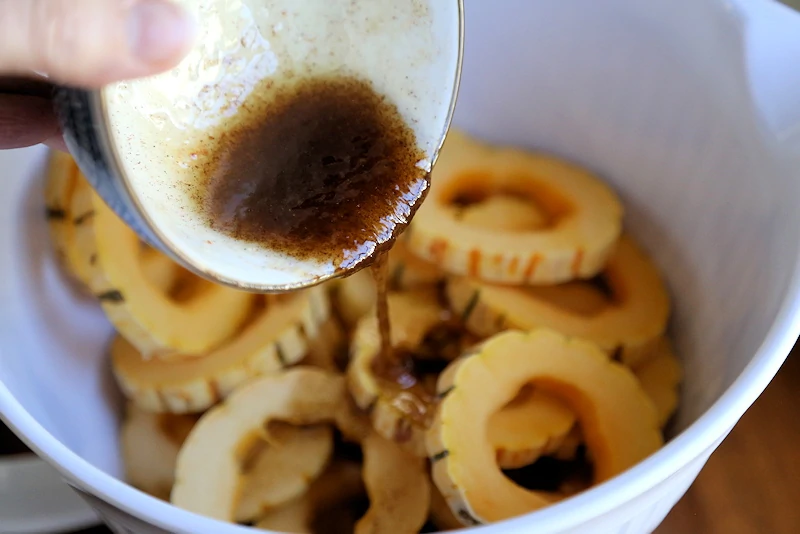 Maple Glaze for Squash
Simply whisk together the syrup, oil, salt, and cinnamon to make a glaze for the delicata squash rings. Add fresh black pepper if you like as well.
Toss the squash with oil mixture in a large bowl or baste each squash slice on baking sheet.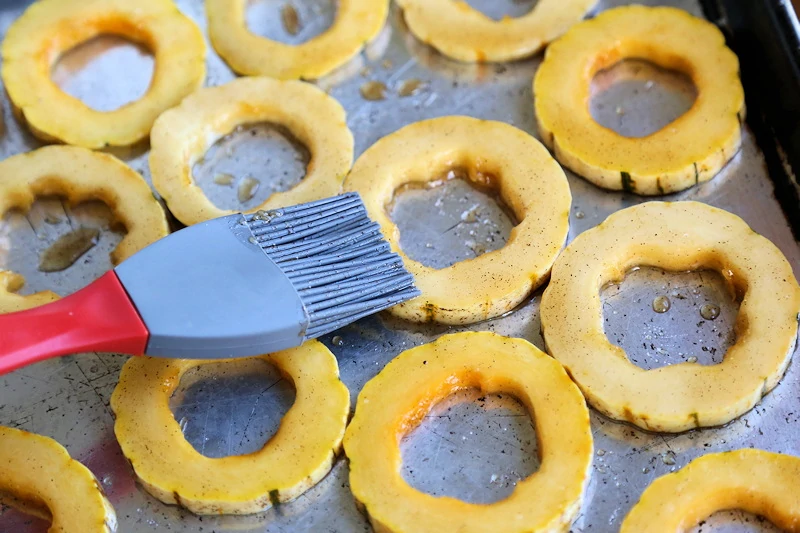 Roasting Delicata Squash Rings
Preheat oven to 450 degrees F.
After laying out the glazed rings in a single layer on a baking sheet
, roast for 20 minutes until golden brown at edges and the flesh is cooked through, flipping after about 12 minutes of cooking.
Then remove from oven and allow to cool a few minutes.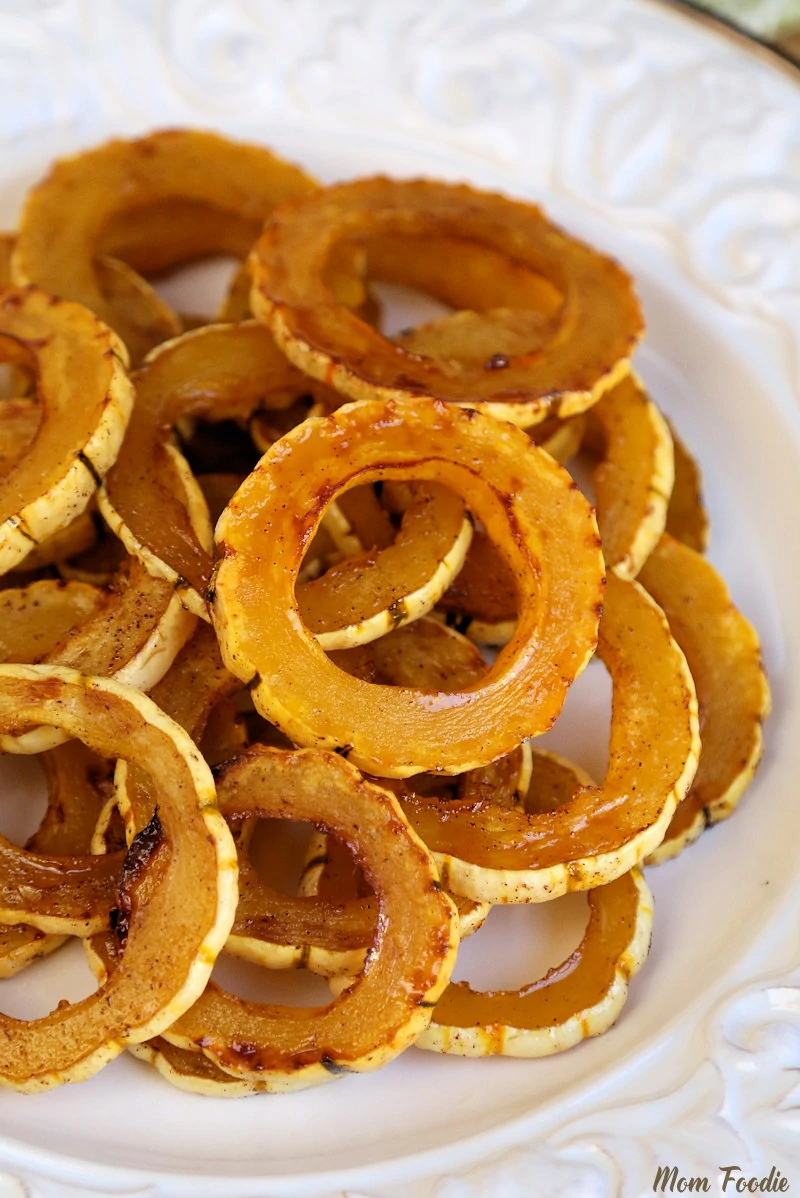 Serve as is or re-season the squash pieces with salt and pepper or drizzle with maple syrup.
Variations
You can of course adjust the seasonings as you like in this easy delicata squash recipe.
For those that love spicy food, add a pinch of cayenne or sprinkle of crushed red pepper seeds to the recipe.
Toss a few sprigs of thyme or fresh rosemary on the squash slices for a more savory taste. The natural oils from the herbs will release in the hot oven while you bake.
Try swapping honey or brown sugar for the maple in the recipe if you don't have any on hand.
Sprinkle some toasted pine nuts, roasted walnuts or crispy bacon bits over the delicata slices when serving to add a fun crunch.
Serving the Squash
Ways to serve the sweet and savory roasted squash rings:
Serve the roasted squash as an appetizer or snack if you like.
It makes a great side dish for your Thanksgiving dinner table.
The delicata squash rings are also wonderful on salad.
Serve with pasta or over your grain of choice for a delicious meatless meal.
Swap in where you would add acorn or butternut squash.
Q&A
Are delicata squash seeds edible?
Yes, there is no need to toss out the seeds if you are inclined to roast them. After washing off the stringy bits from the seeds, salt and bake at 325 for about 25 minutes.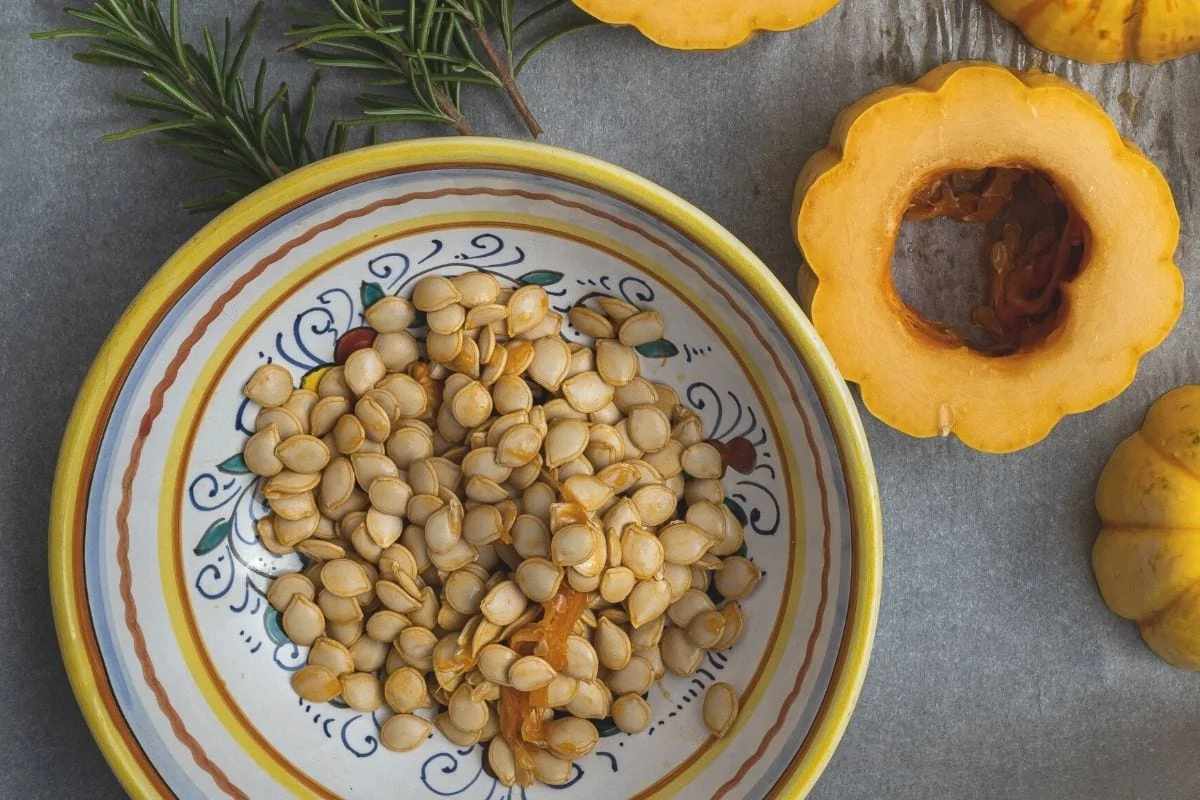 What does delicata squash taste like?
Delica means "of delicate flavor" in Italian and that is certainly fitting for this mildly sweet and creamy winter squash. It has been described as tasting of sweet potato, but I'd say it is a little more complex than that. It's more like corn, butternut squash and sweet potato all had a baby together...lol.
Of course, when you roast delicata squash the flavor becomes richer.
Do I need to peel delicata squash?
No, you don't need to peel it. You can eat the skin.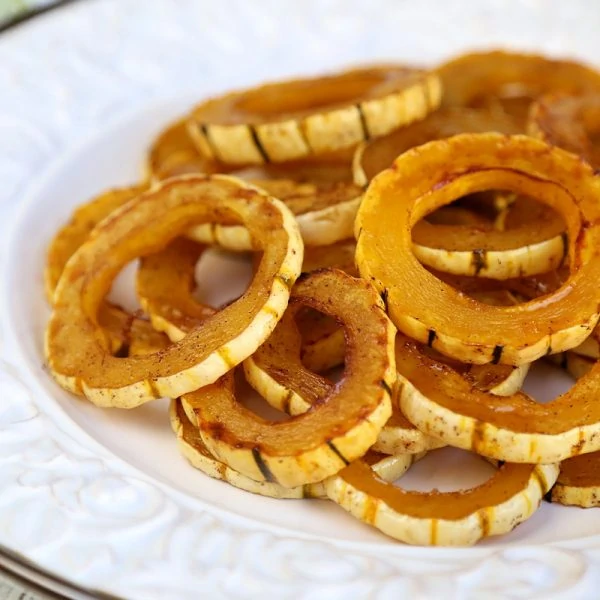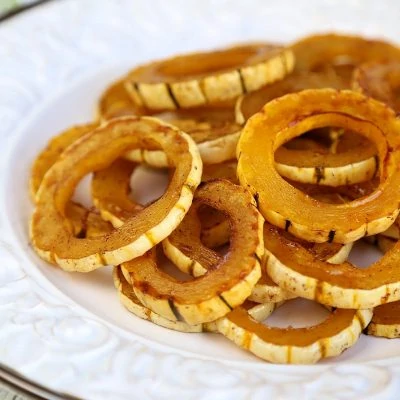 Roasted Delicata Squash Recipe
Delicata squash roasted and seasoned with maple and spices.
Print
Pin
Rate
Ingredients
2

small to medium delicata squash

2

tablespoons

pure maple syrup

1 ½

tablespoons

olive oil

light or classic

¼

teaspoon

sea salt

¼

teaspoon

ground cinnamon

fresh ground black pepper to taste

***optional
Instructions
Preheat oven to 450 degrees. Cut off ends of the delicata squash then cut in half. Hollow out the seeds from the halves with a spoon or butter knife. Cut the squash into ¼-1/2 inch rings. OR cut the squash in half lengthwise then slice into half moons after scooping seeds out.

Whisk together the syrup, olive oil, sea salt, and cinnamon, then pour over the delicata squash rings in a large bowl. Toss to coat.

Lay out the rings on a baking sheet and baste with the glaze that is left in the bowl.

Roast for 12 minutes, then flip the squash rings over and roast for another 6 minutes.  Remove the rings that are golden and cooked through to a plate. Return the rest to oven to roast for another 2-3 minutes.

Remove the remaining rings to the plate and serve.
Nutrition
Calories:
353
kcal
|
Carbohydrates:
81
g
|
Protein:
8
g
|
Fat:
4
g
|
Sodium:
181
mg
|
Potassium:
3058
mg
|
Fiber:
13
g
|
Sugar:
25
g
|
Vitamin A:
11860
IU
|
Vitamin C:
106.7
mg
|
Calcium:
254
mg
|
Iron:
5
mg
Try these Winter Squash recipes:
Here are a few more recipes to enjoy and perfect for autumn! I've even included a couple delicata squash recipes.