Pork Katsu was one of the dishes I always recommended to those who had been dragged to a Japanese restaurant but were fearful of trying this new-to-them cuisine. Also known as Tonkatsu this is a simple Japanese pork cutlet with breading served with tokatsu sauce (aka katsu sauce). Katsu sauce was the original predecessor to ketchup.
The breaded pork cutlet and sauce are quite easy to prepare. They are very manageable for the home cook.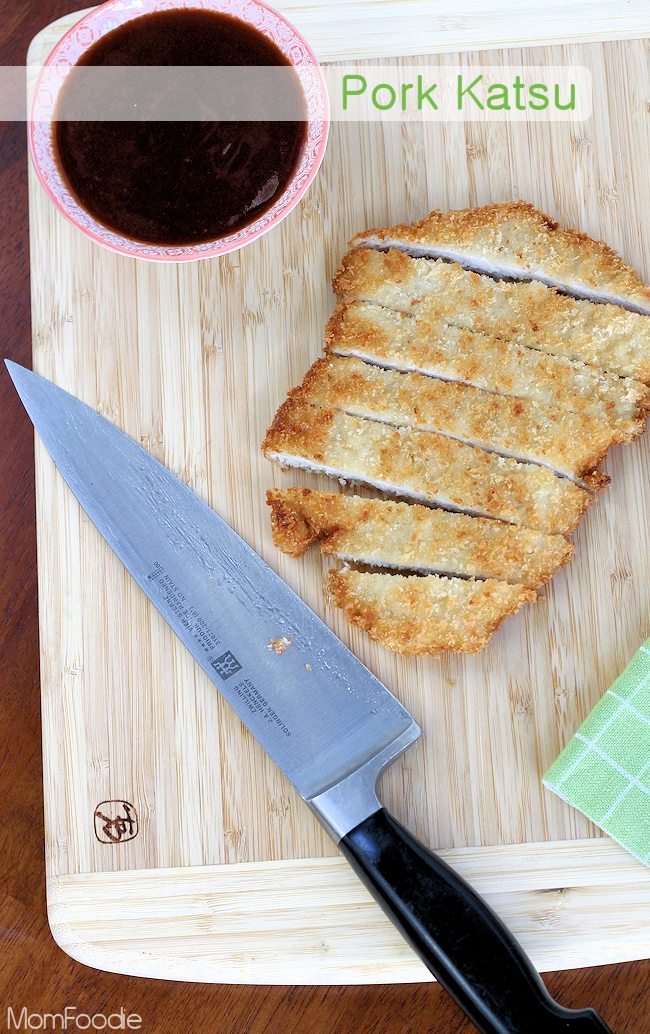 Pork Katsu
Pork Katsu (Tonkatsu) is one of those recipes that is perfect for those timid of Japanese cuisine.  When I worked at a sushi bar many years ago, it was one of the favorite items for guests who would not touch sushi. They wanted to have a good time with their sushi lovin' friends or family without joining them in eating it. Teriyaki was my other Japanese dish suggestion for them.
What is Pork Katsu / Tonkatsu?
The pork dish is very simple, fried pork cutlets which have been pounded thin and coated in Panko bread crumbs then served with tonkatsu sauce. Tonkatsu sauce (katsu sauce) is a zesty ketchup, American ketchup was actually based off of similar Asian sauces.  The cutlets are usually pre-cut as shown when serving.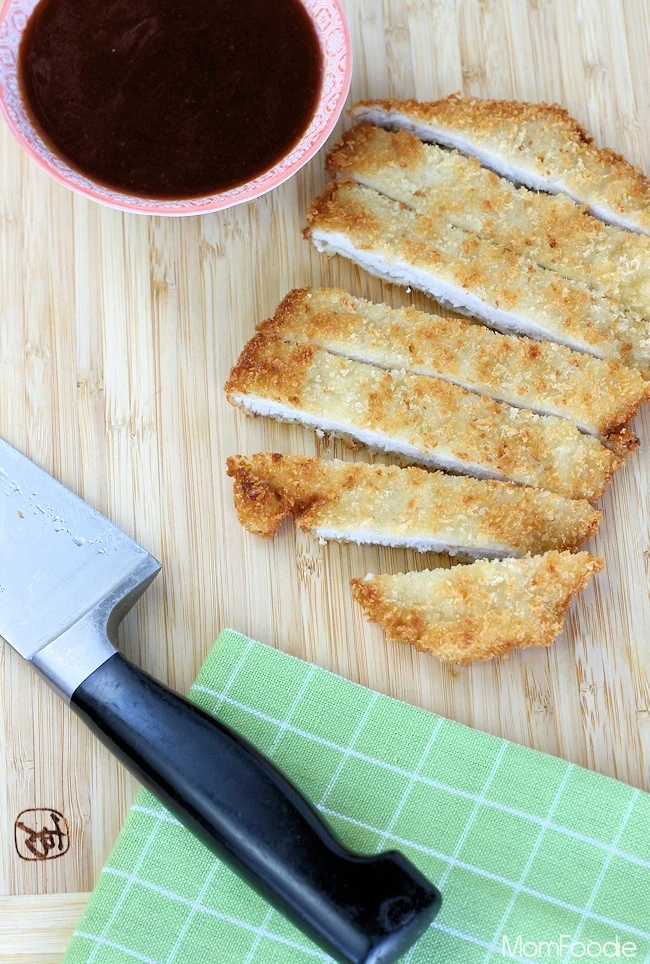 How to Make Pork Katsu
What you Need for the breaded Pork
1

 

pound

 

of trimmed pork loin

2

 

eggs

¼

 

cup

 

milk or buttermilk

salt & pepper

½

 

cup

 

flour

2

 

cups

 

Panko crumbs

oil for pan frying
Katsu Sauce Ingredients
⅔

 

cup

 

ketchup

¼

 

cup

 

Worcestershire sauce

3

 

tbs

 

low sodium soy sauce

1

 

teaspoon

 

mustard

 

regular bottled mustard

3

 

tbs

 

honey

¼

 

teaspoon

 

ground ginger
Preparation
I used slices of pork loin, which I pounded out between sheets of parchment paper, with the bottom of a heavy skillet.  If you have a meat pounder feel free, but I've never personally seen the need for one cluttering up my drawer, when whacking meats with a pan is not only effective, but rather satisfying.  They are then dredged just as you would any standard cutlet and coated in Panko crumb.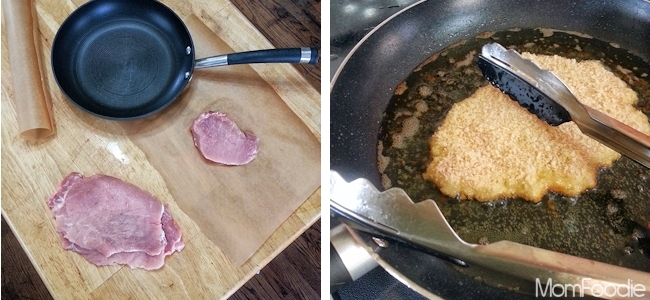 The pork is then cooked in a skillet with a shallow pool of oil until golden brown on both sides.
The Katsu sauce is also easily made from common pantry ingredients, and suited for wide appeal. Serve with some steamed rice, veggies and some green tea or saki, for a fun Japanese night in, that won't take anyone out of their comfort zone.
While the katsu sauce goes great with these breaded pork cutlets, if you prefer something creamier try my Japanese hibachi Yum Yum sauce with them. Perhaps make some Japanese Radish Pickles or Asian Cucumber Salad with onions as refreshing side dishes along with some simple homemade fried rice.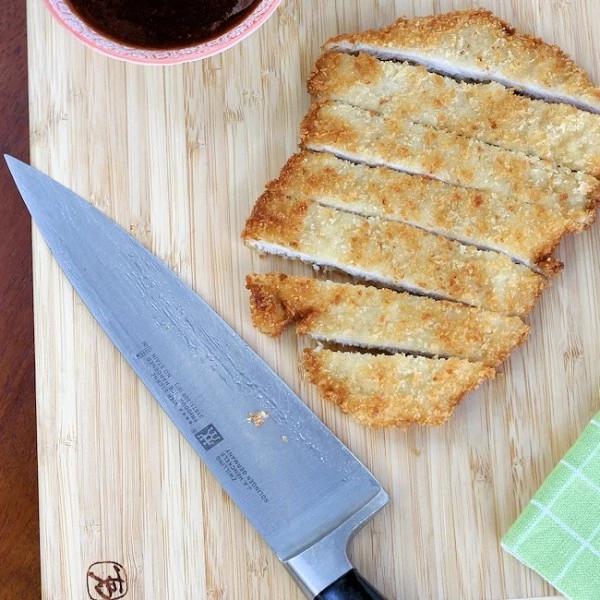 Pork Katsu Recipe
Simple pork katsu (Tonkatsu) recipe with homemade katsu sauce. Even finicky kids will love this crispy breaded Japanese pork cutlet.
Print
Pin
Rate
Ingredients
Pork Katsu Cutlets
1

pound

of trimmed pork loin

2

eggs

¼

cup

milk or buttermilk

salt & pepper

½

cup

flour

2

cups

Panko crumbs

oil for pan frying
Katsu (Tonkatsu Sauce)
⅔

cup

ketchup

¼

cup

Worcestershire sauce

3

tbs

low sodium soy sauce

1

teaspoon

mustard

regular bottled mustard

3

tbs

honey

¼

teaspoon

ground ginger
Instructions
Cut loin into 4 medallions, then lay between sheets of parchment paper or plastic wrap and pound thin. (The cutlets will be about 2 ½ times the original diameter once pounded out) Season the pork with salt and pepper if you like.

Beat the eggs in medium size bowl with milk and a pinch of salt and couple grinds of fresh pepper.

Set up a bowl of flour on one side of wash and large shallow one for Panko crumbs on the other side.

Dredge the pork cutlets in the flour and gently shake off excess, then do same with egg wash, finally lay out cutlet in panko and cover with crumbs, very gently press down to ensure adherence. Set aside to fry.

Pour oil in large skillet about a half inch deep and bring heat to med-high. Once hot place in first cutlet (you will probably only be able to cook one of these cutlets at a time, two at most).

Once edges start to show color (about 4 minutes), turn the cutlet and fry an additional 2-3 minutes. Remove to paper towel lined plate or cooling rack. Repeat with remaining cutlets.

While cooking, or prior to starting, whisk together the Katsu sauce ingredients & reserve in refrigerator.

Cut the pork katsu cutlets into slices about a ½ inch thick to serve. Sauce can be drizzled on or used as dip.