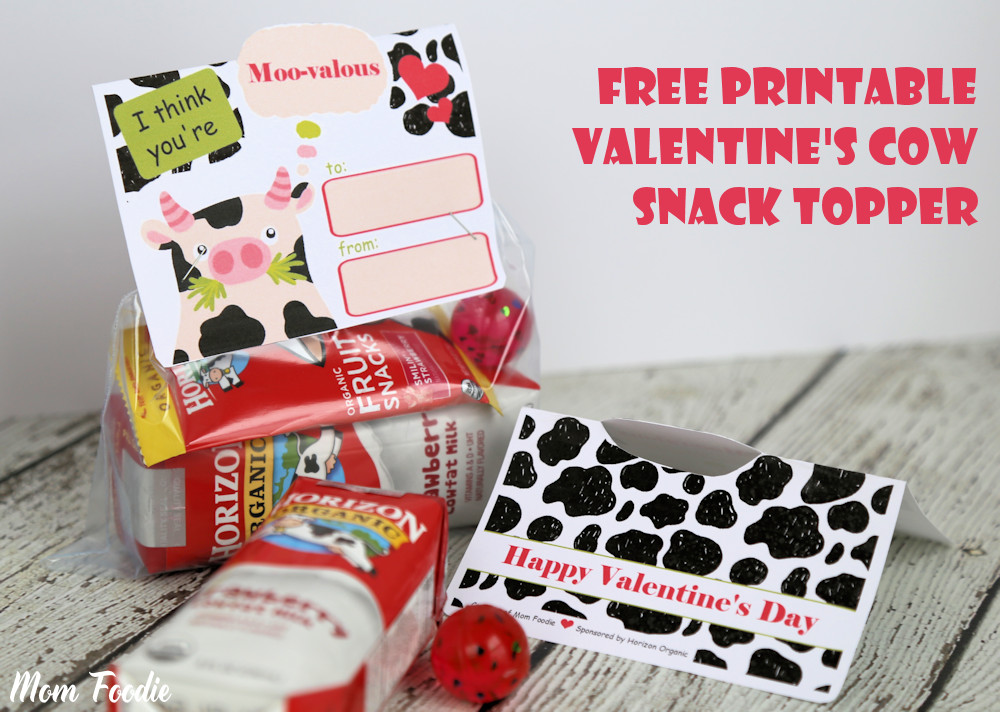 Just because we want to get away from giving kids "junk" food, doesn't mean there aren't plenty of other options for kid's Valentines.  This little snack goody bag, with printable Valentine's Cow topper is just one of many things you can give children on Valentine's Day.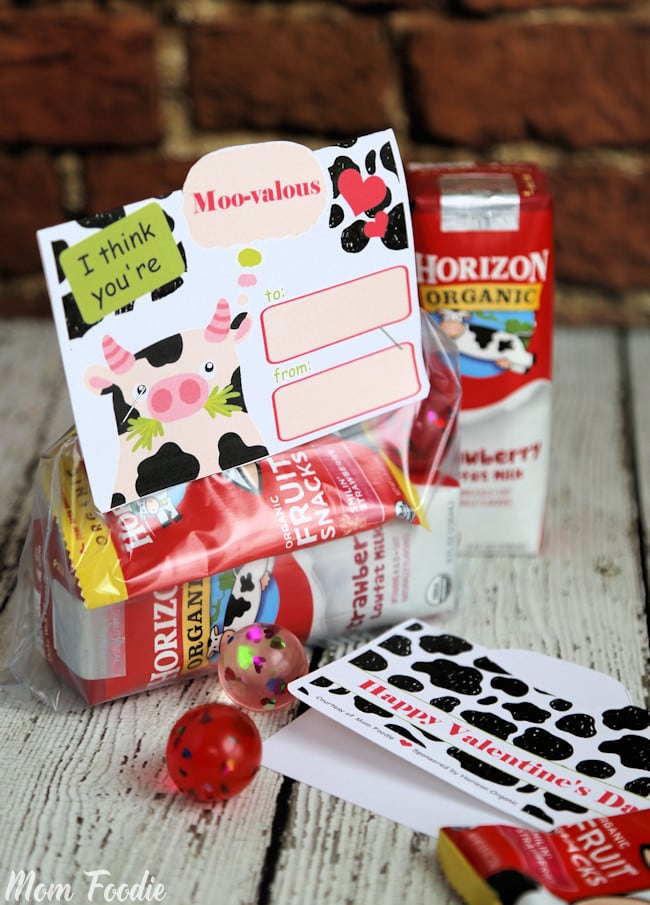 We filled the bags with individual serve Horizon Organic Strawberry Milk, a package of Horizon Organic Fruit Snacks (in strawberry flavor) and a Valentine themed super ball.  We can feel good that the kids will enjoy a natural organic snack, and have something to play with after eating.  My daughter picked the balls for her friends. If you can't find bags of super balls, dept and craft stores have plenty of other cute options in the party favor section.
For lactose intolerant children, and those who follow a vegan diet: Simply swap out the carton of milk for an individual serve Silk non-dairy milk. The fruit snacks do not contain gelatin.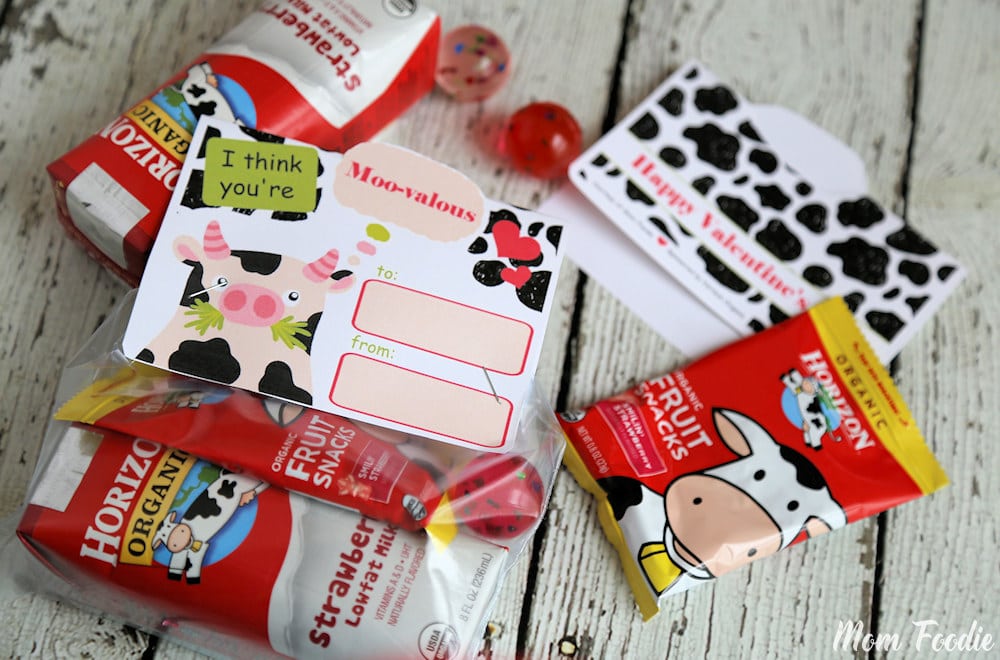 The front has a cute cow, stating "I think you're Moo-valous", with room for names of gifter and recipient.  The back says Happy Valentines day and features a cow print background.  The thought bubble projects beyond the fold line and should be incised by an adult, though most children will be able to handle the rest of the assembly.  The spaces for the names are large enough for younger kids to write in (something I am always mindful of, since my own daughter struggles with fine motor coordination).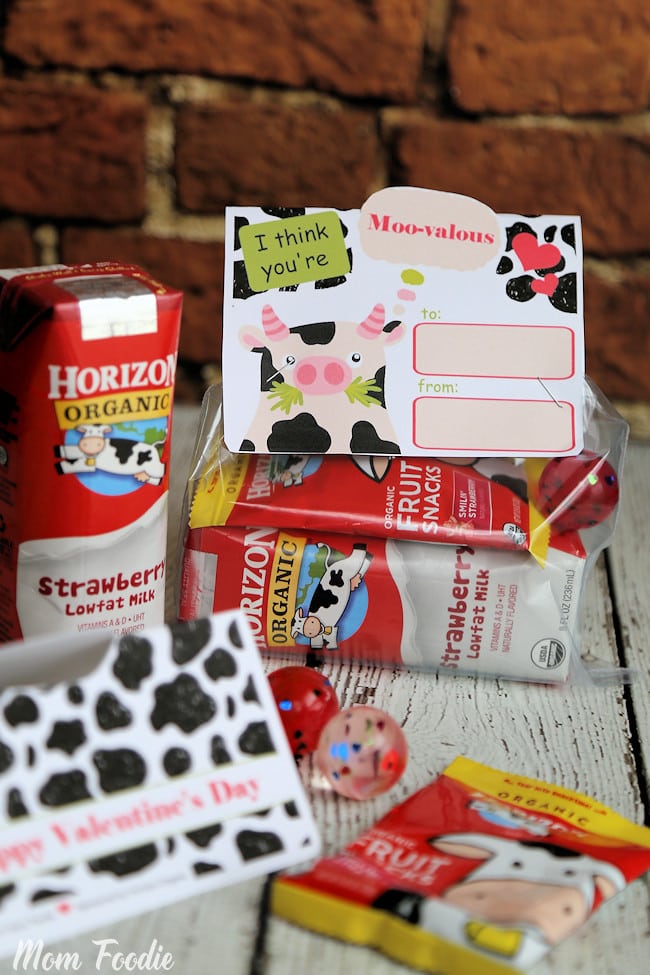 Free Printable Valentine Cow Snack Topper Card
I made these a bit larger, so they work as a card too, not just a topper.  It also leaves room for kids to write names, and milk to be lain sideways, so it won't fall over.  I used 65lb cardstock paper to print these on which worked out fine, but I would be reluctant to use anything lighter weight.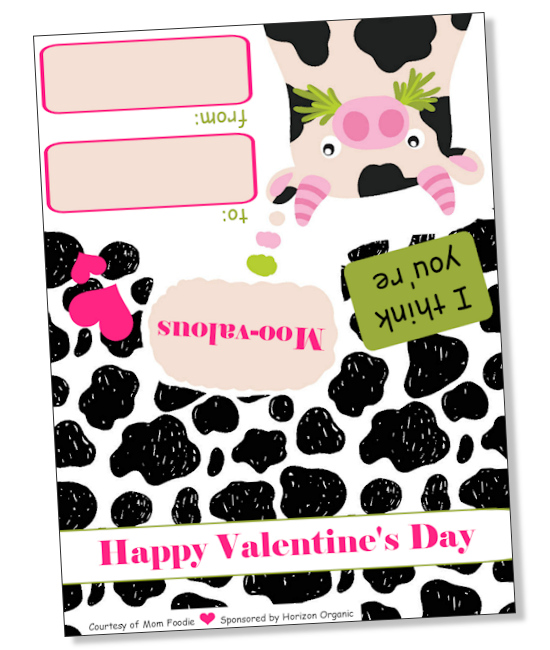 Print your toppers here.  Each will take one sheet of cardstock paper.
Free Printable PDF File >>  Valentine's Cow Snack Topper
After printing, simply trim the excess paper off, and use a utility knife to cut around the top of the though bubble, so it will stick out above the fold line.
Place milk, snacks and toy in goody or quart size storage bag.
Fold in bag edges and roll down a little, then insert into the fold of a card and staple in place on each side.
More Fun & Recipes from Horizon Organic
Horizon Organic is not just a great source for natural and organic foods, they also sponsor bloggers like myself to create new crafts, recipes, and topical articles to help all of us live healthier happier lives.  See what both Horizon and their band of bloggers are coming up with by following Horizon on Pinterest, Twitter, Facebook and Instagram.

Also, make certain to sign-up for the Horizon Organic Newsletter.  Not only will you be kept up to date with the newest products, promotions, recipes, and crafts, but you will also get a money saving coupon right away.
This is a sponsored conversation written by me on behalf of Horizon Organic. The opinions and text are all mine.