These homemade Valentine's Day Treats are easier to make than they look. Store bought fondant and graham crackers are dressed up to look like Valentine cards or love letters. The sweet treats don't take any special skill. Simply follow along with the instructions and pictures. You've got this!

Valentines Day Treats
Fun and cute Valentines Treats like this are great for kids to share or to make for that special someone. These little love letter treats are super easy to make, they are almost like a simple craft project more than cooking and are great for kids to make too.
These would be super cute served with my Valentine Sugar Cookies Stained Glass Heart Cookies too!

More Valentines Day Treats to Make
If you are putting together a Valentines Day Dessert Spread, try these Valentine recipes too.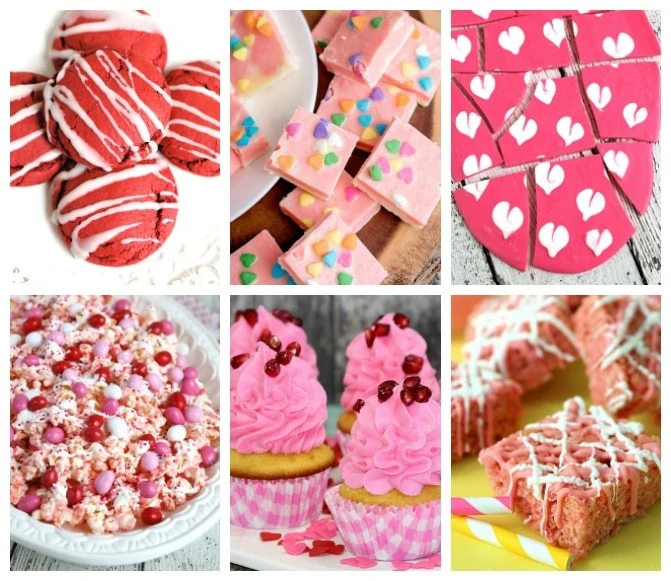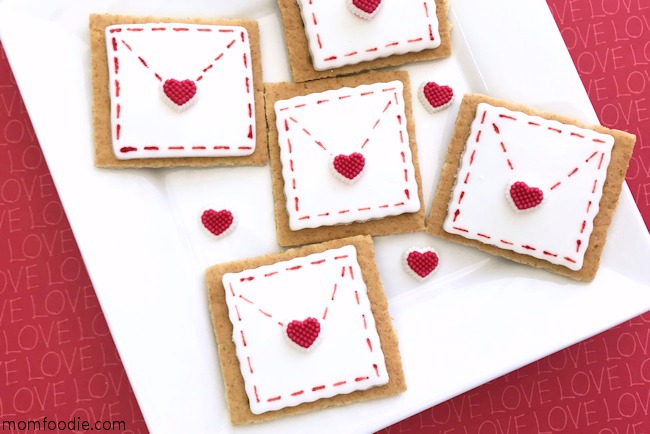 How To Make Valentine Treat Love Letters
Here is a visual walk through of the process of making the Valentine's Day food craft. Don't be daunted each step is easy. Printable recipe card can be found below.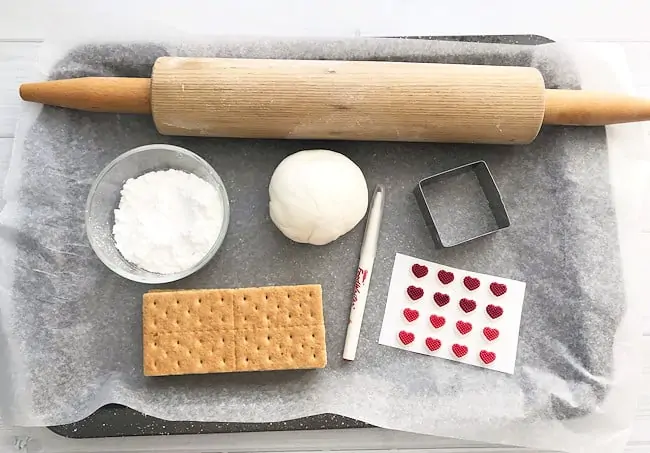 You will need the supplies above, as well as, a tub of frosting.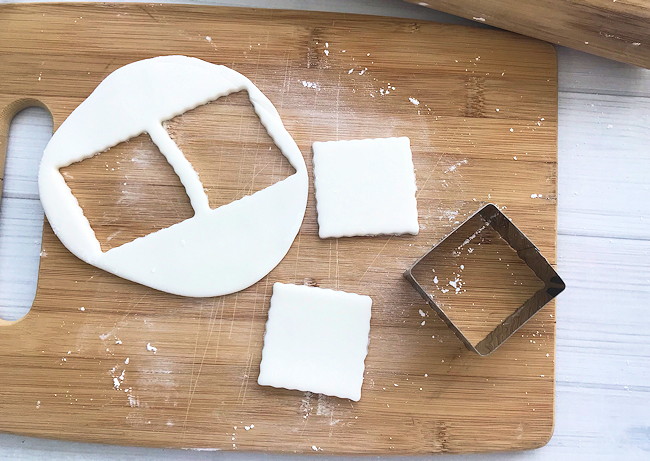 Roll out the fondant about a ¼ inch thick and cut out squares with a small cookie cutter. Allow the squares to dry out for a minimum of 30 minutes to to an hour.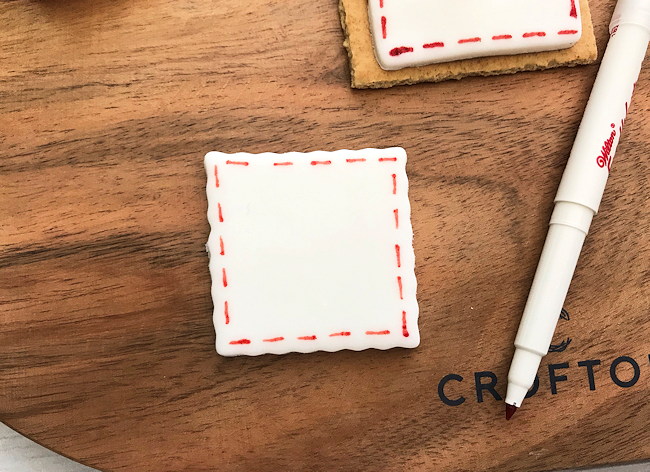 Draw a dashed line around the edges of the square.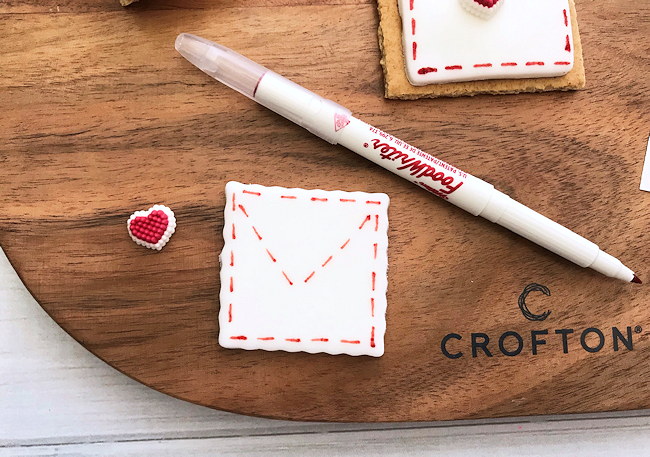 Then using dashed lines again draw a triangle reaching to the center of the square. Don't be fussy about the point, It will be covered.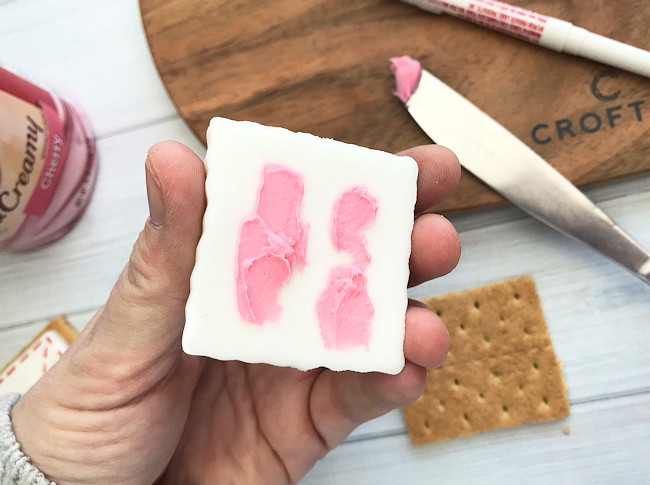 Apply frosting to the back of the fondant and stick each letter to a section of two graham crackers.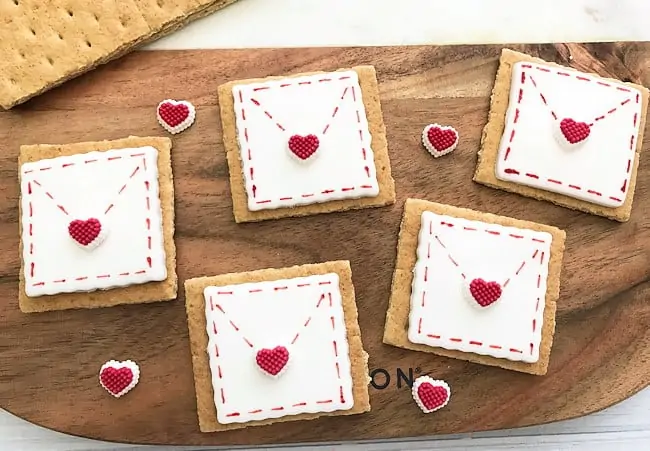 Stick a candy heart on the point of the letter flap. Adhere with frosting as you did earlier.
Now simply buy or print a Valentine's Card and you are set for the holiday.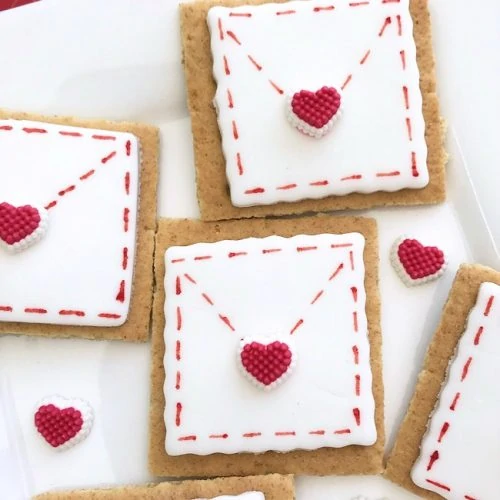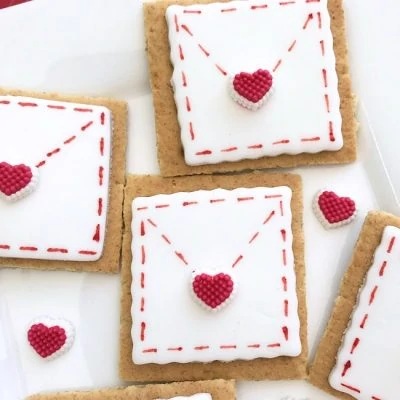 Ingredients
10

graham cracker squares

powdered sugar

pink or white frosting
Instructions
Line a baking sheet with parchment or wax paper.

Gently knead the white fondant until pliable. Take a small handful at a time and gently roll out to ¼" thick using the rolling pin. If the fondant gets sticky, use the powdered sugar on your rolling pin and surface to prevent sticking.

Once the fondant is rolled to about ¼" use the square cookie cutter to cut the fondant into small squares.

Set the fondant squares on the baking sheet for 30-60 minutes to set.

After the fondant hardens a bit spread a small amount of frosting on the back of the square and place on top of the graham cracker.

Use the edible food marker to make 4-5 dashes on on all sides of the square and then a small triangle in the middle.

Use the toothpick to place a small amount of frosting on the back of the candy heart and then affix onto the 'envelope flap'.

Repeat with all 10 graham crackers.