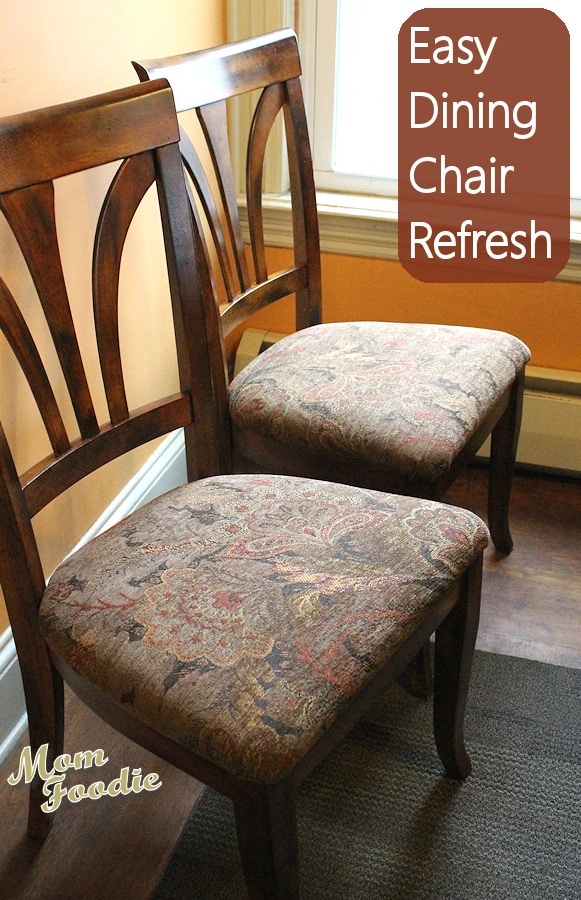 My daughter is one messy little character, and she has been doing a lot of her in-home ABA therapy at our dining table, thus the upholstery on my chairs has been taking a lot of abuse.  I am refreshing the double parlour where the table is with new paint this week, so it seemed the perfect time to reupholster my dining chairs as well.  It is an inexpensive and easy DIY project, so if yours are looking a bit shabby too, don't be shy about reupholstering them.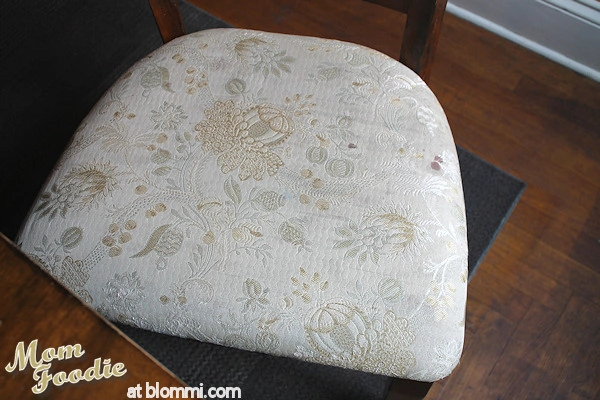 This is what the chairs looked like before.  The material on the edges was starting to show some wear, and the pretty gold fabric that I had picked, prior to having my daughter, wasn't cleaning up so well anymore.  I needed something more durable, and less apt to show every little stain.  I guess we could say, I needed kid friendly fabric.
What You Need to Reupholster Dining Chairs
Upholstery Fabric ( 2 to 2 ¼ yards of 54" fabric should cover 6 seats, if you have a pattern that requires particular alignment you will need more)
Scissors
Staple Gun and staples (I used ⅜")
Phillips head Screwdriver
Flat Head Screwdriver or staple puller
Pliers
Money saving tip: Rather than going straight to the large rolls of decorator fabric, shop the remnant section for upholstery.  This project does not require a large amount of fabric, pieces of premium material the size we need can be found there at a small fraction of regular price.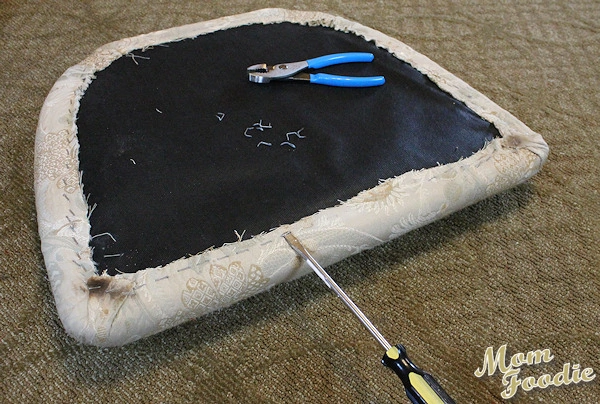 Flip the chair over, and unscrew the padded seat from the chair frame.  If manufacturer upholstery is not bulky, you can probably reupholster right over it, if not, or like I have here, the seat has been reupholstered post-production, you will need to remove the old covering.  Hopefully, the last upholstery job wasn't done by a crazy staple-happy broad like me.  As you can see, I was perhaps a little over-zealous in my usage of the staple gun, when I did these last time...lol.  Just take a staple puller or flat head screw driver and lift out the staples.  Holding a finger over the staple, while you wiggle your tool under it, will avoid one side popping up and leaving the other stuck.  If that should happen, just tug it out with pliers.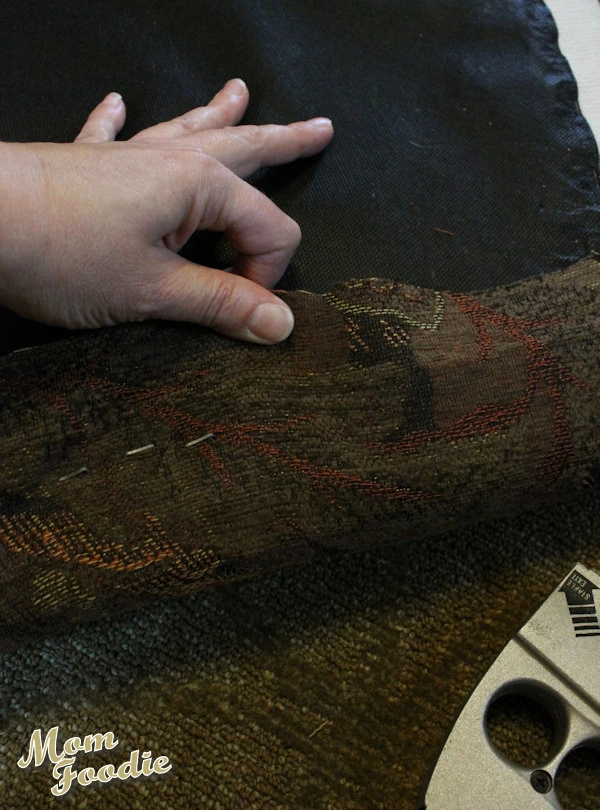 Take the padded seat and line it up on your fabric, cut out a piece with ample room to staple.  Put a couple staples in the center of one side, then pull fabric taught and put a few in the center of the opposite side.  Work back and forth, until most of those two sides are done, but leave a few inches on the ends.  Repeat the process on the other two sides.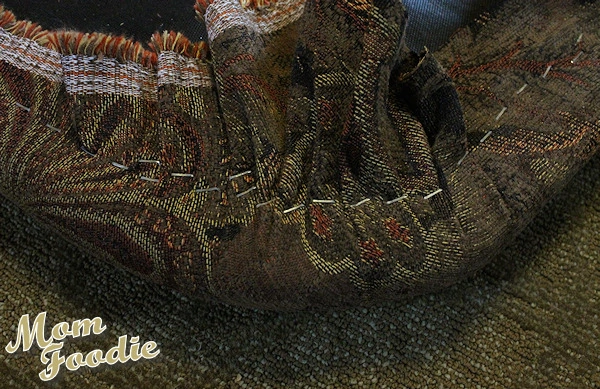 I have found that rather than folding a large chunk of fabric at the corners, making smaller pleats, and pulling them nice and taught makes for nicer looking corners.  It also creates a little less bulk, which makes reattaching the seats to frames easier.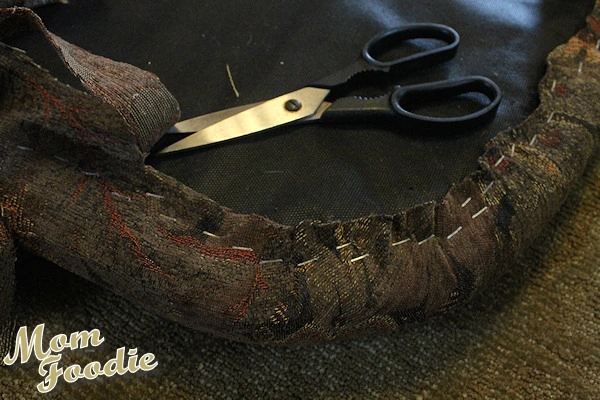 I then simply trim away excess material, leaving some room so it won't unravel. This won't be visible once chair is reassembled, so I leave them like this. If it bothers you, you can line it with muslin or inexpensive lining fabric. Cut the seat shape, iron edges under, glue on and put a few staples.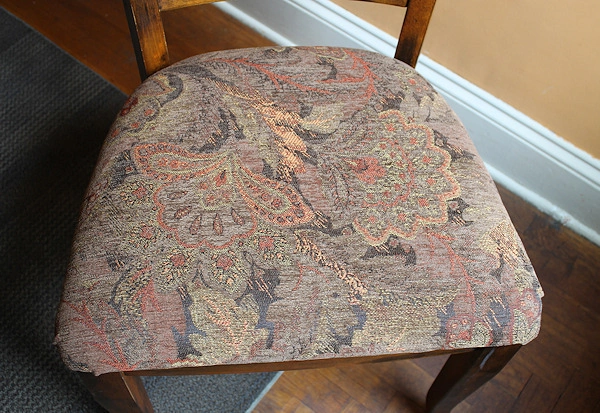 Give the frame a quick wash down while cushion is off, then line the seat up, and screw it back on from underneath.  That's it, your done.
Now I am ready to repaint the room.  From orange to orange...lol.  I am going with a richer shade this time though.