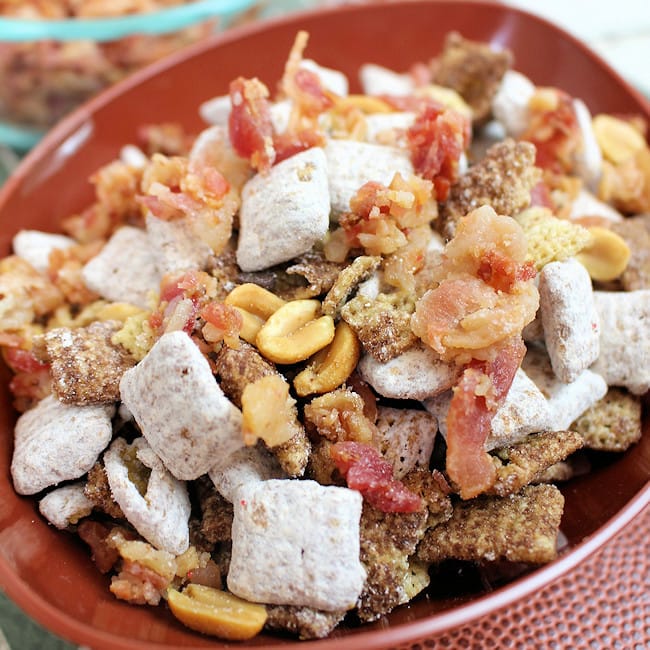 This Bacon Bourbon Chocolate Snack mix covers all the bases.  Bacon, bourbon & chocolate! It is sure to fly out of the bowls at your Big Game get together.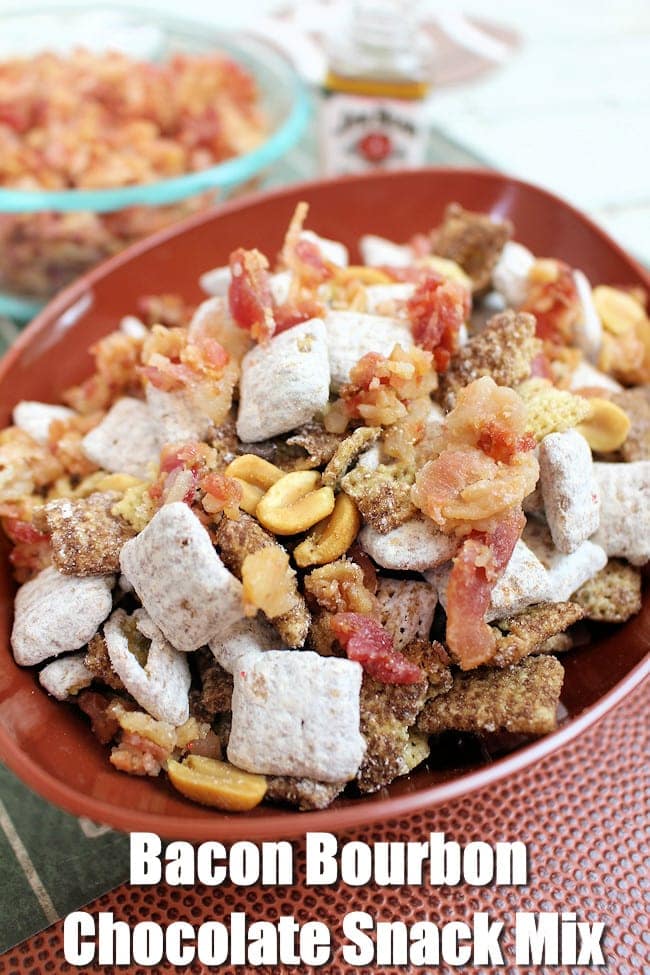 Print
Bacon Bourbon Chocolate Snack Mix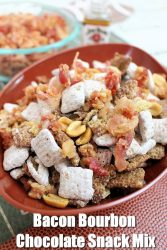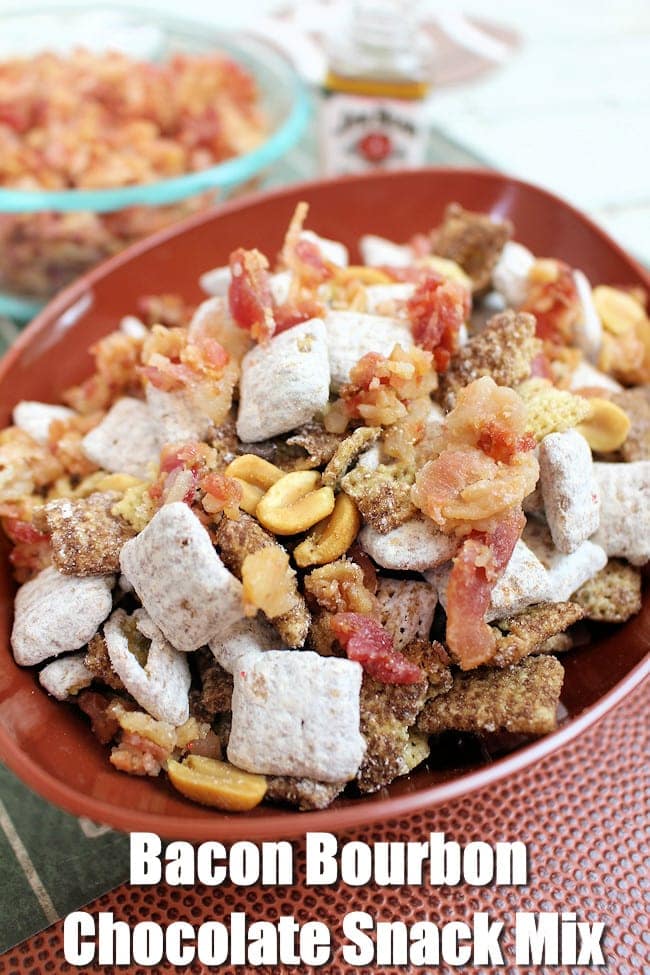 Author:

Mom Foodie Contributor Recipe

Category:

snack
Ingredients
4 cups Chocolate Chex Mix cereal
4 cups Muddy Buddies (recipe below)
7-8 slices cooked bacon – crumbled
1 cup peanuts
1/2 cup chocolate chips
1/2 cup brown sugar
1/2 cup butter
1/4 cup light corn syrup
2 Tablespoons bourbon
Instructions
Preheat oven to 325 degrees.
Line a large baking sheet with aluminum foil. Spray with Pam. Set aside.
In a large bowl, add the chocolate Chex Mix cereal, peanuts and bacon. Set aside.
In a medium sauce pan, add the brown sugar, butter and corn syrup. Heat over medium heat for approximately 5 minutes, stirring occasionally.
Remove from heat and cool 2-3 minutes.
Slowly add the bourbon into the brown sugar mixture and stir until well incorporated.
Pour the bourbon mixture into the large bowl, evenly coating the chocolate cereal, peanuts and bacon. Gently toss to ensure all pieces are covered.
Carefully pour the mixture out onto the baking sheet and place in preheated oven for 15 minutes.
Cool for at least one hour.
Add the chocolate chips and 4 cups homemade muddy buddies (recipe below) to mixture and gently toss.
Pour into serving container. Optional- garnish with additional cooked bacon on top.
ENJOY!!
Print
Muddy Buddies
The recipe below is from the back of a Chex Mix snack bag a few years back:
Ingredients
9 cups Rice Chex cereal
1 cup semi-sweet chocolate chips
1/2 cup smooth peanut butter
1/4 cup butter (1/2 stick) – room temperature
1 teaspoon vanilla extract
1 1/2 cups powdered sugar
Instructions
In a large mixing bowl, add the rice Chex cereal and set aside.
In a medium sized microwave bowl, add the chocolate chips, peanut butter and butter. Microwave for 1 minute and stir.
Microwave for an additional 30 seconds to ensure the mixture is smooth and creamy.
Add the vanilla and stir to incorporate.
Pour mixture over the cereal and stir or mix with hands to evenly coat. (It gets rather sticky so it helps to spray your hands with Pam spray).
Transfer the cereal into a large Ziploc bag (one gallon or larger).
Add the powdered sugar to the cereal mixture. Seal the bag and gently shake until all of the cereal pieces are evenly coated with the powdered sugar.
Line a baking sheet with wax paper.
Carefully, pour out the cereal onto the baking sheet and spread out to cool.
Once cooled, add to the bacon bourbon mix above.