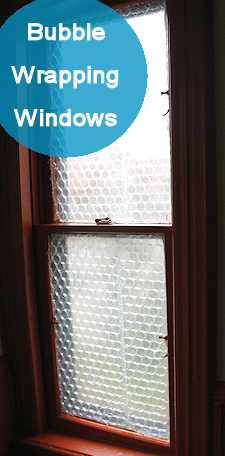 Did you know,  you can use common bubble wrap as insulation for windows?
I had heard of this bubble wrap trick to save energy before, but had never actually gotten around to trying it.  While most of the windows in my old Victorian era home have been replaced, with more energy efficient double pane windows, there are six windows in the house with the original old wooden single pane windows.  Even with storm windows on them, they still cause a good deal of heat loss (my storm windows aren't very airtight) , and as a single mom,  I just don't have the budget for replacement windows.
One thing  most bloggers tend to have is a lot of stray packing supplies, including bubble wrap, so this was a no cost project for me.  The bubble wrap I had on hand was the style with the bigger bubbles (about the diameter of a quarter).  This seemed like it would be a better choice anyway, as it will trap more air, thus should insulate better than the wrap with small bubbles.  The depth of the bubbles is similar to the pocket of air between the panes of my energy efficient windows.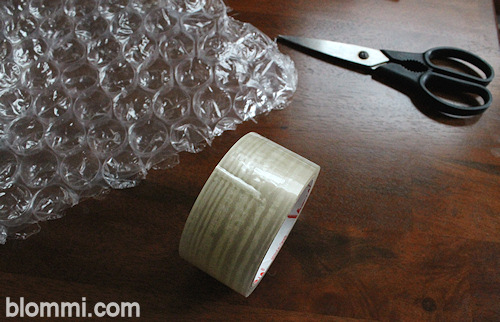 Applying Bubble Wrap to Windows
The bubble wrap was very easy to install on the windows and only took a few minutes.
What You Need to Bubble Wrap Windows
All you need is a spray bottle of water, bubble wrap, scissors and possibly packing tape.


How to Bubble Wrap Windows
1. Spray a mist of water over the inside of clean window.
2. Apply a sheet of bubble wrap squishy side to glass.  Trim off excess wrap with sharp scissors or utility knife.
3. If your wrap isn't wide enough add another row, right up against the first and seal the seam with clear packing tape.
Note: Sealing edges with tape may improve results, but is likely to lift paint when removed, so I would avoid this unless you plan to repaint or replace windows in the spring.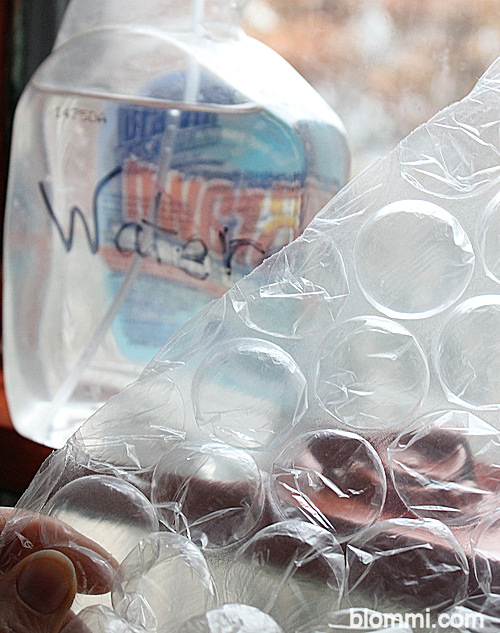 Does the Bubble Wrapping Really Insulate Windows?
Yes.  It helps.  I can feel a noticeable difference in heat loss, after applying the bubble wrap.  There is very little reduction in the amount of light coming through, and with window treatments over it, it is completely unnoticeable.  Removal in spring will be as simple as peeling it off.   I wish I had done this quick and easy energy saving trick before.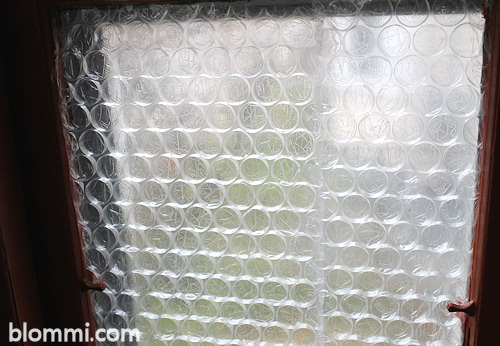 Update:  The bubble wrap lasted through 2 years already.  I removed it from one of the windows this spring, since a couple dead bugs were trapped in that one, but will be bubble wrapping that window again soon.  I had an energy audit of my house last year, and the guy doing it LOVED my bubble wrapped windows.  He will be suggesting the same to others.  Once the blinds are up, you can't even tell there is bubble wrap on these two windows.