A turkey wrap is a great lunch option anytime of year, but is especially well suited for autumn. There are so many ways to make turkey wraps, this delicious wrap features the iconic fall flavors so popular in New England and is easy to prepare.
This fun wrap sandwich is perfect for school lunches and could even be served as a casual Thanksgiving meal, if you want something quick and easy, without any cooking. Of course, turkey wraps are a scrumptious way to use up leftover Thanksgiving turkey too.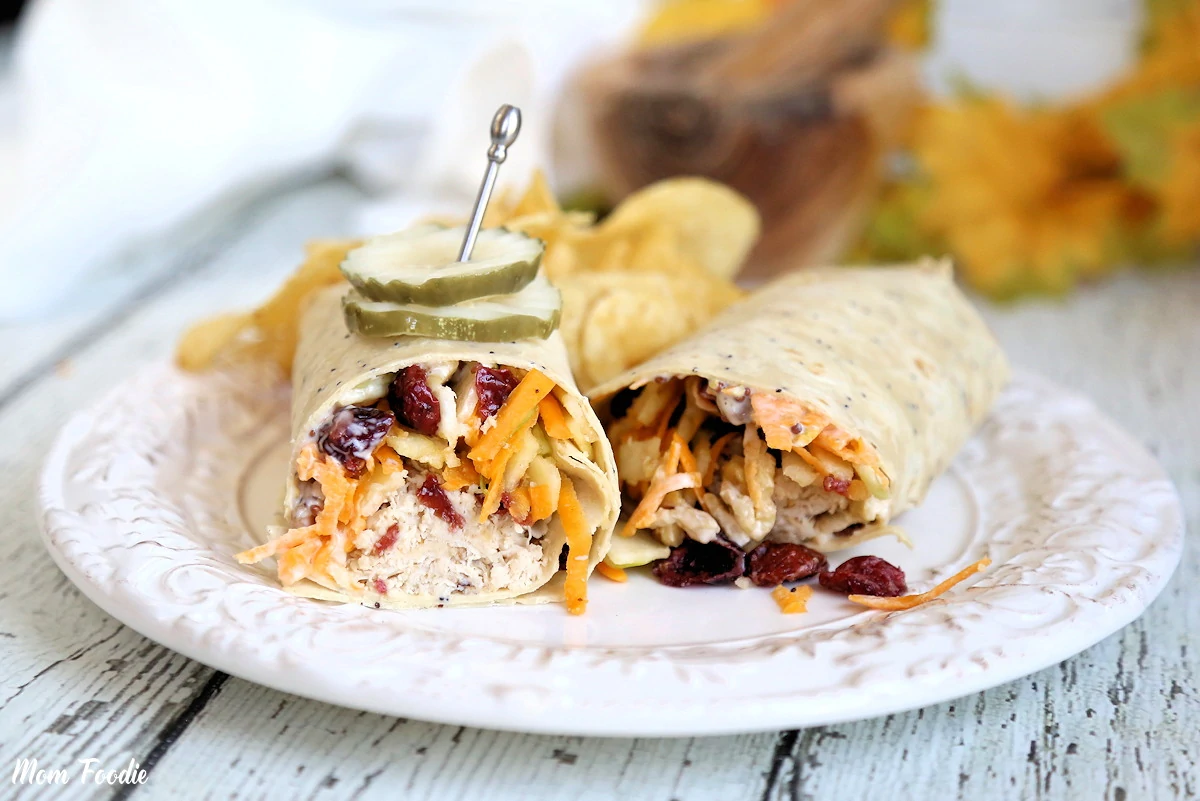 Harvest Turkey Wrap, Inspired by Fall in New England
Fall in New England, especially Southern New England where I live is a quirky unpredictable season. As the seasonal harvest comes in, the weather fluctuates from chilly to hot is seemingly the blink of an eye. If you are ready for seasonal flavors, but not heavy foods, this cold turkey wrap sandwich is just the thing you are looking for.
I chose a mixture of shredded raw butternut squash, match sticks of Granny Smith Apple, dried cranberries and chopped walnuts to use as an undressed sort of slaw to put in the wraps. I did use a Whole grain mustard and Apple Cider vinegar mayonnaise in the wrap too, but didn't want to actually coat the fresh squash and apple in it. Between all of this the wrap has ample moisture, texture and flavor.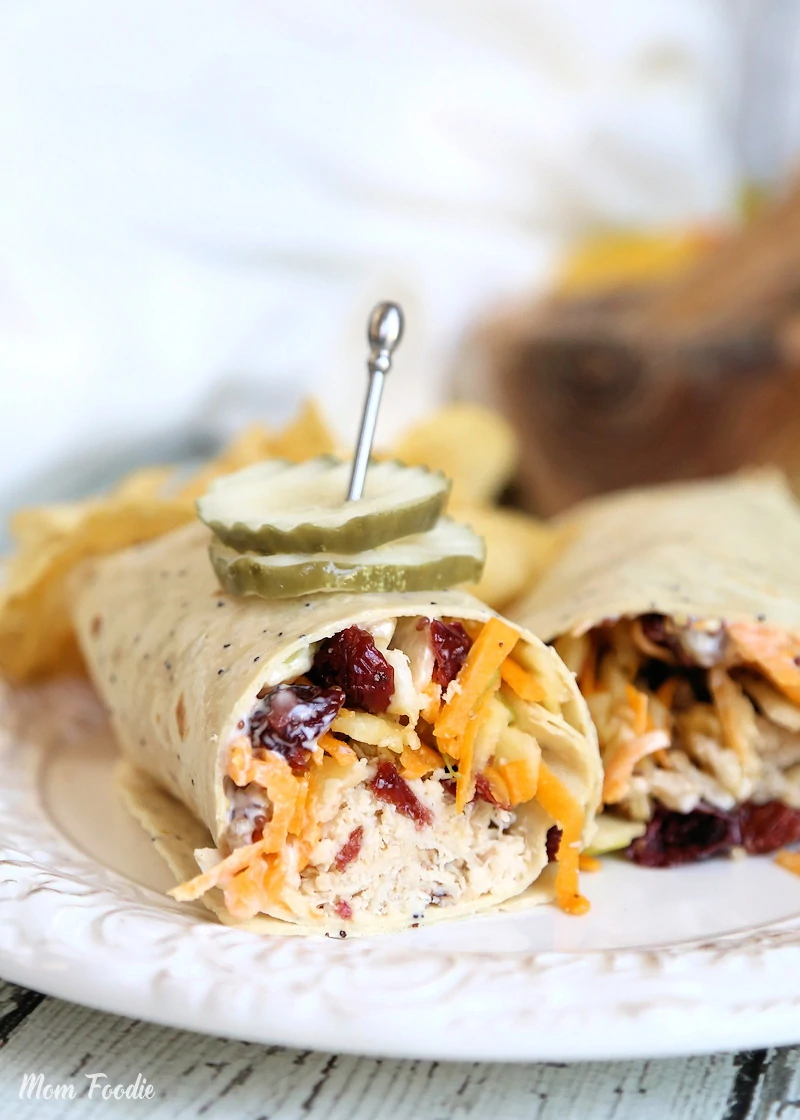 How to Make Thanksgiving Turkey Wrap
Prior to assembly, the undressed slaw will need to be cut and mixed. The simple homemade spread will also need to be mixed. Full recipe below.
Ingredients needed:
½-3/4 pound sliced turkey honey or maple if from deli, but leftover Thanksgiving turkey is ideal.
4 wraps
Spread
2 tablespoons mayonnaise
2 whole grain mustard
1 teaspoon apple cider vinegar
Slaw
1 cup coarse grated butternut squash
1 large Granny Smith apple sliced into matchsticks
⅓ cup dried cranberries
¼ cup chopped walnuts
Instructions
Start with a sandwich wraps or large flour tortillas.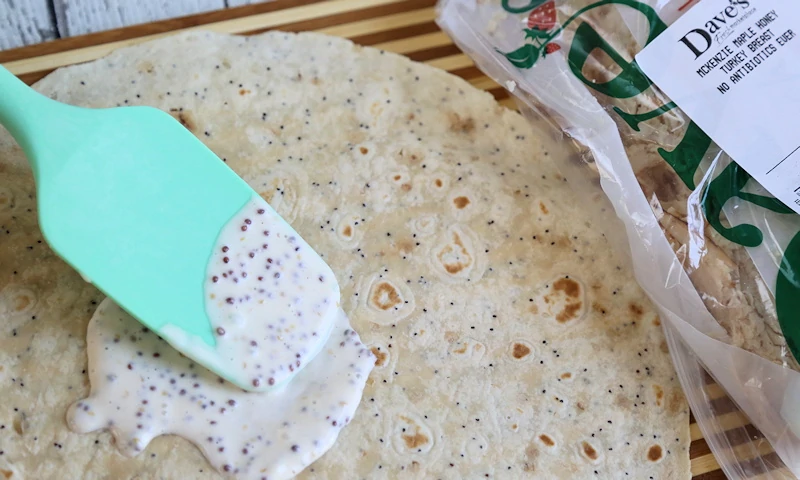 Prepare the sandwich spread, by mixing together the mayonnaise, whole grain mustard and apple cider vinegar together. Spread a dollop of the mixture on each wrap.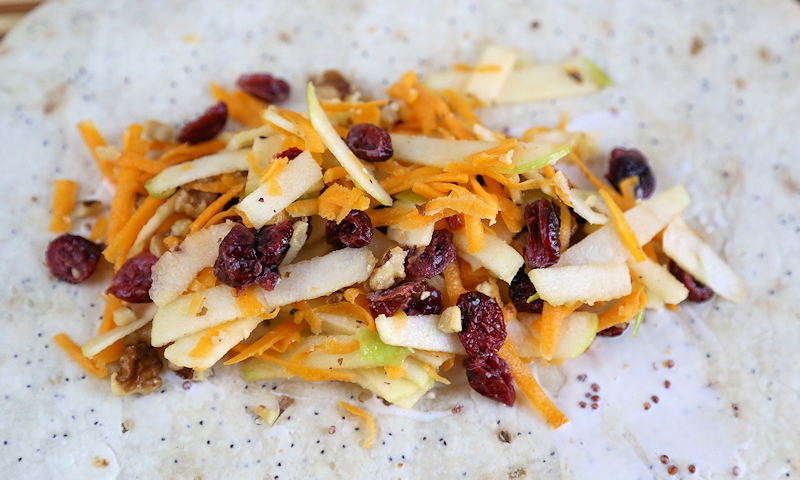 Shredded fresh butternut squash and julienned apple with dried cranberry and chopped walnuts makes an undressed slaw. A small pile is placed on top of the spread.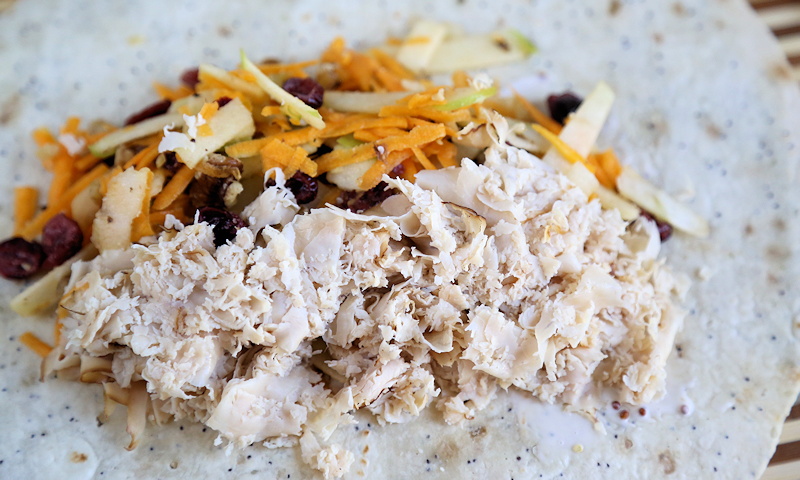 Finally, a nice helping of sliced turkey is nestled against the slaw and the wraps are rolled up like burritos.
Cut in half for easy eating when you serve. Wrap tightly in plastic wrap if packing to eat later. Enjoy with a handful of kettle cooked chips, macaroni salad or a scoop of potato salad. My quick pickled cubanelle peppers with also be nice served along with the wrap.
Time Crunch Tip for the Wraps
If you want to cut down on time to prepare the actual wrap. Prep the apple and squash slaw, as well as the dressing ahead. Do not combine them.

To keep the slaw from browning soak in salted water a few minutes or toss in a splash of lemon juice.
Variations
There are nearly endless ingredient options when making turkey wraps. Here are a few that will team up well with this particular wrap.
a few slices bacon cooked crispy (if you are not a fan of pork use turkey bacon)
rather than the dried berries, spread some cranberry orange sauce on separate from the dressing
sharp cheddar or crumbled goat cheese
handful of baby spinach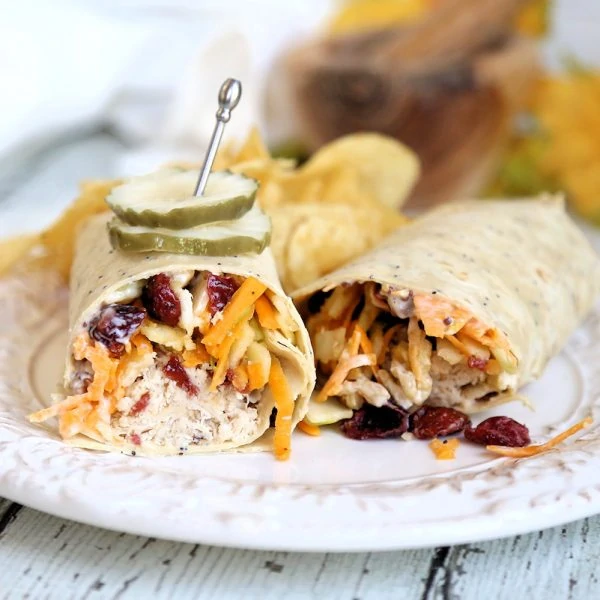 Harvest Turkey Wraps Recipe
This New England Harvest wrap in an easy and flavorful wrap featuring produce from the fall harvest and deli or leftover turkey.
Print
Pin
Rate
Ingredients
½-3/4

pound

sliced turkey

honey or maple if from deli, but leftover Thanksgiving turkey is ideal.

4

wraps
Spread
2

tbs

mayonnaise

2

whole grain mustard

1

teaspoon

apple cider vinegar
Slaw
1

cup

coarse grated butternut squash

1

large Granny Smith apple

sliced into matchsticks

⅓

cup

dried cranberries

¼

cup

chopped walnuts
Instructions
Mix the ingredients together for spread, and set aside.

Prep and mix together the slaw ingredients, set aside.

Smear ¼ of spread on each wrap.

Top with ¼ of the slaw mixture, then nestle 2-3 oz of the turkey against the slaw.

Roll like a burrito (Tuck in sides as you roll).

Cut in half to serve each sandwich.