This Chicken & Eggplant Tikka Masala is a healthy dinner with lots of flavor!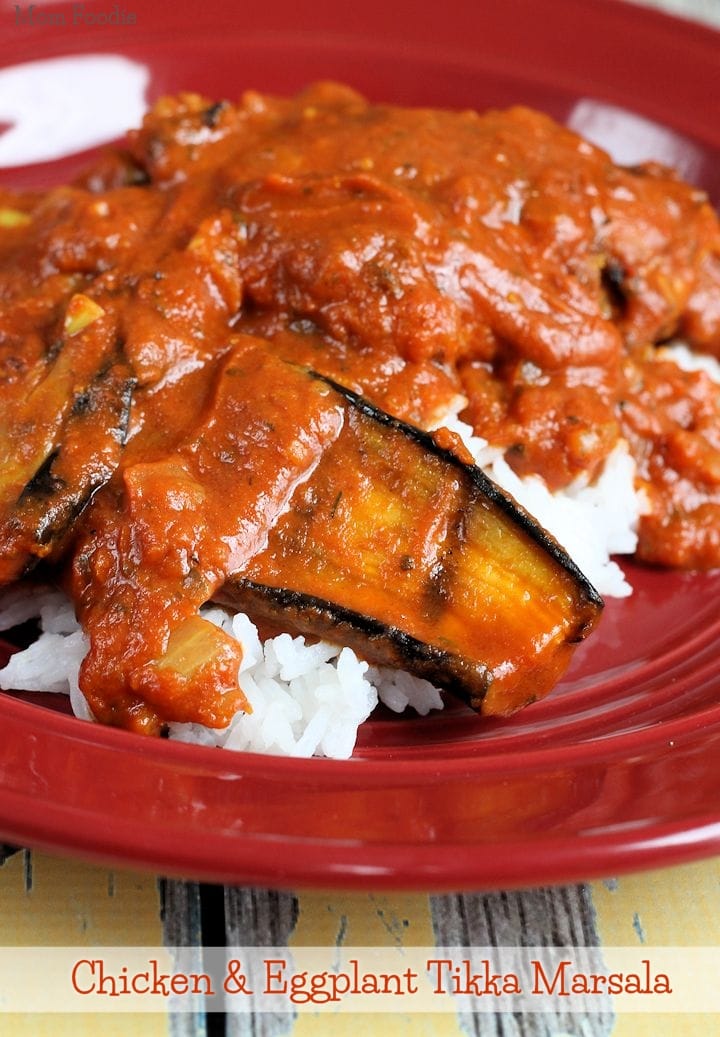 I love Indian food, so when I was challenged to pair a dish with Gallo's Hearty Burgundy, I figured I would give the two a date together.  I found a recipe for Chicken Tikka Masala in the new Cooking Light Global Kitchen Cookbook
, and had most of what was needed on hand.  Since I had a rather small package of chicken thighs, I added eggplant to the dish.  I also went with less garlic, boosting the quantity of onion instead (which was changed to sweet onion, since that is what I generally have). The thighs where kept whole rather than sliced and I used canned tomatoes rather than fresh, but the big thing with Indian food is the spice blends.  Those I pretty much kept intact.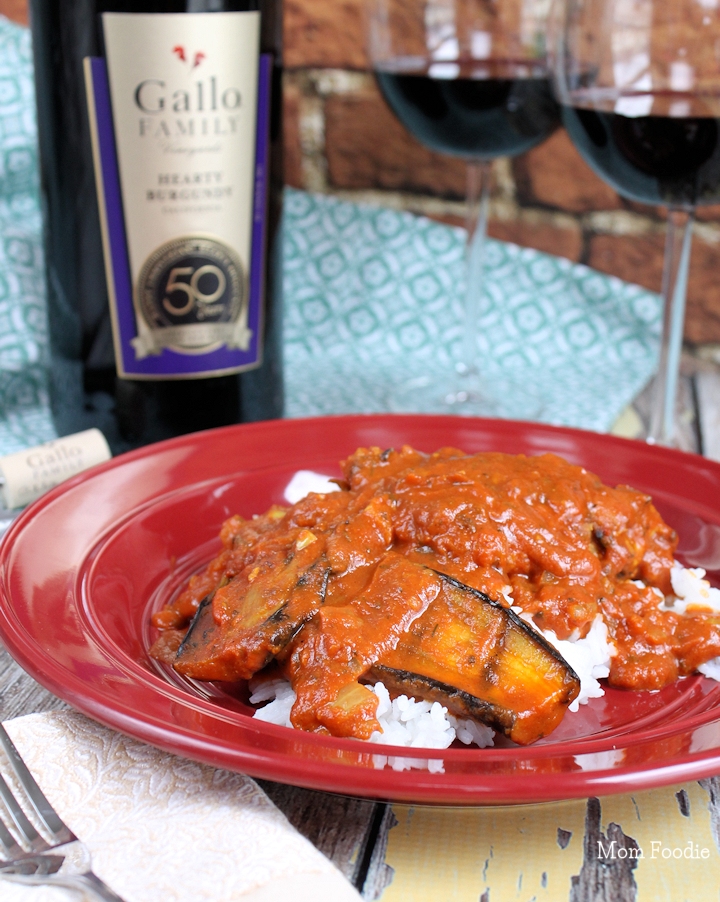 The Chicken & Eggplant Tikka Marsala came out great and teamed up well with the wine. For those seeking a more vegetarian minded dish try my Paneer Tikka Masala Recipe.
If you like this you may also be interested in my Instant Pot Chicken Curry or Grilled Eggplant Parmesan.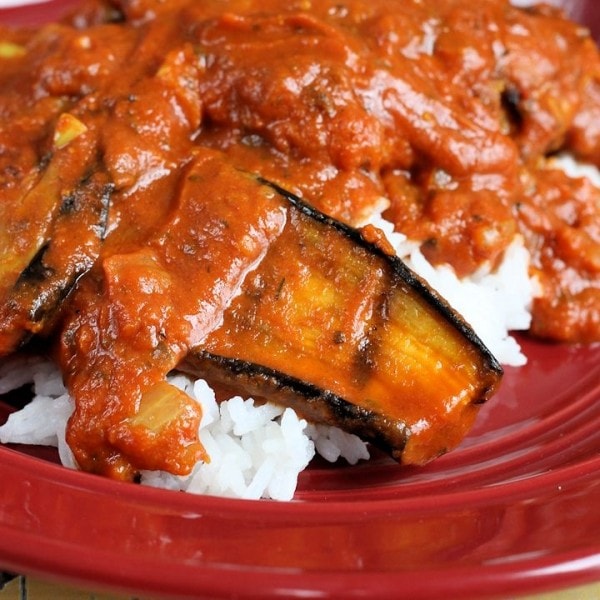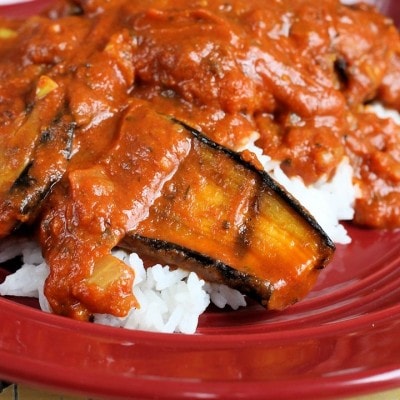 Ingredients
2

large garlic cloves

coarsely chopped

1

tablespoon

minced peeled fresh ginger

¼

teaspoon

Kosher salt

½

cup

goat's milk

or Greek yogurt

¼

cup

fresh lemon juice

1 ½

teaspoons

paprika

1

teaspoon

garam masala

1

teaspoon

ground cumin

¼

teaspoon

ground red pepper

1

pounds

skinless

boneless chicken thighs

4

Japanese Eggplants

or other mini eggplant variety

½

tbs

olive oil

¼

teaspoon

Kosher salt

large can of crushed tomatoes

29 oz

2

tablespoons

oil

1

cup

chopped sweet onion

1

tablespoon

minced peeled fresh ginger

2

garlic cloves

minced

2

teaspoons

ground coriander

2

teaspoons

paprika

½

teaspoon

ground turmeric

⅛

teaspoon

ground red pepper

½

teaspoon

salt

½

teaspoon

garam masala

¼

cup

goat's milk or Greek yogurt

1 ½

tablespoons

chopped fresh cilantro
Instructions
Combine garlic and ginger on a cutting board. Sprinkle with salt, and mash to a paste by dragging and pressing broad side of knife over mixture several times. Combine garlic mixture, yogurt, and next 5 ingredients (through ground red pepper) in a large zip-top plastic bag. Add chicken; seal and marinate in refrigerator 8 to 24 hours, turning bag occasionally.

Cut off stems of eggplants. Cut each in half horizontally, and cut off just a strip of the skin on other side, leave the rest intact. Baste with olive oil and sprinkle with salt. Allow to rest 15-30 minutes.

Heat a Dutch oven over medium heat. Add oil to pan; swirl to coat. Add onion; sauté 4 minutes or until browned. Add ginger and garlic; sauté 1 minute. Add coriander, paprika, turmeric, and ground red pepper; cook 1 minute. Stir in crushed tomatoes, and bring to boil. Cover, reduce heat to low, and simmer 20 minutes or until thick.

Preheat grill or broiler.

While masala sauce simmers, remove chicken from marinade; discard marinade. Place chicken on grill & cook 5 minutes. Turn; cook 5 minutes or until browned on all sides but still undercooked in center (chicken will finish cooking in sauce). Grill eggplant as well, it will take less time, so keep an eye on it.

Add the chicken & eggplant to masala sauce. Stir in salt and garam masala; cover and simmer another 20 minutes minutes or until chicken is done. Remove from heat; stir in yogurt and cilantro. Serve over rice.
Nutrition
Calories:
267
kcal
|
Carbohydrates:
25
g
|
Protein:
21
g
|
Fat:
11
g
|
Saturated Fat:
2
g
|
Cholesterol:
74
mg
|
Sodium:
657
mg
|
Potassium:
1068
mg
|
Fiber:
8
g
|
Sugar:
14
g
|
Vitamin A:
1014
IU
|
Vitamin C:
22
mg
|
Calcium:
120
mg
|
Iron:
3
mg