Time to fire up the grill, but that doesn't mean just cooking meats. My easy Grilled Eggplant Parmesan recipe is a great vegetarian recipe that is low on carbs too. It only has a little over 8 net carbs grams per serving!
I adore eggplant parmigiana and grilling it lightens up the classic Italian dish, but doesn't sacrifice flavor. This keto eggplant parmesan is a great choice whether you are eating low carb, gluten-free or neither. Who doesn't love comfort food without guilt! Italian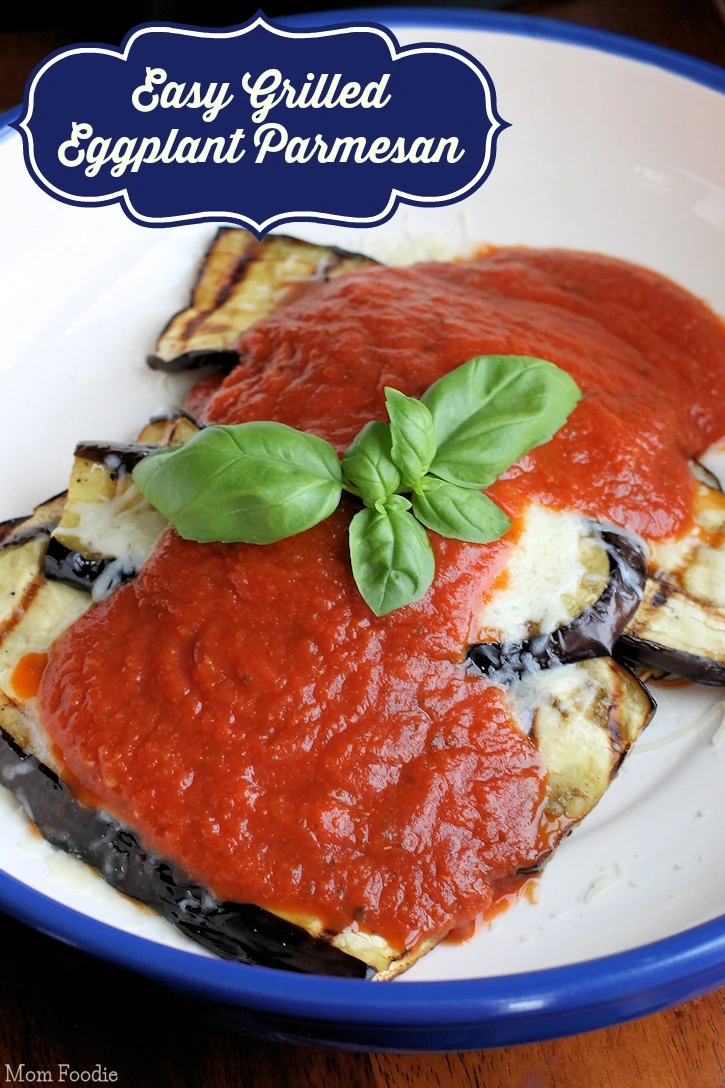 Grilled Eggplant Parmesan: Low Carb and Gluten Free!
This delicious eggplant parmesan recipe made on the grill makes a great low carb entree by itself, but the dish also pairs well grilled chicken, shrimp or meat. If some family members are not watching their carb intake, this parmesan grilled eggplant of course still goes nicely with a side of pasta too. I actually eat it that way sometimes. It is still less fat and carbs.
Personally, I love the way grilling adds a slight smoky flavor to the eggplant. The extra flavor more than makes up for the omission of breading on the eggplant in my opinion. This is even more pronounced when grilling over real wood coals, rather than briquettes or on a gas grill.
Grilling is an easy way to make keto eggplant parmesan. No-fussing with egg dredges or creating a low carb crumb out of nut flour or pork rinds to coat the slices with.
Looking for breading? Try my baked eggplant casserole or light eggplant lasagna.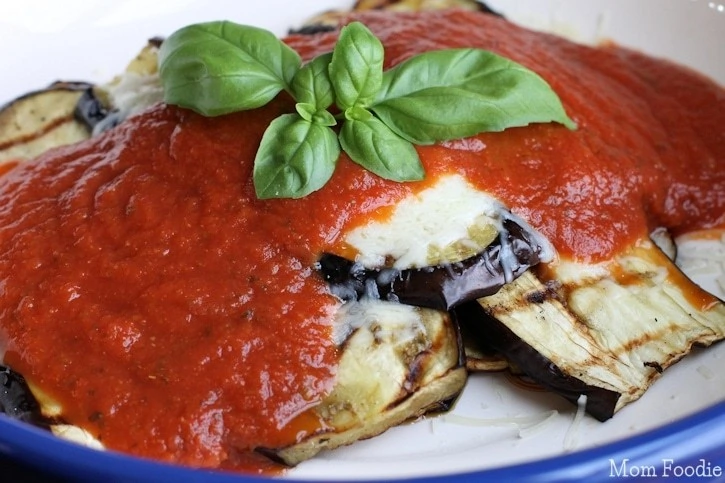 This nutritious meatless low carb meal is inexpensive, as well as, quick & easy to make. Eggplant is generally not too expensive, even off-season. Simply top with mozzarella cheese and jarred low carb marinara sauce. Top with fresh basil leaves, Parmesan cheese and even some red pepper flakes if you like.
Keto Eggplant Recipe?
This may be a tight fit in the earlier phases of a keto diet. Once you become fat adapted, this eggplant recipe could fit in pretty easily though. At 8 ½ net carbs per serving it should not knock you out of ketosis. It's a great way to get that eggplant parmesan fix without blowing your low carb diet.
Not only does grilling the eggplant without breading make this recipe low in carbohydrates, it also significantly reduces the amount of fat in the dish too.
The extra flavor from grilling makes me not miss the bread crumbs.
Did I mention the much easier clean up when making this grilled version of eggplant Parmesan. After all breading eggplant is a messy time consuming job.
How to Make the Grilled Eggplant
This is quite an easy low carb vegetarian dish to make. There are two primary steps to preparing it and the total time to make it is just about 15 minutes!
Ingredients needed:
2-3 medium eggplant
Olive oil
Kosher salt
Black pepper
Dried oregano or Italian seasoning
Shredded or sliced fresh mozzarella
Low carb marinara sauce
Fresh basil leaves ***optional
Parmesan cheese, to top the finished eggplant
Grilling Eggplant
Grilling the eggplant slices is an easy way to cook the vegetable without breading it.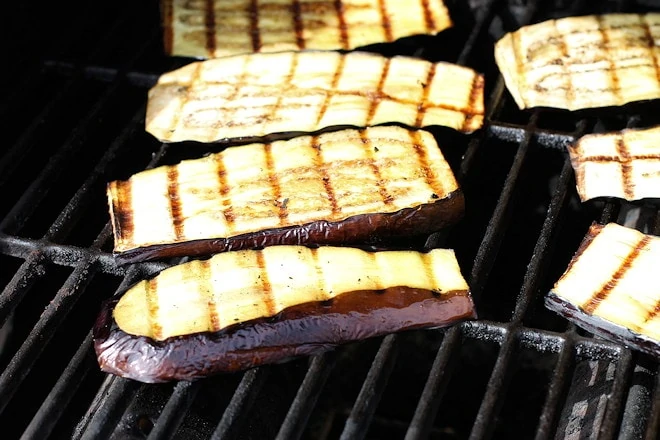 Simply slice the eggplant ¼ inch to ½ inch thick in planks as shown or into eggplant rounds.
Baste both sides of the slices with olive oil and sprinkle with Italian seasoning, Season with salt and pepper. Add a couple crushed garlic cloves to the oil if you like.
Toss on a preheated grill and cook on medium heat. Cook 3-5 minutes on each side, until the eggplant is tender.
Topping
Remove the cooked slices from grill and place on a platter. Immediately generously top with sliced or shredded mozzarella cheese.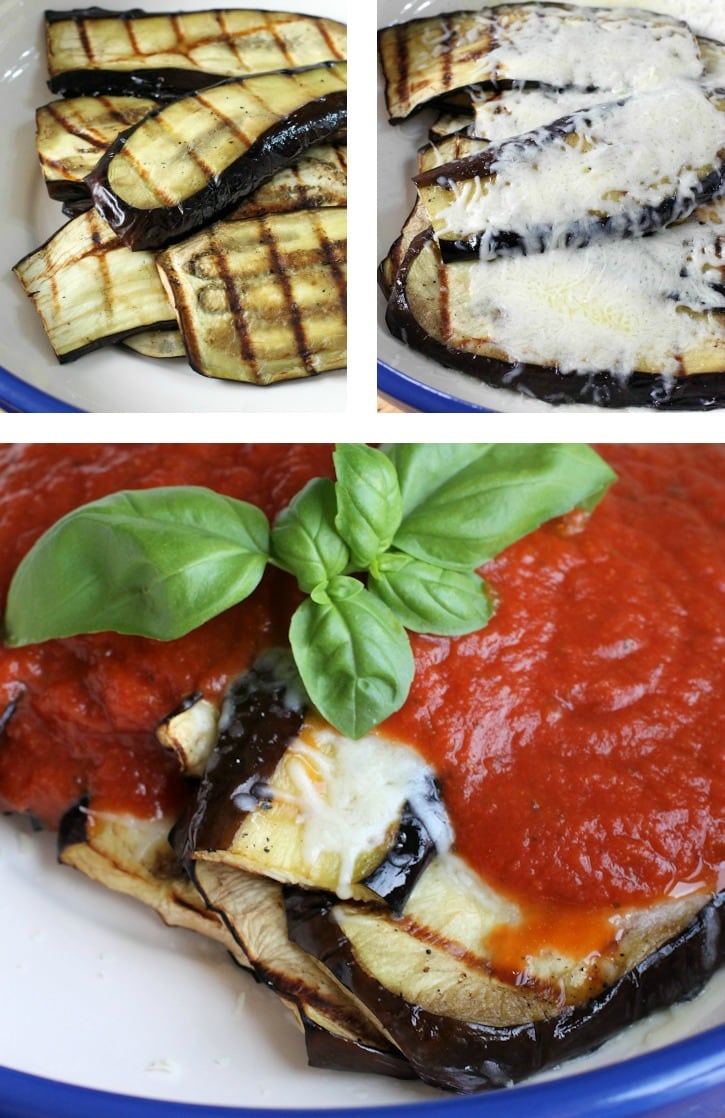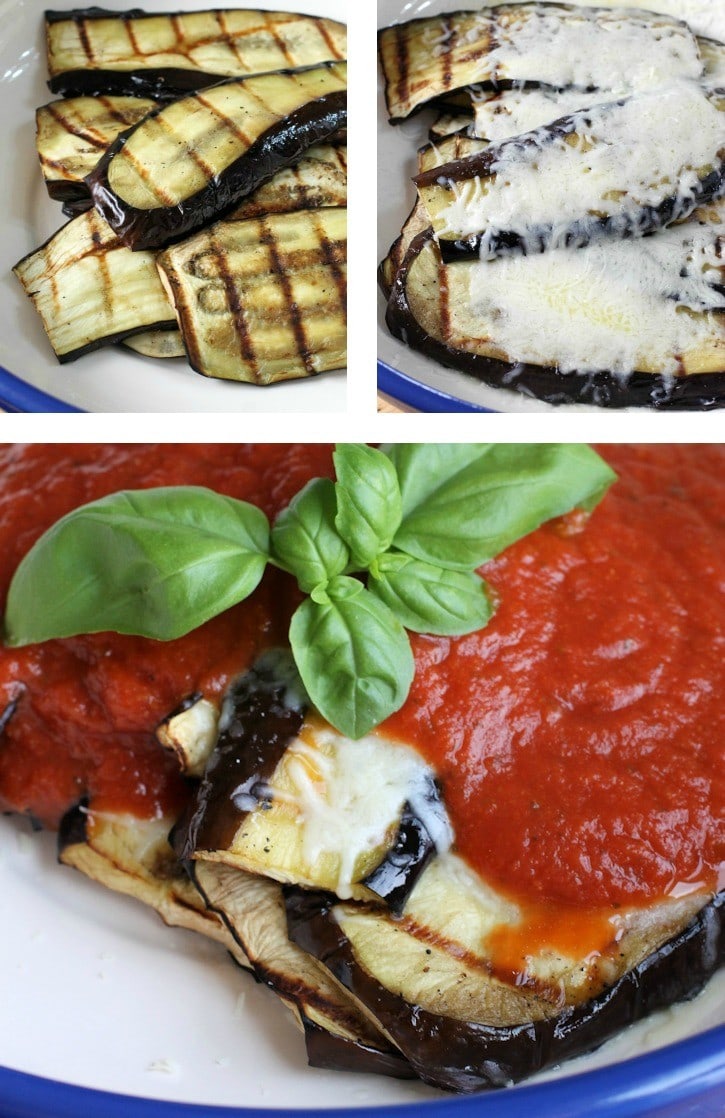 Pour a low carb marinara sauce over it to serve and top with freshly grated Parmesan cheese.
Low Carb Marinara Sauce
Check the label when choosing a keto-friendly tomato sauce for your eggplant parm. Look for sauces that contain no added sugar or high fructose corn syrup.
There are quite a few jarred sauce options available with under 6 grams of carbs per serving. If you calculate the net carb count by subtracting the grams of fiber, the number of options will be even more. I also like to keep an eye on sodium levels in tomato sauce too. Some low carb sauces are too high in salt. You will only use a ¼ cup per serving to make this recipe, which is half the standard sauce serving.
Caprese Version
In the summer you may enjoy making this with fresh tomato rather than sauce. Top with chopped tomato or medium tomato slices along with basil and fresh mozzarella cheese, then drizzle with extra virgin olive oil.
Q&A
Do you have to soak eggplant before grilling?
I don't. Assuming you have fresh young eggplant, just season and grill it.
If you have older eggplant (will feel more spongy and seeds will be more prominent), soaking in milk for 30 minutes then lightly blot each slice of eggplant with a paper towel, before applying the oil and seasonings for grilling is recommended. This will cut down on the bitterness and help maintain moisture and texture.
Do I have to use salt on eggplant?
In grilling, no. While I used it here, it is only for flavor, not to remove moisture (as in some baked recipes).
How to store leftovers?
Eggplant parmesan grilled in too much quantity, can be stored in an airtight container in the refrigerator for up to 3 days.
Grilled Eggplant Parmesan Recipe
This grilled eggplant Parmesan recipe is a great low carb vegetarian dinner. It is an easy way to lighten up a meal without sacrificing flavor.

Print
Pin
Rate
Ingredients
2-3

medium size Eggplants

2

tablespoon

olive oil

Kosher salt

, to taste

pepper

, to taste

sprinkle

Oregano

or Italian seasoning

4

oz

shredded Italian cheese blend

or Mozzarella

1 ½

cups

low carb marinara sauce

(look for 5 or less carbs per serving and no added sugar)

**optional- fresh basil
Instructions
Preheat grill on high heat setting.

Cut off ends of eggplants, and slice into ¼ inch to ½ inch thick planks. Baste with olive oil, and sprinkle with a little oregano, salt and pepper.

Place eggplant on the grill and reduce grill to medium heat. Turning once after a 3-5 minutes and continue to grill until eggplant has softened

Transfer to serving dish, and immediately top with mozzarella cheese.

Warm the sauce in the microwave or a saucepan, and pour over the eggplant. Serve with about a ¼ cup of sauce per serving.
Notes
Nutrition info calculated in Carb Manager based on Rao's sauce and ½ teaspoon sea salt. Info provided as an estimate only.
Net carbs calculation:
16.5 - 7.7 fiber - .3 sugar alcohol = 8.5 net carbs
Nutrition
Calories:
194
kcal
|
Carbohydrates:
16.5
g
|
Protein:
6.9
g
|
Fat:
12.1
g
|
Saturated Fat:
3.9
g
|
Polyunsaturated Fat:
0.8
g
|
Monounsaturated Fat:
4.6
g
|
Cholesterol:
16.8
mg
|
Sodium:
504
mg
|
Potassium:
560
mg
|
Fiber:
7.7
g
|
Sugar:
9.8
g
|
Vitamin A:
390
IU
|
Vitamin C:
7.7
mg
|
Calcium:
169
mg
|
Iron:
1
mg
More Easy Low Carb Recipes You May Like