Time to fire up the grill, but that doesn't mean just cooking meats.  Many vegetarian recipes can be adapted to the grill as well, often with diet-friendly results.  My easy Grilled Eggplant Parmesan recipe is a great example of that.  This low carb vegetarian dinner is also lower in fat, yet packs plenty of flavor. I guarantee, you won't miss the breading in this version of eggplant Parmesan!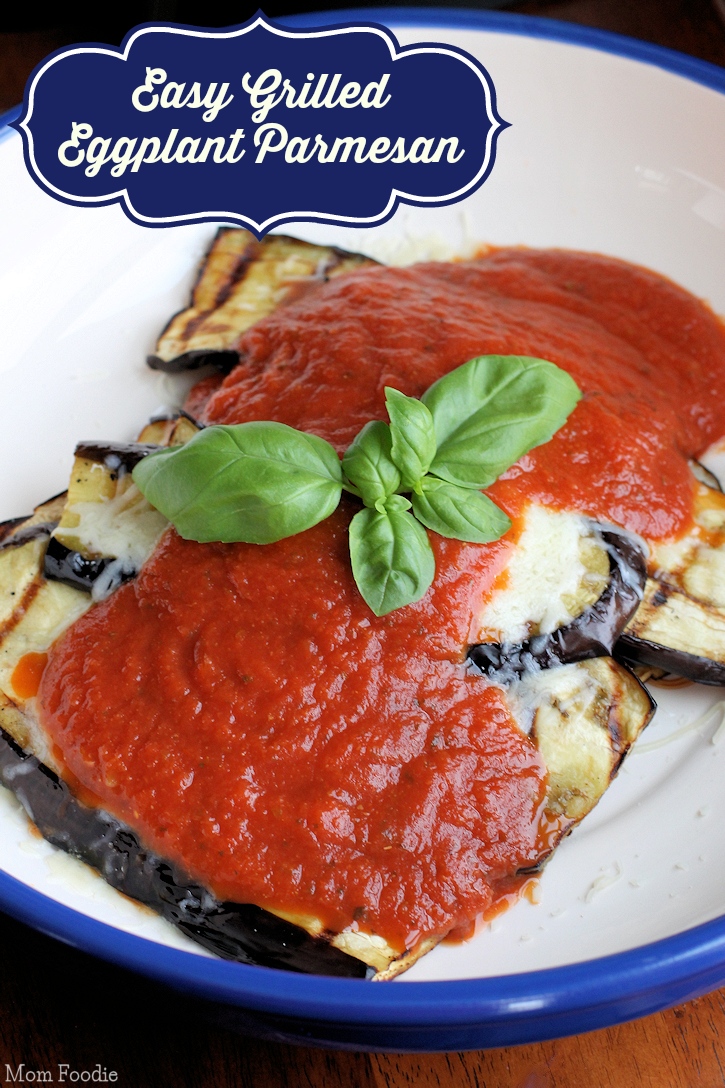 Grilled Eggplant Parmesan
This easy grilled eggplant parmesan recipe makes a great low carb entree by itself, but the dish also pairs well grilled chicken, shrimp or meat.  If some family members are not watching their carb intake, this eggplant parm of course goes nicely with a side of pasta too. I actually eat it that way sometimes. It is still less fat and carbs.
Personally, I love the way grilling adds a slight smokey flavor to the eggplant. The extra flavor more than makes up for the omission of breading on the eggplant parmesan in my opinion.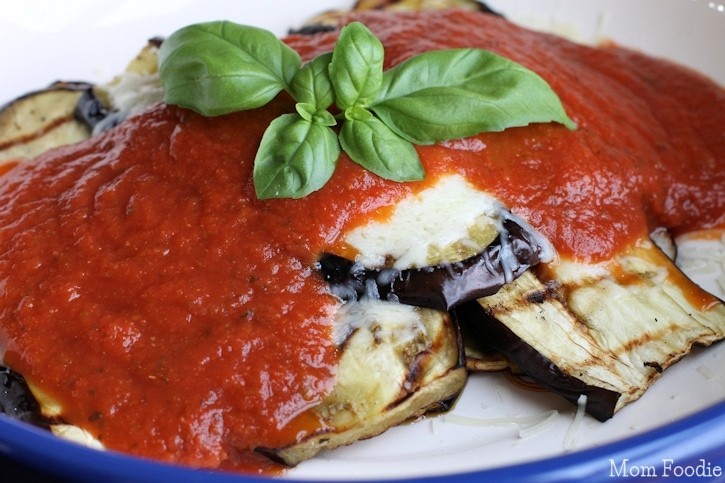 This nutritious meatless low carb meal is inexpensive, as well as, quick & easy to make. Eggplant is generally not too expensive, even off-season. Simply top with mozzarella cheese and jarred low carb marinara sauce. Top with fresh basil leaves, Parmesan cheese and even some red pepper flakes if you like.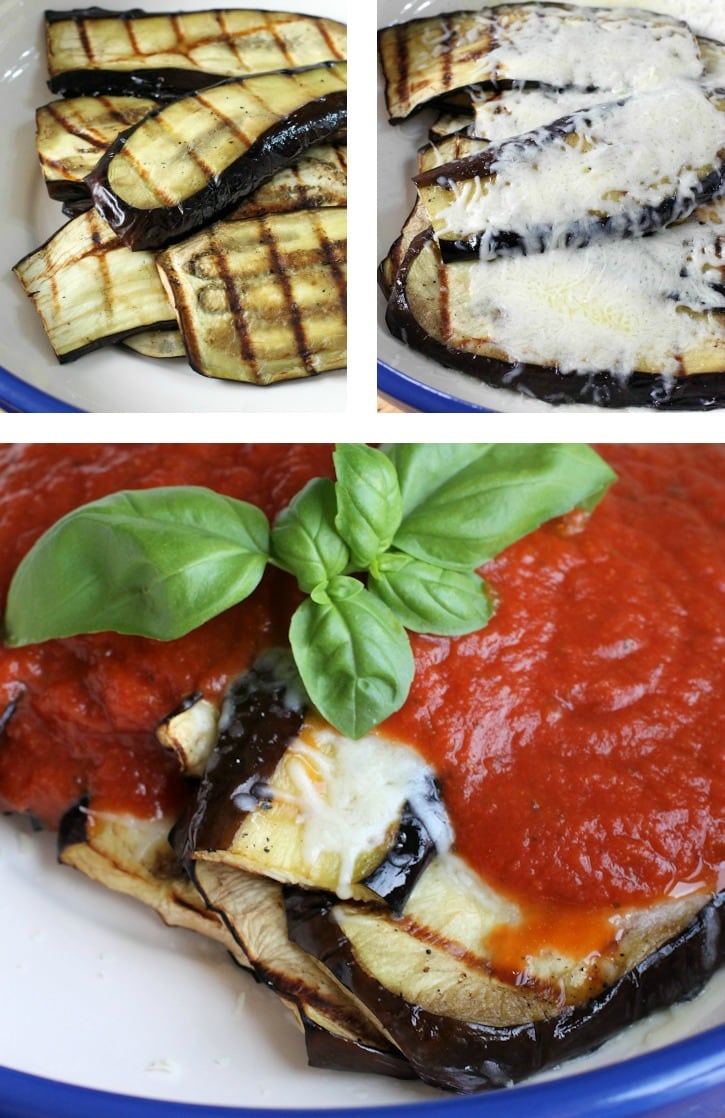 Not only does grilling the eggplant without breading make this eggplant low in carbohydrates, it also significantly reduces the amount of fat in the dish too.
Did I mention the much easier clean up when making this grilled version of eggplant Parmesan. After all breading eggplant is a messy time consuming job.
Choose a Low Carb Marinara Sauce
Check the label when choosing marinara sauce for your grilled eggplant parm. Look for sauces that contain no added sugar or high fructose corn syrup. There are quite a few jarred sauce options available with under 7 grams of carbs per serving. If you calculate the net carb count by subtracting the grams of fiber, the number of options will be even more. I also like to keep an eye on sodium levels in sauce too. Some low carb marinara sauces are too high in salt.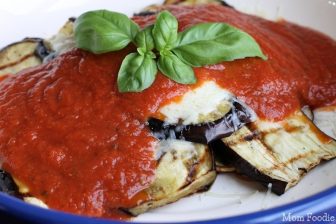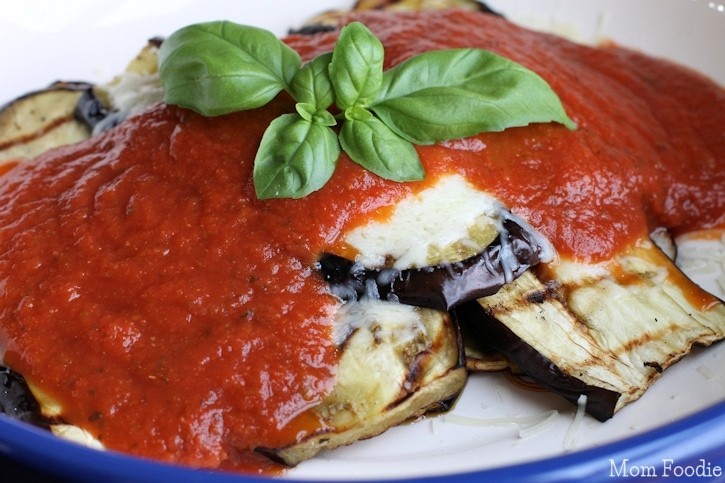 Easy Grilled Eggplant Parmesan Recipe
This grilled eggplant Parmesan recipe is a great low carb vegetarian dinner. It is an easy way to lighten up a meal without sacrificing flavor.

Ingredients
2-3

medium size Eggplants

olive oil

Kosher salt

pepper

, to taste

Oregano

or Italian seasoning

shredded Italian cheese blend

or Mozzarella

1

jar marinara sauce

**optional- fresh basil
Instructions
Preheat grill on high heat setting.

Cut off ends of eggplants, and slice into 1/2 inch thick planks. Baste with oil, and sprinkle with a little oregano, salt and pepper.

Place eggplant on grill and reduce grill to medium heat. Turning once after a couple minutes and continue to grill until eggplant has softened


Transfer to serving dish, and immediately top with mozzarella cheese.

Warm the marinara sauce in the microwave or a saucepan, and pour over the eggplant. Serve with about a ¼ cup of sauce per serving.