Compensation for this article was provided by Clorox. The opinions expressed here are my own. 
Today, I have some patio cleaning tips to share with you using simply Clorox® Regular-Bleach2 and water. It is amazing how much you can clean up and disinfect a patio area for the new season with bleach. Considering the funky discoveries I've already had on my patio this spring and that my daughter likes to sit on the concrete and draw with her sidewalk chalk, the way bleach kills germs and cleans has a huge appeal to me.
Now let's get your patio ready for summer fun!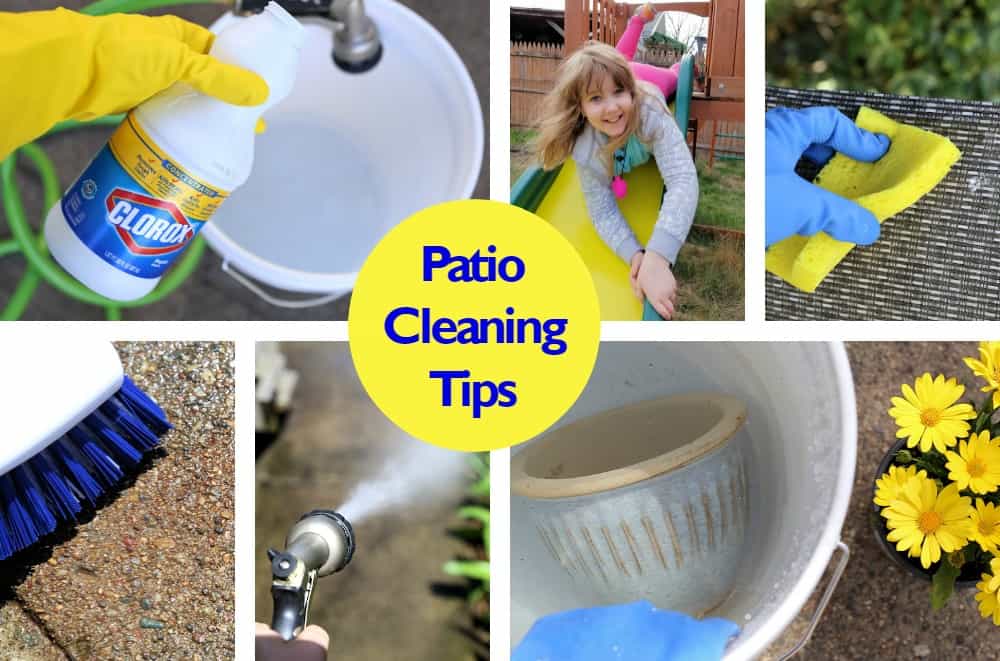 Cleaning a Concrete Patio
First let's jump in and tackle cleaning a concrete patio itself.  Over time concrete and concrete pavers get dirty. There is often a general dinginess over time and potentially areas that have been stained. The surface of concrete is prone to moss, mold and mildew growth in damp areas and even in full sun debris and spills can stain the surface. Weeds, for example, like to peek through any cracks and crevices.  Also, animals can leave a lot of germs behind when they venture onto the patio area. Yuck! Now, let's get this area cleaned up and ready to enjoy.
Best Way to Clean a Concrete Patio
A bleach solution is generally regarded as the best way to clean a concrete patio. It is effective for both poured and paved concrete patios. It freshens the look and disinfects the area as well.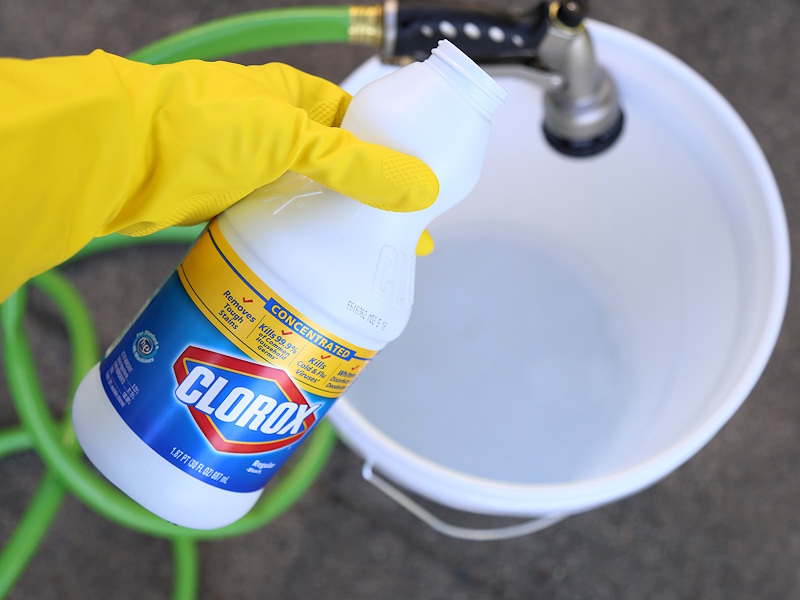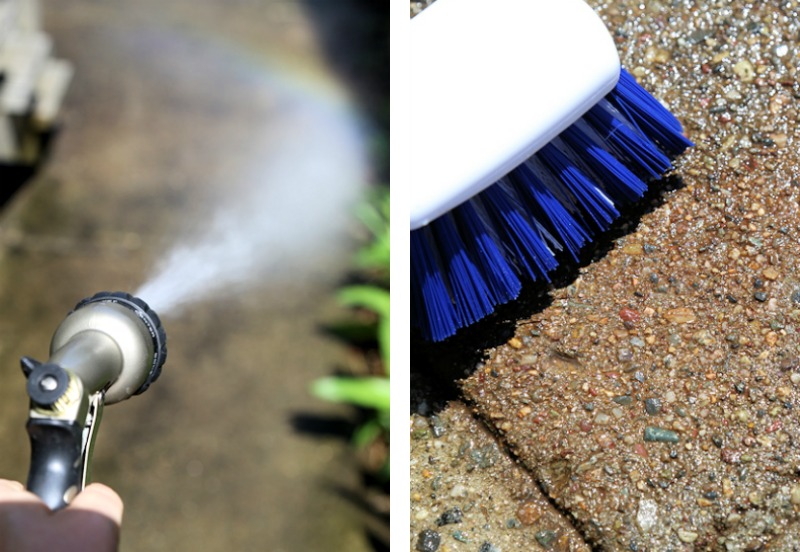 What you will need when cleaning a concrete patio: a large bucket, Clorox® Regular-Bleach2, a stiff broom or old mop along with a scrub brush for stubborn spots and a hose. Make sure to wear old clothes and waterproof gloves.
To clean the concrete patio area, you must first remove all furniture, grills and other items on the patio. The area then needs to be well swept.
If you have grass or plants close to the patio area, water them well. Place a tarp or plastic sheeting over shrubs.
Mix a bleach solution of ¾ cup of Clorox bleach for each gallon of water used. Pour it around on the concrete patio and spread with the broom.
Although the concrete is disinfected after just 5 minutes, lightening it will take a little longer. Leave the bleach solution on the concrete for about 20 minutes, then sweep briskly with the stiff broom to dislodge the softened grime. Use the scrub brush to tackle stubborn areas.
Rinse off the patio. Start on one end and work your way across the patio using the jet setting on your hose nozzle to push the debris away. A power washer can of course be used on poured concrete patios, but may cause issues if your patio is made up of pavers, so is best avoided. 
Cleaning Patio Furniture
Patio furniture is also susceptible to many of the same germ and grime issues of the patio itself. Luckily, cleaning patio furniture is even easier than cleaning a concrete patio. Most patio furniture can also be cleaned with a simple bleach solution. Make sure to wear old clothes and rubber gloves, also either soak surrounding plants well with water or cover with plastic/tarp.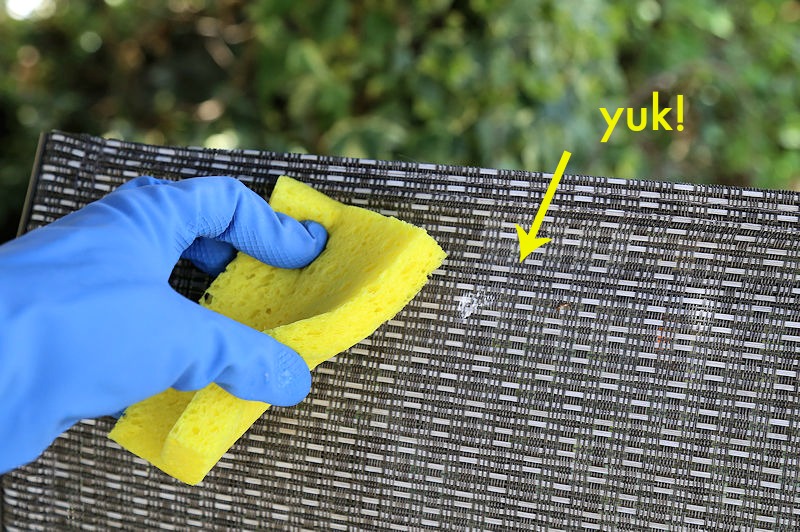 How to Clean Patio Furniture
Cleaning patio furniture is a breeze with this easy method. It can be used on most patio furniture. It is of course wise to do a test spot first if you are unsure about the bleach water durability of your furniture.
Remove cushions and other unbleachable items.
Wipe down furniture to remove loose debris.
Mix a solution of ½ cup of Clorox bleach per gallon of water and apply to the furniture with a sponge or old cloth.
After 5 minutes the patio furniture will be disinfected. Scrub off stubborn stains, mold or mildew.
Rinse off with a hose and allow to dry.
Here is a quick video from Clorox, which shows just how easy it is to clean patio furniture with bleach.
Check out more helpful video's on the Clorox YouTube channel.
Using Bleach as Disinfectant Outdoors
Beyond cleaning patio furniture, the same method can be used in many other ways.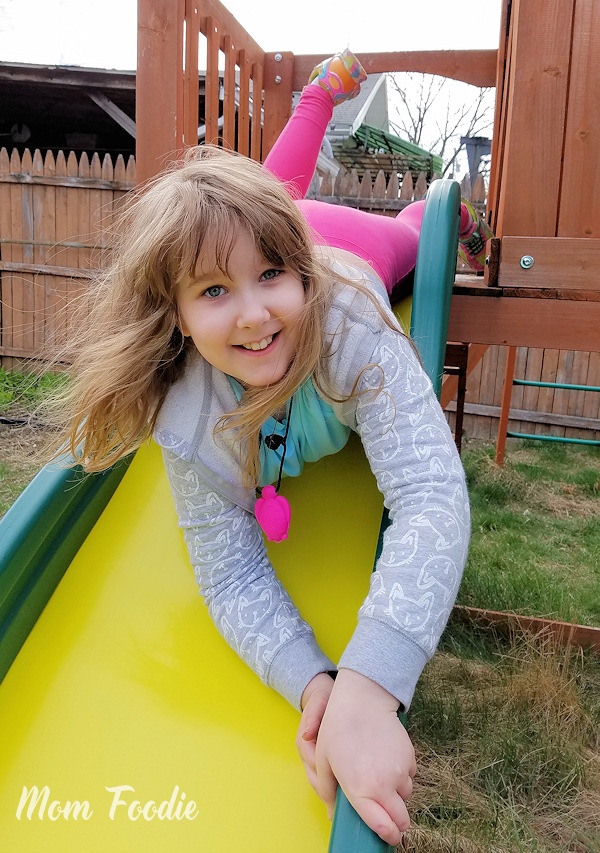 Keep Kids Safe - Clean off play sets, outdoor toys and kiddie pools with mild bleach water. We know they put their hands all over this stuff, and no one tells a bird where to poop...lol.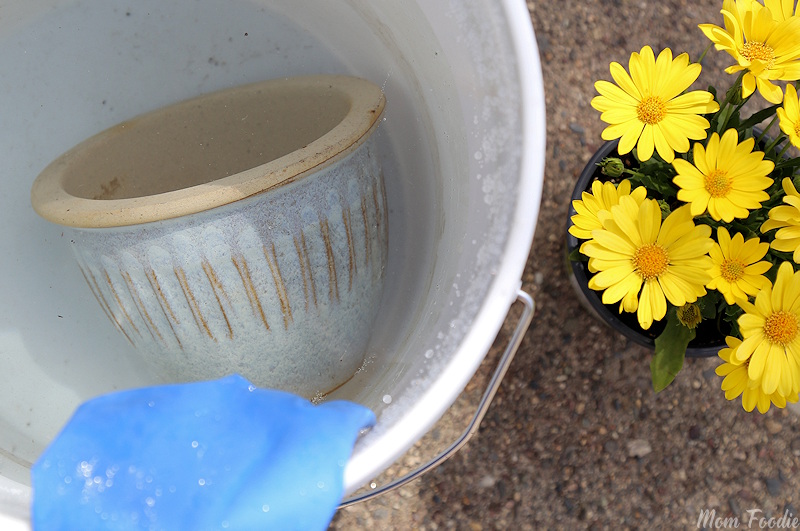 Healthy Garden - Soaking garden hand tools and pots that will be reused in a bleach solution avoids prior year pests or diseases from being passed along to this year's plants.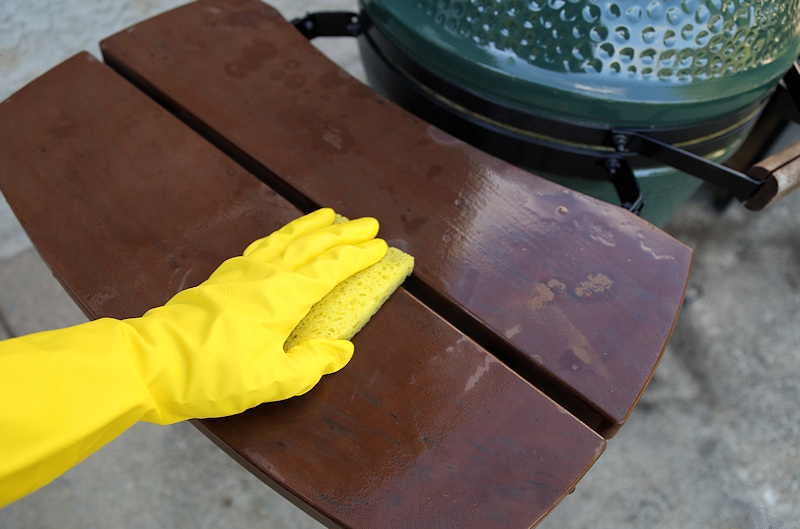 Keep Food Safe -It is also a good idea to clean grill shelves and handles with this mild bleach solution.  While most of us are attentive to disinfecting cutting boards and utensils, these areas are easily contaminated with raw meat also, and do not get high germ killing temperatures from the grill's  surface. Don't forget to disinfect your coolers too! Bleach is a great way to not only disinfect coolers, but it will also help give coolers that fresh, clean picnic-ready look.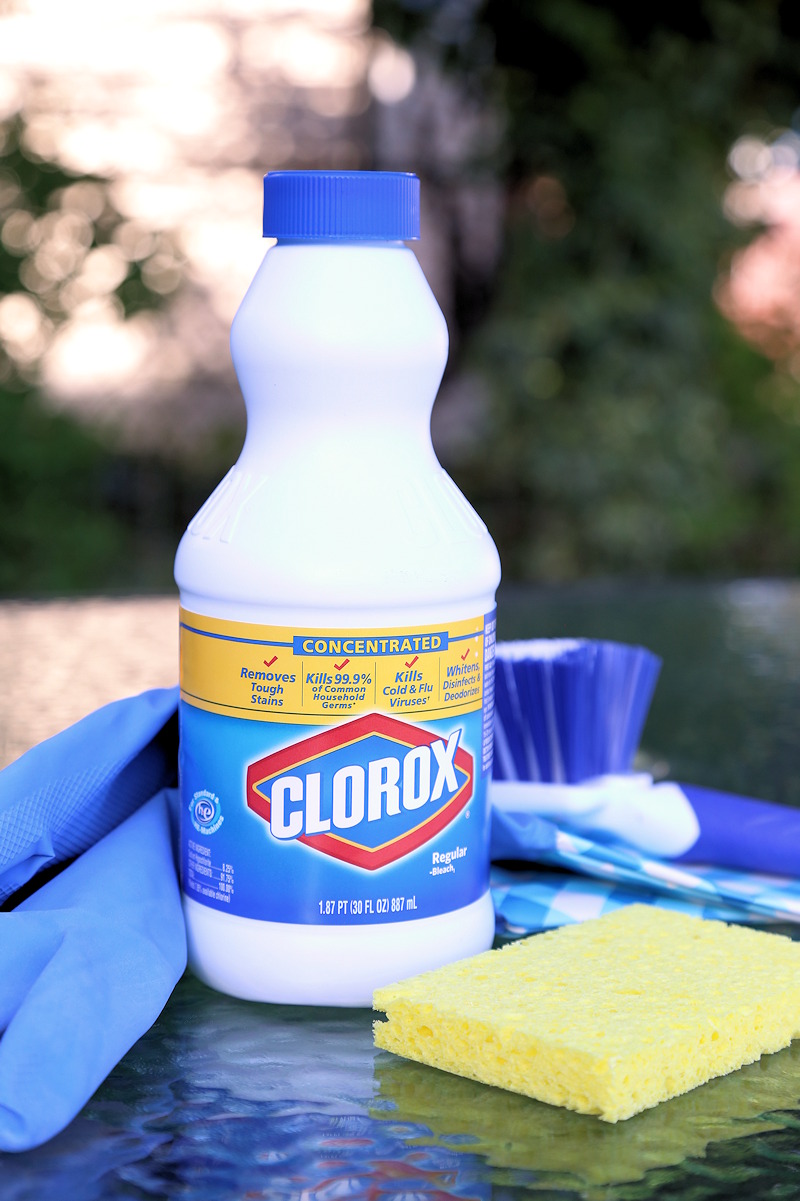 In the Home
Of course, Clorox® Regular Bleach is also a cleaning and disinfecting staple inside the home. I personally use it to clean floors, drains and my washing machine.  It is also handy for disinfecting cutting boards and other items that may come in contact with raw meats and don't go in the dishwasher. These are just a handful of the many great ways bleach can keep your home healthy and looking it's best.  Learn more at Clorox.com.