Bella Nutripro Juicer Review and a Mango Beet Juice recipe made with the juicer. (Review product provided by Nutripro)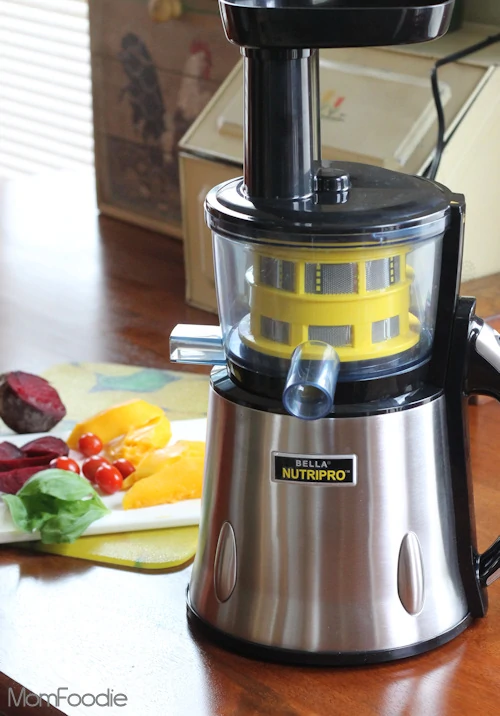 I was recently sent a Bella Nutripro juicer to try out.  Actually, I shouldn't say recently, since it sat in the box for about a month... taxes, site redesign and a host of other things teamed with my reluctance to mess around with what I thought was going to be a complicated and hard to clean piece of equipment resulted in several delays.  I finally whipped this baby out made this beetroot juice recipe with mango, tomato and basil.  I have to tell you I shouldn't have been such a baby about it.   The Nutripro wasn't that hard to put together at all, and cleaning was considerably easier than the brand I had used many years ago.
Bella Nutripro Juicer Review: Heavy Duty Juicer
This cold press juicer is one heavy duty unit.  The motor base is quite heavy.  The auger and strainer basket that squish the fruits and veggies are also weighty and built to last.  Though I've only used it a couple times so far, I fully expect this juicer to last many years.
Bella Nutripro Juicer Review: What Makes It Different?
The Bella Nutripro employs cold press technology.  Rather than pulverizing the fruits and vegetables, then spinning them through a screen like many juicers do (centrifuge method), the Nutripro has a single heavy slow moving auger which crushes the fruit against the stainless steel circular straining plate.  Juice comes out one spout and the pureed fruits and vegetables come out another spout.  Cold press juicing preserves more nutrients and causes less oxidation than centrifuge juicers.
Multi-Purpose Juicer
To be honest with you, I try and not consume many of my calories in liquid form.  That does not mean I don't have a use for this juicer, quite the contrary. I can use the pulp in all kinds of recipes, and the juice is perfect for making my daughter fresh juice pops.  I also enjoy adding a splash of juice to seltzer.
Besides these obvious uses, the Bella Nutripro also has a couple attractive abilities that most juicers don't:
Unlike standard juicers, the Nutripro can process frozen fruits directly into sorbet.
The Nutripro can make nut butters and milks.  (This is particularly an attractive feature for me).
 Bella Nutripro Juicer Review: My Verdict
The Bella Nutripro juicer is a well made machine, and good buy at it's price point.  The fact that it is dishwasher safe is an attractive feature for me, but I found hand washing the components pretty easy.  For those of us that are not diehard juicers, the additional uses of the Bella Nutripro are a huge plus.  They enable the consumer to integrate even more healthy food preparations into their diet.
I'm sure you will be seeing the output of this juicer in many of my recipes to come.
*Media unit provided.  All experiences and opinions presented here are my own.
Mango Beet Juice Blend Recipe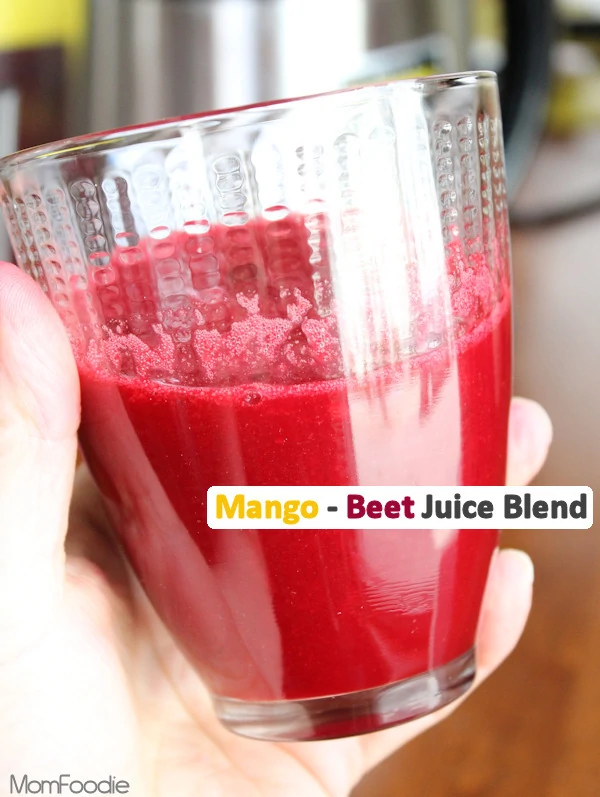 This delicious juice blend features mango and beet, with a bit of pear, carrot, tomato & basil added for flare.  A lovely sweet (but not cloyingly so) juice.
The beet juice recipe is easy to prepare and drinking beet juice is said to have many health benefits including helping to regulate blood pressure. [reference]
This juicer is great, but if you are debating between  Juicing vs Blending, I suggest you read up a little before investing.
On a mango or beet kick? Try my Roasted Beet Salad or Mango Lemonade Recipe.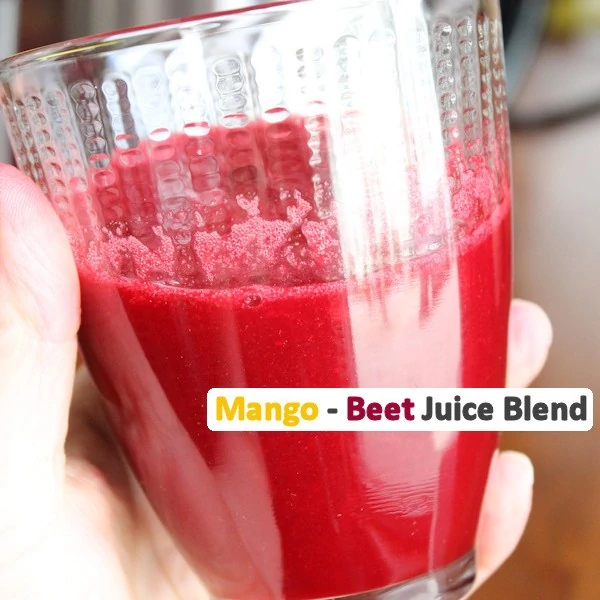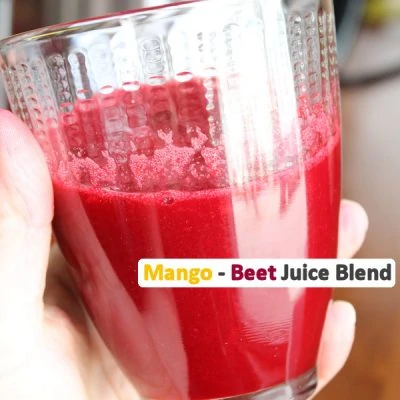 Mango Beet Juice Blend recipe
Mango Beet Juice is a delicious and nutritious blend. The recipe was created using a Bella Nutripro Juicer.
Print
Pin
Rate
Ingredients
1 ½

peeled pitted mangoes

1

medium sized beet peeled and cut into wedges

1

anjou pear

7-8

grape tomatoes

1

small carrot

2-3

large basil leaves